After-Dinner Mocha Truffle Cups
the Editors of Publications International, Ltd.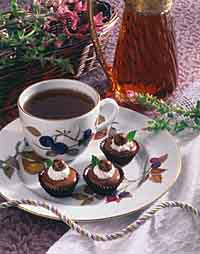 After-Dinner Mocha Truffle Cups
Yield
Makes 36 candy cups (about 1-1/2 pounds)
Ingredients
| | |
| --- | --- |
| 36 | Chocolate Cups or purchased chocolate liqueur cups |
| 1 | cup whipping cream |
| 2 | eggs* |
| 1 | package (6 ounces) semisweet chocolate chips |
| 2 | tablespoons prepared espresso, cooled |
| 1 | tablespoon coffee-flavored liqueur |
| 1 | teaspoon unflavored gelatin |
| | Sweetened whipped cream |
| | Chocolate-covered coffee beans and fresh mint leaves for garnish |
*Use only grade A clean, uncracked eggs.
Preparation
Prepare Chocolate Cups; set aside.
Place large bowl and beaters from electric mixer in freezer until cold. Pour whipping cream into chilled bowl. Beat with electric mixer at high speed until soft peaks form. Refrigerate.
Place eggs in separate large bowl; beat with electric mixer at high speed about 5 minutes or until thick and lemon colored.
Melt chocolate chips in top of double boiler over hot, not boiling, water. Uncover; stir until chocolate is melted. Remove from heat. Add 1/4 cup melted chocolate to beaten eggs; stir to blend. Stir egg mixture into remaining melted chocolate. Cook over medium heat 1 minute, stirring constantly. Remove from heat.
Place espresso and liqueur in small saucepan; sprinkle with gelatin. Let stand 1 minute to soften. Gradually add gelatin mixture, a few drops at a time, to chocolate mixture, whisking until smooth.
Gently fold 1/2 of chocolate mixture into chilled whipped cream. Add to remaining chocolate, gently folding until combined. Spoon chocolate mixture into Chocolate Cups with small spoon, filling to top; refrigerate at least 3 hours or until firm.
To serve, dollop with sweetened whipped cream. Garnish, if desired.
Advertisement
Check out more recipes for Candy
Advertisement