Bacon-Cheese Burgers with Orange Salsa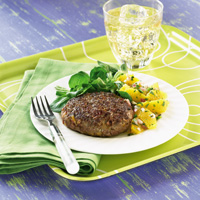 Bacon-Cheese Burger with Orange Salsa
Yield
Makes 4 servings
Ingredients
| | |
| --- | --- |
| 2 | large oranges, peeled, pith removed and diced |
| 1 | jalapeño pepper,* seeded and finely chopped |
| 1 | large shallot, peeled and finely chopped |
| 1 | tablespoon minced fresh cilantro |
| 1 | teaspoon cider vinegar |
| 1 | teaspoon honey |
| 1/4 | teaspoon salt |
| 4 | slices bacon |
| 1 | pound ground beef round |
| 1/2 | cup (2 ounces) shredded sharp Cheddar cheese |
*Jalapeño peppers can sting and irritate the skin, so wear rubber gloves when handling peppers and do not touch your eyes.
Preparation
For orange salsa, combine oranges, jalapeño, shallot, cilantro, cider vinegar, honey and salt in medium bowl. Stir until well blended; set aside.
Cook bacon in large skillet until very crisp. Drain on paper towels; crumble or chop into small pieces. Discard all but 1 tablespoon bacon drippings from skillet.
Combine bacon, beef and cheese in bowl; stir gently until just mixed. Shape into 4 patties. Cook in bacon drippings remaining in skillet about 5 minutes per side or until well browned and no longer pink in center. Serve with orange salsa.
Nutritional Information
| | |
| --- | --- |
| Serving Size: | 1 burger with 1/2 cup salsa |
| Calories | 285 |
| Calories from Fat | 42 % |
| Total Fat | 13 g |
| Saturated Fat | 6 g |
| Cholesterol | 86 mg |
| Carbohydrate | 10 g |
| Fiber | 2 g |
| Protein | 31 g |
| Sodium | 389 mg |
Check out more recipes for Beef