Barbecued Chicken with Chili-Orange Glaze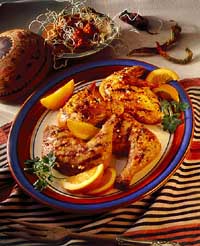 Barbecued Chicken with Chili-Orange Glaze
Yield
Makes 4 servings
Ingredients
| | |
| --- | --- |
| 1 | to 2 dried de arbol chilies* |
| 1/2 | cup fresh orange juice |
| 2 | tablespoons tequila |
| 2 | cloves garlic, minced |
| 1-1/2 | teaspoons grated orange peel |
| 1/4 | teaspoon salt |
| 1/4 | cup vegetable oil |
| 1 | broiler-fryer chicken (about 3 pounds), cut into quarters |
| | Orange slices (optional) |
| | Cilantro sprigs (optional) |
*For milder flavor, discard seeds from chili peppers. Chili peppers can sting and irritate the skin, so wear rubber gloves when handling peppers and do not touch your eyes.
Preparation
Crush chilies into coarse flakes in mortar with pestle. Combine chilies, orange juice, tequila, garlic, orange peel and salt in small bowl. Gradually add oil, whisking continuously, until marinade is thoroughly blended.
Arrange chicken in single layer in shallow glass baking dish. Pour marinade over chicken; turn pieces to coat. Marinate, covered, in refrigerator 2 to 3 hours, turning chicken and basting with marinade several times.
Prepare charcoal grill for direct cooking or preheat broiler. Drain chicken, reserving marinade. Bring marinade to a boil in small saucepan over high heat; boil 2 minutes. Grill chicken on covered grill or broil, 6 to 8 inches from heat, 15 minutes, brushing frequently with marinade. Turn chicken. Grill or broil 15 minutes more or until chicken is no longer pink in center and juices run clear, brushing frequently with marinade. Do not baste during last 5 minutes of grilling. Discard remaining marinade. Garnish with orange slices and cilantro.
Check out more recipes for Mexican