Blue Goo Cupcakes
the Editors of Publications International, Ltd.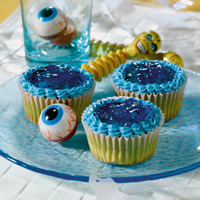 Blue Goo Cupcakes
Yield
Makes 24 cupcakes
Ingredients
| | |
| --- | --- |
| 1 | package (18-1/4 ounces) white cake mix, plus ingredients to prepare mix |
| | Blue food coloring |
| 1 | package (6 ounces) blue gelatin |
| | Blue decorator icing |
Preparation
Preheat oven to 350°F. Line 24 standard (2-1/2-inch) muffin pan cups with paper liners.
Prepare cake mix according to package directions. Add 6 drops blue food coloring to batter; adjust color as desired. Spoon batter into prepared muffin cups, filling 2/3 full. Bake according to package directions. Cool cupcakes in pans on wire racks 5 minutes; remove to wire racks to cool completely.
Meanwhile, combine gelatin and 1-1/3 cups boiling water in small bowl. Stir mixture 3 minutes or until gelatin is completely dissolved. Freeze mixture 40 minutes, stirring often, or until partially set.
Pipe ring of blue icing around edge of each cupcake. Spoon 1 rounded tablespoon gelatin mixture onto each cupcake.
Tip
For a firm texture, or in extreme heat, chill until serving time. For a runny "blob" consistency, serve at room temperature.
Advertisement
Check out more recipes for Cupcakes
Advertisement