Cabbage Wedges with Tangy Hot Dressing
the Editors of Publications International, Ltd.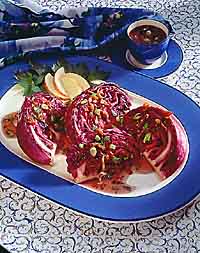 Cabbage Wedges with Tangy Hot Dressing
Yield
Makes 4 servings
Ingredients
| | |
| --- | --- |
| 1 | slice bacon, cut crosswise into 1/4-inch strips |
| 2 | teaspoons cornstarch |
| 2/3 | cup unsweetened apple juice |
| 1/4 | cup cider or red wine vinegar |
| 1 | tablespoon brown sugar |
| 1/2 | teaspoon caraway seeds |
| 1 | green onion, thinly sliced |
| 1/2 | head red or green cabbage (about 1 pound), cut into 4 wedges |
Preparation
Cook bacon in large skillet over medium heat until crisp. Remove bacon with slotted spoon to paper towel; set aside. Meanwhile, dissolve cornstarch in apple juice in small bowl. Stir in vinegar, brown sugar and caraway seeds; set aside. Add onion to hot drippings in skillet. Cook and stir until onion is soft but not brown.
Place cabbage wedges, flat side down, in skillet. Add cornstarch mixture to skillet. Cook over medium heat 4 minutes. Carefully turn over cabbage wedges. Cook 6 minutes or until cabbage is fork-tender and dressing is thickened.
Remove cabbage to cutting board; carefully cut away core. Transfer to warm serving plates. Pour hot dressing over cabbage wedges. Sprinkle with bacon pieces. Garnish as desired. Serve immediately.
Advertisement
Check out more recipes for European
Advertisement