Calorie-Wise Dill Chicken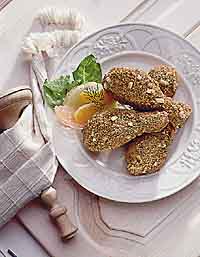 Calorie-Wise Dill Chicken
Yield
Makes 4 servings
Ingredients
| | |
| --- | --- |
| | Nonstick cooking spray |
| 1 | cup plain yogurt |
| 1-1/2 | cups natural wheat germ |
| 1/2 | cup chopped almonds* |
| 2 | teaspoons dried dill weed |
| 1/2 | teaspoon salt |
| 1/4 | teaspoon black pepper |
| 12 | chicken drumsticks |
*One-half cup slivered almonds chopped in a food processor with on/off pulses yields 1/2 cup chopped almonds.
Preparation
Preheat oven to 350°F. Line baking sheet with foil; spray foil with nonstick cooking spray. Set aside.
Place yogurt in shallow bowl.
Combine wheat germ, almonds, dill weed, salt and pepper in separate shallow bowl.
Coat drumsticks, one at a time, in yogurt, shaking off excess. Coat drumsticks in wheat germ mixture, shaking off excess.
Arrange chicken in single layer on prepared baking sheet. Bake 50 minutes or until chicken is tender and juices run clear. Garnish as desired.
Check out more recipes for Chicken & Other Poultry