Canton Pork Stew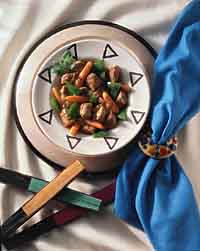 Canton Pork Stew
Yield
Makes 6 servings
Ingredients
| | |
| --- | --- |
| 1-1/2 | pounds boneless lean pork shoulder or pork loin roast, cut into 1-inch pieces |
| 1 | teaspoon ground ginger |
| 1/4 | teaspoon ground cinnamon |
| 1/4 | teaspoon ground red pepper |
| 1 | tablespoon peanut or vegetable oil |
| 1 | large onion, coarsely chopped |
| 3 | cloves garlic, minced |
| 1 | can (about 14 ounces) chicken broth |
| 1/4 | cup dry sherry |
| 1 | package (about 10 ounces) frozen baby carrots, thawed |
| 1 | large green bell pepper, cut into 1-inch pieces |
| 3 | tablespoons soy sauce |
| 1-1/2 | tablespoons cornstarch |
| | Cilantro for garnish |
Preparation
Sprinkle pork with ginger, cinnamon and ground red pepper; toss well. Heat large saucepan or Dutch oven over medium-high heat. Add oil; heat until hot.
Add pork to saucepan; brown on all sides. Add onion and garlic; cook 2 minutes, stirring frequently. Add broth and sherry. Bring to a boil over high heat. Reduce heat to medium-low. Cover and simmer 40 minutes.
Stir in carrots and green pepper; cover and simmer 10 minutes or until pork is fork-tender. Blend soy sauce into cornstarch in cup until smooth. Stir into stew. Cook and stir 1 minute or until stew boils and thickens. Ladle into soup bowls. Garnish with cilantro.
Check out more recipes for Chinese