Chicken Saltimbocca
the Editors of Publications International, Ltd.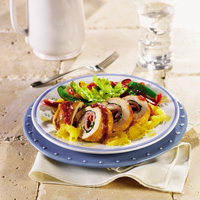 Chicken Saltimbocca
Yield
Makes 4 servings
Ingredients
| | |
| --- | --- |
| 1/4 | cup fresh basil leaves, coarsely chopped |
| 2 | tablespoons chopped fresh chives |
| 2 | teaspoons extra-virgin olive oil |
| 1 | clove garlic, minced |
| 1/2 | teaspoon dried oregano |
| 1/2 | teaspoon dried sage |
| 4 | boneless skinless chicken breast halves (about 4 ounces each) |
| 2 | slices (1 ounce each) smoked ham, cut in half |
| 1/2 | cup chicken broth |
| 1 | cup pasta sauce |
| 2 | cups cooked spaghetti squash, warmed (see Tip) |
Preparation
Combine basil, chives, oil, garlic, oregano and sage in small bowl. Lightly pound chicken breasts between 2 pieces of plastic wrap with flat side of meat mallet to 1/2- to 3/4-inch thickness. Spread one quarter of herb mixture over each chicken breast. Place 1 ham slice over herb mixture; roll up to enclose filling. Secure with toothpicks.
Spray medium nonstick skillet with cooking spray. Heat skillet over medium-high heat. Cook chicken breasts seam side up 2 to 3 minutes or until browned. Turn chicken; cook 2 to 3 minutes or until browned. Add broth, reduce heat to medium-low. Cover and simmer 20 to 25 minutes or until chicken is cooked through.
Remove chicken to cutting board, leaving liquid in skillet. Let chicken cool 5 minutes. Add pasta sauce to skillet; cook over medium-low heat 2 to 3 minutes or until heated through, stirring occasionally.
Remove toothpicks from chicken and cut crosswise into slices. To serve, place spaghetti squash on serving platter or individual plates; arrange chicken slices over squash and top with pasta sauce.
Tip
To quickly cook spaghetti squash, cut a 2-1/2-pound squash in half lengthwise with a sturdy sharp knife. Remove the seeds from each half. Place halves cut sides down in a microwavable baking dish. Add 1/2 cup water, cover with plastic wrap and cook on HIGH 10 to 15 minutes or until the squash is soft. Let cool 10 to 15 minutes. Scrape out squash "strands" with a fork. A 2-1/2-pound squash yields about 4 cups cooked squash.
Nutritional Information
| | |
| --- | --- |
| Serving Size: | 1 chicken roll plus 1/2 cup squash and 1/3 cup sauce |
| Calories | 195 |
| Calories from Fat | 18 % |
| Total Fat | 4 g |
| Saturated Fat | 1 g |
| Cholesterol | 72 mg |
| Carbohydrate | 10 g |
| Fiber | 2 g |
| Protein | 30 g |
| Sodium | 676 mg |
Advertisement
Check out more recipes for Italian
Advertisement