Chicken Tostadas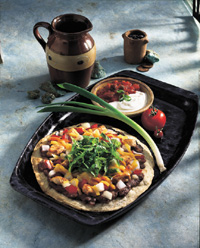 Chicken Tostada
Prep and Cook Time 28 minutes
Yield
Makes 6 servings
Ingredients
| | |
| --- | --- |
| 6 | (8-inch) flour tortillas |
| | Nonstick cooking spray |
| 1 | can (15 ounces) black beans, rinsed and drained |
| 1/2 | cup hot salsa |
| 2 | teaspoons chili powder, divided |
| 1 | teaspoon ground cumin, divided |
| 12 | ounces chicken tenders |
| 2 | cups finely chopped tomatoes, well drained |
| 1 | cup chopped onion |
| 1-1/2 | cups (6 ounces) shredded Cheddar cheese |
| 2 | cups shredded romaine or iceberg lettuce |
Preparation
Preheat oven to 350°F. Place tortillas on two large baking sheets, overlapping as little as possible. Spray both sides of tortillas with nonstick cooking spray. Bake 7 minutes. Turn tortillas over and bake 3 minutes more or until no longer soft and flexible.
While tortillas are baking, place beans in food processor and process until smooth. Transfer to medium saucepan. Stir in salsa, 1 teaspoon chili powder and 1/2 teaspoon cumin; bring to a boil over medium heat.
Cut chicken into 1/2-inch pieces. Sprinkle with remaining 1 teaspoon chili powder and 1/2 teaspoon cumin. Coat large nonstick skillet with cooking spray; heat over medium heat. Add chicken; cook and stir 5 minutes or until cooked through.
Spread bean mixture on tortillas to within 1/2 inch of edges. Top with chicken, tomatoes, onion and cheese. Bake 2 minutes or just until cheese is melted. Top with lettuce; serve immediately.
Note
For a special touch, top each tostada with a dollop of sour cream.
Nutritional Information
| | |
| --- | --- |
| Calories | 379 |
| Total Fat | 14 g |
| Cholesterol | 65 mg |
| Carbohydrate | 39 g |
| Fiber | 7 g |
| Protein | 30 g |
| Sodium | 599 mg |
Dietary Exchange
| | |
| --- | --- |
| Starch | 2 |
| Vegetable | 2 |
| Meat | 2-1/2 |
| Fat | 1 |
Check out more recipes for Mexican