Chocolate Sour Cream Cheesecake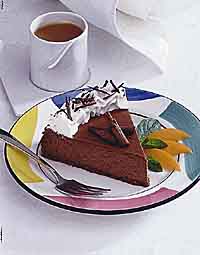 Chocolate Sour Cream Cheesecake
Yield
Makes 12 servings
Ingredients
| | |
| --- | --- |
| | Chocolate Crumb Crust |
| 3 | packages (8 ounces each) fat-free cream cheese, softened |
| 1 | cup reduced-fat sour cream |
| 2 | eggs |
| 2/3 | cup sugar |
| 1/3 | cup unsweetened cocoa powder |
| 1/4 | cup fat-free chocolate syrup |
| 3 | tablespoons all-purpose flour |
Preparation
Preheat oven to 350°F. Prepare Chocolate Crumb Crust; set aside. Beat cream cheese in large bowl with electric mixer at high speed until fluffy. Beat in sour cream until smooth. Beat in eggs, one at a time until blended. Stir in sugar, cocoa, chocolate syrup and flour until smooth. Pour over crust.
Bake 50 to 60 minutes or until set in center. Loosen cheesecake from edge of pan with knife. Cool on wire rack. Cover; refrigerate overnight.
Remove side of pan. Garnish cheesecake with dollops of nonfat whipped topping, chocolate shavings and chocolate curls, if desired.
Chocolate Crumb Crust
Combine 1-1/4 cups graham cracker crumbs, 2 tablespoons sugar, 2 tablespoons sugar, 2 tablespoons unsweetened cocoa powder in medium bowl; stir in 1/4 cup melted margarine. pat mixture into bottom and up sides of 9-inch springform pan. Bake in preheated 350°F oven for 8 minutes. Cool on wire rack.
Nutritional Information
| | |
| --- | --- |
| Calories | 251 |
| Calories from Fat | 28 % |
| Total Fat | 8 g |
| Saturated Fat | 1 g |
| Cholesterol | 52 mg |
| Carbohydrate | 33 g |
| Fiber | trace g |
| Protein | 11 g |
| Sodium | 478 mg |
Check out more recipes for Cheesecakes