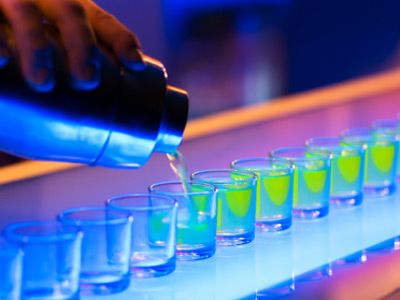 ©iStockphoto.com/Raphael Daniaud
Typically made with a combination of distilled liquors, juices, fruits, liqueurs, creams and other ingredients, cocktails come in an endless variety of colors and flavors. These popular, adult-only drinks are simple options for any cocktail party.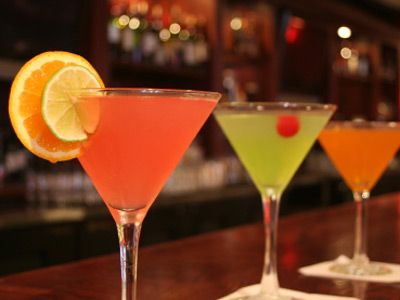 ©iStockphoto.com/Steve Manson
Classic martinis are shaken with vodka, gin or vermouth. Flavored martinis have become very popular and use sweet liqueurs or fruit juices in their recipes. Apple martinis for example -- 3 parts vodka, 1 park apple schnapps and 1 part triple sec.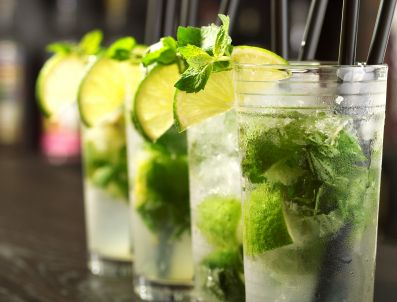 ©iStockphoto.com/Ivan Mateev
White rum, sugar cane, lime, sparkling water and mint create traditional mojitos. Extremely popular during the summer, the contrast of sweet, citrus and mint can also be complemented with different fruit flavorings.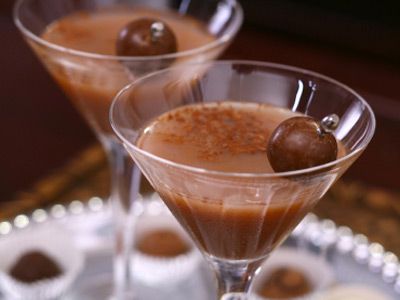 ©iStockphoto.com/Sandra O'Claire
To indulge in this chocolate-flavored delight, shake equal parts of vodka or Disaronno Amaretto, Creme de Cacao and triple sec with ice. Pour into a martini glass and add Kahlua. Garnish your chocotini with cocoa powder.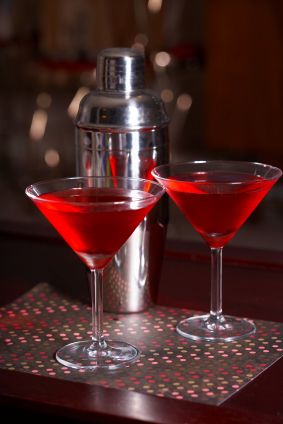 ©iStockphoto.com/Sandra O'Claire
A pomtini's combination of sweet and tart is an excellence choice for people who like fruity drinks. Vodka, simple syrup and grapefruit, pomegranate and lime juices are all mixed together for this pomtini.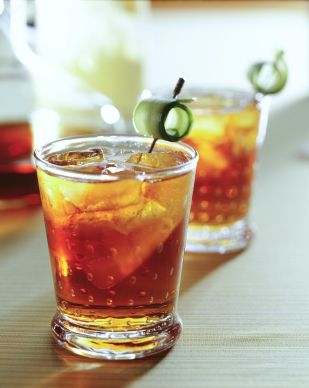 ©iStockphoto.com/Ed O'Neil
Be careful when ordering this one: Based on looks alone, Long Island iced tea can easily be mistaken for a nonalcoholic beverage. Long Island iced tea contains four liquors: vodka, gin, tequila and rum. It's definitely not a regular iced tea.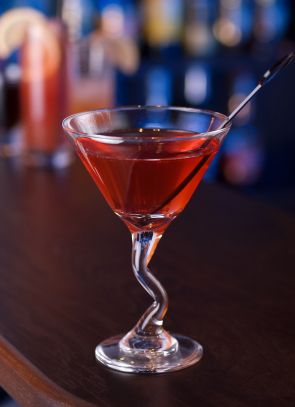 ©iStockphoto.com/Ivan Mateev
Cosmopolitans are classic martinis. The traditional recipe of cranberry juice, lemon juice, cointreau and vodka yields that recognizable reddish hue.
©iStockphoto.com/Kasia Biel
The easiest way to prepare a strawberry daiquiri, which is similar to a fruit smoothie in texture, is by picking up a can of frozen daiquiri mix in the frozen foods section of your grocery store. Simply blend the frozen mix with a splash of rum and a couple of ice cubes.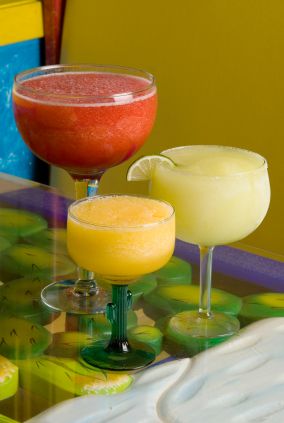 ©iStockphoto.com/Eric Tadsen
Frozen or on the rocks? Available in a variety of flavors, margaritas usually start with tequila, triple sec and lime juice poured in a salt- or sugar-rimmed glass.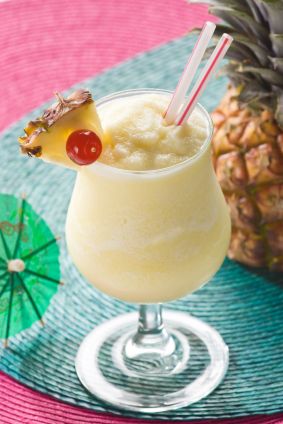 ©iStockphoto.com/Carlos Gawronski
Pina coladas are the ultimate frozen cocktail, though you can shake them with ice. The sweetness of coconut cream and pineapple juice are blended with Caribbean rum to create a refreshing getaway in a glass.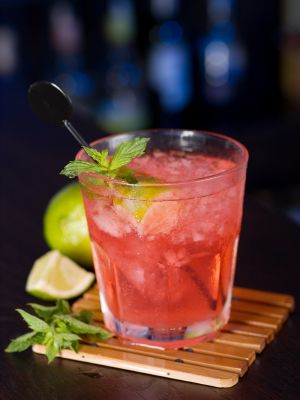 ©iStockphoto.com/Ivan Mateev
Continue the island getaway with a mai tai, which means "out of this world" in Tahitian. The combination of light and dark rums with island fruits definitely makes it a tropical cocktail.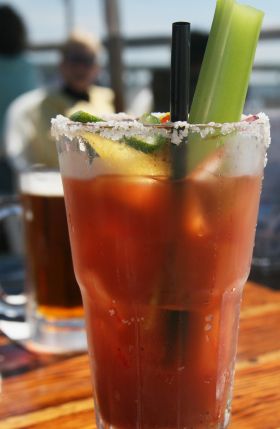 ©iStockphoto.com/Lauri Wiberg
Bloody Marys offer savory flavor with a kick of spice. This drink lacks most of the ingredients of a standard cocktail, but the vodka and tomato juice concoction is surprisingly popular. Don't forget to add Worcestershire, Tabasco, lemon juice and a celery stalk.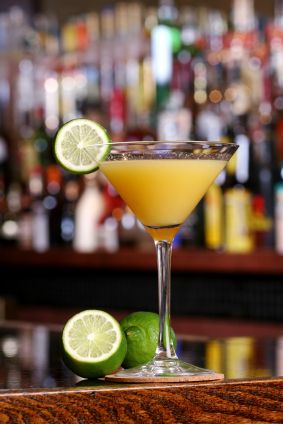 ©iStockphoto.com/Cristian Lazzari
An afternoon brunch isn't complete without a mimosa. Freshly squeezed orange juice mixed with champagne will surely wake you up! For a touch of sweetness, add a splash of grenadine or a garnish of fresh fruit.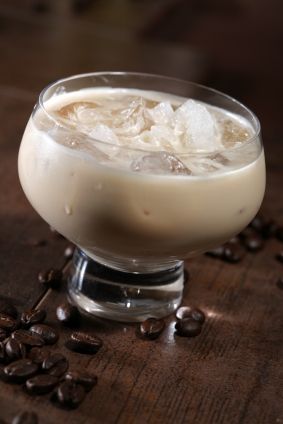 ©iStockphoto.com/Rakoskerti
Liqueurs are flavorful, yet quite sweet -- they can really be served on their own over the rocks. A white Russian is a basic liqueur cocktail of equal parts vodka, Kahlua and cream.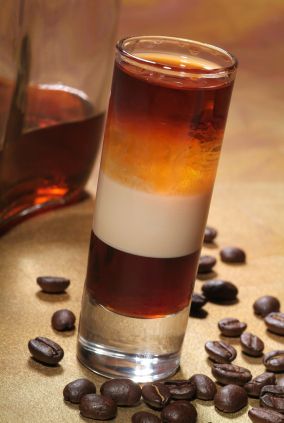 ©iStockphoto.com/Rakoskerti
A flaming B-52 is a layered shot of coffee liqueurs. Named after Vietnam bomber planes, this Bailey's Irish Cream, Kahlua and Grand Marnier shooter has a top layer that's ignited with a small flame before being served.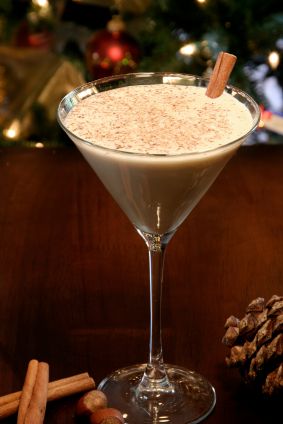 ©iStockphoto.com/Jeff Giniewicz
During the Christmas season, eggnog always seems to find its way to the bar. At this year's celebration, add a twist to a classic by combining eggnog and brandy. Garnish with grated cinnamon and nutmeg. To learn more about libations check out our Cocktail Quiz.