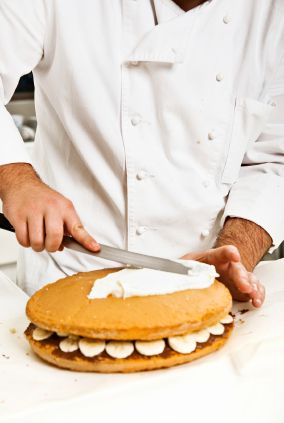 With frosting, fondant and the right embellishments, a skilled decorator can turn a simple slab of cake into a masterpiece. And it doesn't take a giant, multilayer confection to make an impression -- cupcakes can be beautiful, too. Take a look at some of today's most modern, intricate cakes.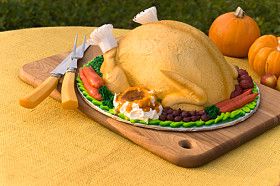 End your Thanksgiving dinner with a second round of turkey and mashed potatoes. But be prepared: This savory-looking feast is actually cake.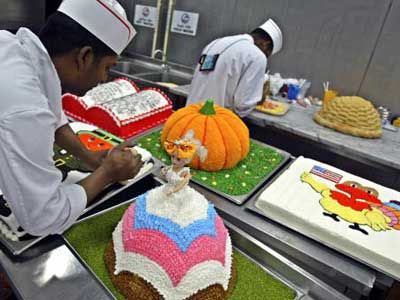 Muhannad Fala'ah/Getty Images
What do you do when you're baking for people of lots of faiths and backgrounds? Bake lots of cakes! These cake decorators are preparing for the U.S. military's Thanksgiving Day celebration in Baghdad, Iraq.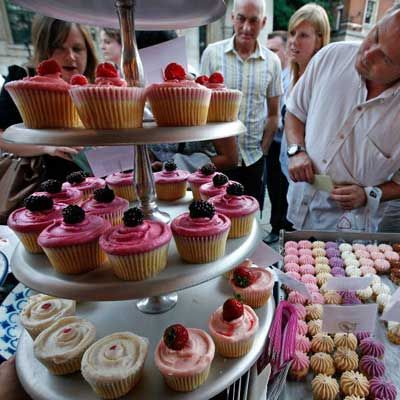 If you don't have the budget to cook a full-size cake for everyone you know, cupcakes are another option. Since cupcakes are small, it's easy to use complementary and contrasting colors and decorations to make an eye-catching arrangement. These are on display at the Covent Garden food market in London.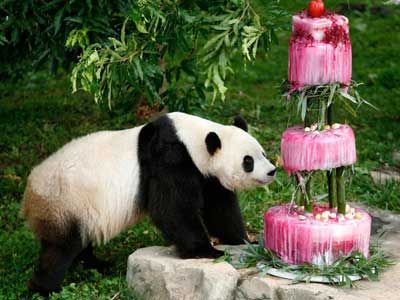 Cakes can be for animals, too. To celebrate the birthday of Tai Shan, a giant panda, the Smithsonian National Zoo in Washington, D.C., gave him a cake made out of ice, bamboo, shredded beets and beet juice.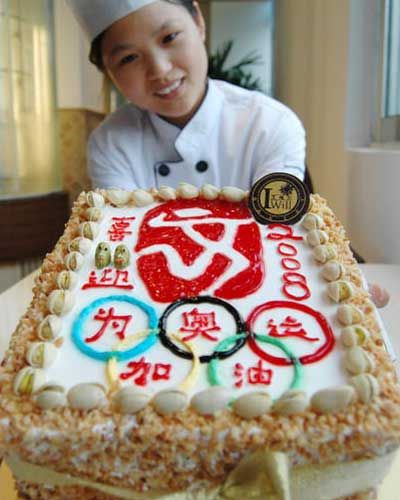 Zhu Guigen/ChinaFotoPress/Getty Images
You can make an eye-catching cake using an ordinary, rectangular cake pan. Pastry chefs in Suzhou, China, welcomed visitors to the 2008 Olympics in Beijing with this cake.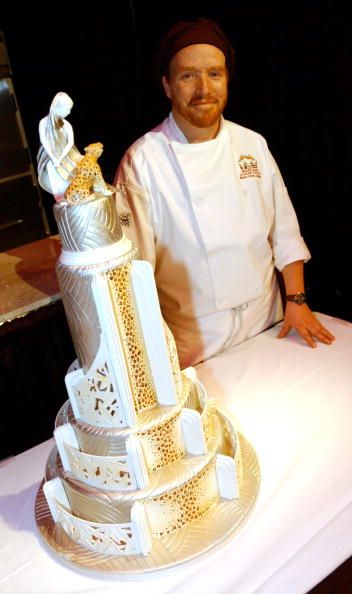 This sleek cake designed for a bachelorette party won Mike McCarey of Mike's Amazing Cakes the First Annual Pastry Competition in Beavercreek, Colo., in 2003. A leopard-print accent running down the front complements the cake's distinctive topper.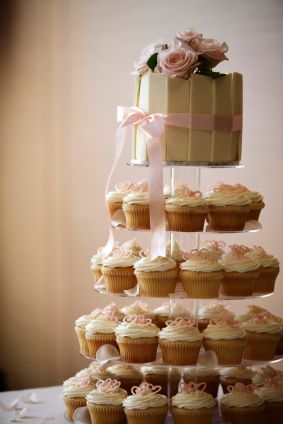 ©iStockphoto.com/David Freund
Cupcakes aren't just for birthday parties anymore -- cupcake trees are becoming popular at showers and weddings alike. By arranging cupcakes on a tiered server, the perfectly portioned cakes can have a similar visual effect to a traditional wedding cake.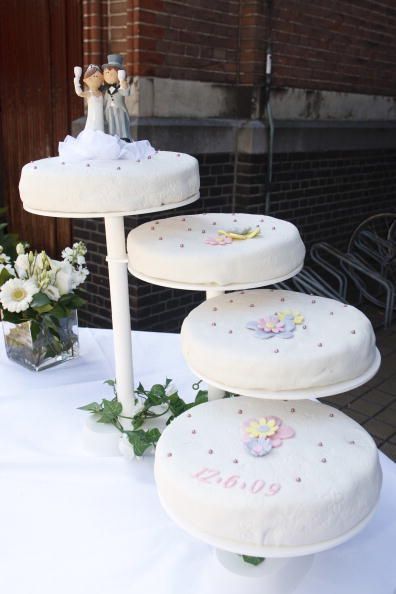 Helene Wiesenhaan/WireImage
Of course, many couples are still opting for a more traditional wedding cake. This simple cake from the Netherlands was served during the wedding of Zaina Mohamed and Dennis Van Der Geest.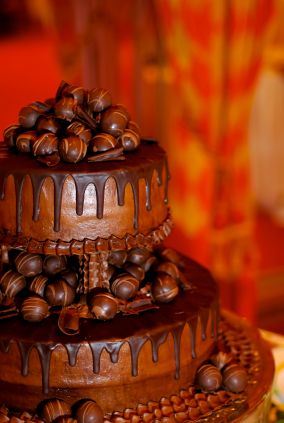 ©iStockphoto.com/Phillip Holland
Unlike the traditionally delicate wedding cake, grooms' cakes are often expressive of the groom's favorite ingredients or hobbies. Chocolate must be this groom's favorite food.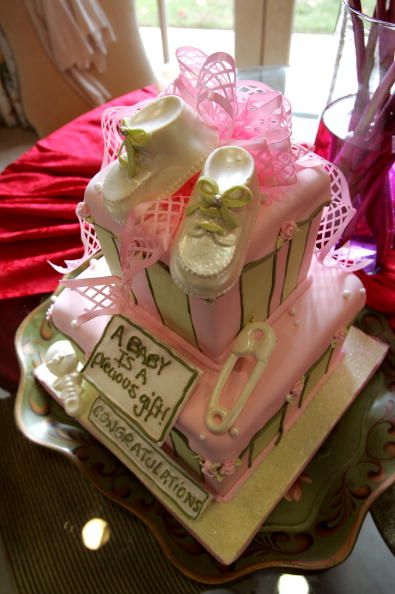 Mark Mainz/Getty Images for BB
The oversized pins, shoes and a lacy pink ribbon make Brooke Burke's baby shower cake unique.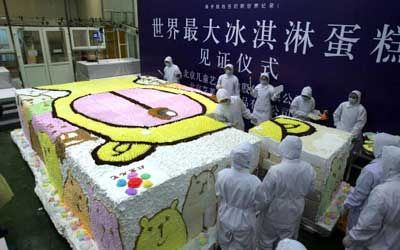 China Photos/Getty Images
Some cakes are famous for their size, not their aesthetic appeal. Weighing in at 8 tons, this ice cream cake was made to break the Guinness World Record for largest ice cream cake.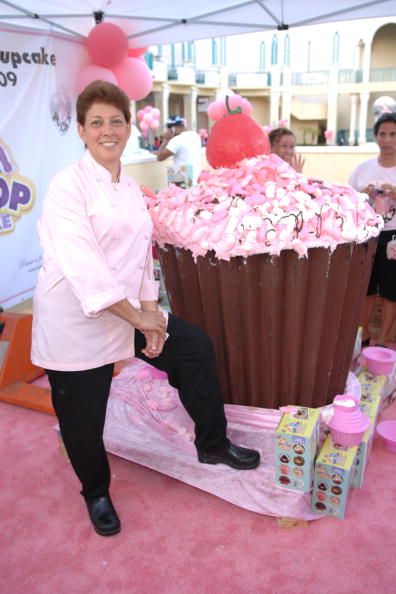 Larry Marano/Getty Images
Teri Cahn holds the Guinness world record for the biggest cupcake. The cupcake was made for a breast cancer charity benefit.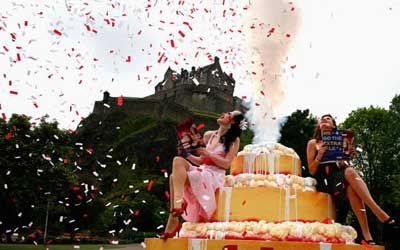 Jeff J Mitchell/Getty Images
A giant cake equipped with confetti cannons helped open the Edinburgh Fringe Festival in 2007.
Stephen Lovekin/WireImage
Even when they're small, cakes can get pretty pricey, but this cake doesn't top the value of the merchandise inside those boxes. The Harry Winston "Million Dollar Cake" celebrated the start of the Robb Report luxury index on the New York Stock Exchange.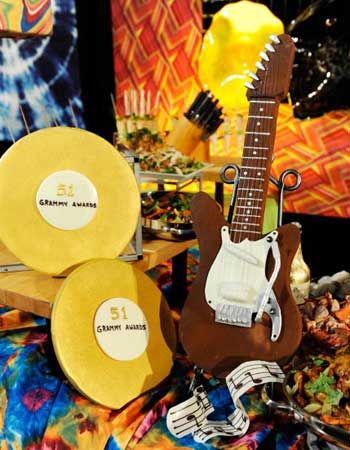 Kevork Djansezian/Getty Images
Chocolate guitar cakes and gold discs decorated Wolfgang Puck's cooking demonstration and food tasting at the 51st Grammy Awards. The theme celebrated the Summer of Love and Woodstock.
Alberto Rodriguez/Getty Images
Hogwarts School of Witchcraft and Wizardry comes to life in this cake designed for the "Harry Potter and the Order of the Phoenix" premiere after-party.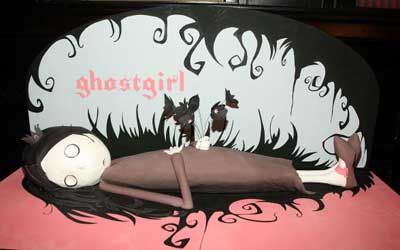 Stephen Lovekin/Getty Images
Celebrity pastry chef Duff Goldman designed this creepy cake for the "Ghost Girl: Homecoming" launch party at the New York City Public Library.