Easy Veggie-Topped Baked Spuds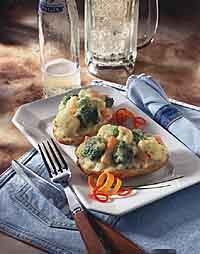 Easy Veggie-Topped Baked Spuds
Prep and Cook Time 23 minutes
Yield
Makes 4 servings
Ingredients
| | |
| --- | --- |
| 2-1/2 | cups frozen broccoli-carrot vegetable medley |
| 4 | large baking potatoes |
| 1 | can (10-3/4 ounces) condensed cream of broccoli and cheese soup, undiluted |
| 1/2 | cup (2 ounces) shredded Cheddar cheese |
| | Salt and black pepper |
Preparation
Place vegetables in microwavable bowl. Microwave on HIGH 5 minutes; drain.
Scrub potatoes and pierce several times with knife. Microwave on HIGH 15 minutes or until potatoes are soft.
Meanwhile, combine soup, vegetables and cheese in medium saucepan. Cook and stir over low heat until cheese melts and mixture is heated through.
Split baked potatoes lengthwise in half. Top each potato with soup mixture. Season to taste with salt and pepper.
Tip
Choose russet or Idaho potatoes. Store them in a cool, dark place away from onions for up to 2 weeks. (Storing potatoes and onions together will cause the potatoes to rot more quickly.)
Nutritional Information
| | |
| --- | --- |
| Calories | 351 |
| Calories from Fat | 15 % |
| Total Fat | 6 g |
| Cholesterol | 15 mg |
| Carbohydrate | 65 g |
| Fiber | 2 g |
| Protein | 11 g |
| Sodium | 675 mg |
Dietary Exchange
| | |
| --- | --- |
| Starch | 4 |
| Vegetable | 1 |
| Fat | 1 |
Check out more recipes for Vegetarian