English Thumbprint Cookies
the Editors of Publications International, Ltd.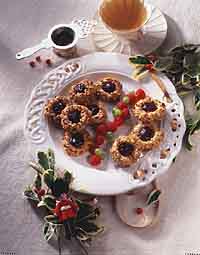 English Thumbprint Cookies
Yield
Makes about 2-1/2 dozen cookies
Ingredients
| | |
| --- | --- |
| 1 | cup pecan pieces |
| 1-1/4 | cups all-purpose flour |
| 1/4 | teaspoon salt |
| 1/2 | cup (1 stick) butter, softened |
| 1/2 | cup packed light brown sugar |
| 1 | teaspoon vanilla |
| 1 | egg, separated |
| 2 | to 3 tablespoons seedless red raspberry or strawberry jam |
Preparation
Preheat oven to 350°F. To toast pecans, spread on ungreased baking sheet. Bake 8 to 10 minutes or until golden brown, stirring frequently. Remove pecans from baking sheet and cool. Process cooled pecans in food processor until finely chopped; transfer to shallow bowl.
Place flour and salt in medium bowl; stir. Beat butter and brown sugar in large bowl with electric mixer at medium speed until light and fluffy. Beat in vanilla and egg yolk. Gradually beat in flour mixture. Beat egg white with fork until frothy.
Shape dough into 1-inch balls. Roll balls in egg white; roll in pecans to coat. Place balls on ungreased cookie sheets. Press deep indentation in center of each ball with thumb.
Bake 8 minutes or until set. Remove cookies from oven; fill each indentation with about 1/4 teaspoon jam. Return filled cookies to oven; bake 8 to 10 minutes or until lightly browned. Immediately remove cookies to wire racks; cool completely.
Store cookies tightly covered at room temperature or freeze up to 3 months.
Advertisement
Check out more recipes for European
Advertisement