Farmhouse Lemon Meringue Pie
the Editors of Publications International, Ltd.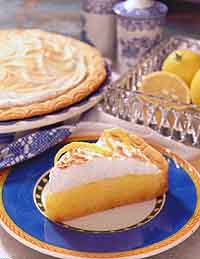 Farmhouse Lemon Meringue Pie
Yield
Makes 8 servings
Ingredients
| | |
| --- | --- |
| 1 | frozen reduced-fat pie crust, baked according to package directions |
| 4 | eggs, at room temperature |
| 3 | tablespoons lemon juice |
| 2 | tablespoons reduced-fat margarine, melted |
| 2 | teaspoons grated lemon peel |
| 3 | drops yellow food coloring (optional) |
| 2/3 | cup sugar, divided |
| 1 | cup cold water |
| 1/4 | cup cornstarch |
| 1/8 | teaspoon salt |
| 1/4 | teaspoon vanilla |
Preparation
Preheat oven to 425°F.
Separate eggs, discarding 2 egg yolks; set aside. Mix lemon juice, margarine, lemon peel and food coloring, if desired, in small bowl; set aside.
Reserve 2 tablespoons sugar. Combine water, remaining sugar, cornstarch and salt in medium saucepan; whisk until smooth. Heat over medium-high heat, whisking constantly, until mixture begins to boil. Reduce heat to medium. Continue to boil 1 minute, stirring constantly; remove from heat.
Stir 1/4 cup boiling sugar mixture into remaining 2 egg yolks; whisk constantly until completely blended. Slowly whisk egg yolk mixture back into boiling sugar mixture. Cook over medium heat 3 minutes, whisking constantly. Remove from heat; stir in lemon juice mixture until well blended. Pour into baked pie crust.
Beat egg whites in large bowl with electric mixer at high speed until soft peaks form. Gradually beat in reserved 2 tablespoons sugar and vanilla; beat until stiff peaks form. Spread meringue over pie filling with rubber spatula, making sure meringue completely covers filling and touches edge of pie crust.
Bake 15 minutes. Remove from oven; cool completely on wire rack. Cover with plastic wrap; refrigerate 8 hours or overnight until filling is firm and pie is chilled thoroughly. Cut into 8 slices before serving. Garnish, if desired.
Nutritional Information
| | |
| --- | --- |
| Serving Size: | 1 pie slice |
| Calories | 261 |
| Calories from Fat | 40 % |
| Total Fat | 12 g |
| Saturated Fat | 3 g |
| Cholesterol | 110 mg |
| Carbohydrate | 34 g |
| Fiber | 1 g |
| Protein | 5 g |
| Sodium | 227 mg |
Advertisement
Check out more recipes for Pies & Tarts
Advertisement