Feta Brunch Bake
the Editors of Publications International, Ltd.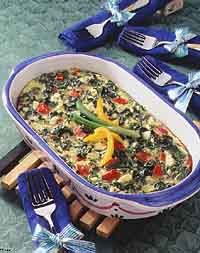 Feta Brunch Bake
Yield
Makes 4 servings
Ingredients
| | |
| --- | --- |
| 1 | medium red bell pepper |
| 2 | bags (10 ounces each) fresh spinach, washed and stemmed |
| 6 | eggs |
| 6 | ounces crumbled feta cheese |
| 1/3 | cup chopped onion |
| 2 | tablespoons chopped fresh parsley |
| 1/4 | teaspoon dried dill weed |
| | Dash black pepper |
Preparation
Preheat broiler. Place bell pepper on foil-lined broiler pan. Broil, 4 inches from heat, 15 to 20 minutes or until blackened on all sides, turning every 5 minutes with tongs. Place in paper bag; close bag and set aside to cool about 15 to 20 minutes. To peel pepper, cut around core, twist and remove. Cut in half and rub off skin; rinse under cold water. Cut into 1/2-inch pieces.
To blanch spinach, place 1 quart water in 2-quart saucepan over high heat; bring to a boil. Add spinach. Return to a boil; boil 2 to 3 minutes or until crisp-tender. Drain; immediately plunge spinach into cold water. Drain; let stand until cool enough to handle. Squeeze spinach to remove excess water; finely chop.
Preheat oven to 400°F. Grease 1-quart baking dish. Beat eggs in large bowl with electric mixer at medium speed until foamy. Stir in bell pepper, spinach, cheese, onion, parsley, dill weed and black pepper. Pour egg mixture into prepared dish. Bake 20 minutes or until set. Let stand 5 minutes before serving. Garnish as desired.
Nutritional Information
| | |
| --- | --- |
| Calories | 266 |
| Calories from Fat | 56 % |
| Total Fat | 17 g |
| Saturated Fat | 9 g |
| Cholesterol | 359 mg |
| Carbohydrate | 10 g |
| Fiber | 4 g |
| Protein | 20 g |
| Sodium | 684 mg |
Advertisement
Check out more recipes for Casseroles & Dishes
Advertisement