Fiery Chili Beef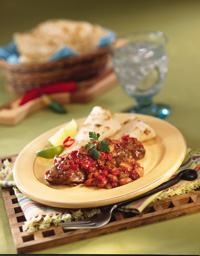 Fiery Chili Beef
Prep Time 15 minutes
Cook Time 7 to 8 hours (LOW)
Yield
Makes 6 servings
Ingredients
| | |
| --- | --- |
| 1 | to 2 beef flank steaks (1 to 1-1/2 pounds) |
| 1 | can (28 ounces) diced tomatoes, undrained |
| 1 | can (15 ounces) pinto beans, rinsed and drained |
| 1 | medium onion, chopped |
| 2 | cloves garlic, minced |
| 1/2 | teaspoon salt |
| 1/2 | teaspoon ground cumin |
| 1/4 | teaspoon black pepper |
| 1 | canned chipotle chile pepper in adobo sauce |
| 1 | teaspoon adobo sauce from canned chile pepper |
| | Flour tortillas |
Preparation
Cut flank steak into 6 evenly-sized pieces. Combine flank steak, tomatoes with juice, beans, onion, garlic, salt, cumin and black pepper in slow cooker.
Dice chile pepper. Add pepper and adobo sauce to slow cooker; mix well.
Cover; cook on LOW 7 to 8 hours. Serve with tortillas.
Note
Chipotle chile peppers are dried, smoked jalapeño peppers with a very hot yet smoky, sweet flavor. They can be found dried, pickled and canned in adobo sauce.
Check out more recipes for Mexican