Fish Rolls with Crab Sauce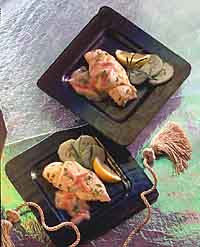 Fish Rolls with Crab Sauce
Yield
Makes 4 to 6 servings
Ingredients
| | |
| --- | --- |
| 1 | pound sole fillets, 1/4 to 3/8 inch thick (about 4 ounces each) |
| 1 | tablespoon dry sherry |
| 2 | teaspoons dark sesame oil |
| 1 | green onion with top, finely chopped |
| 1 | teaspoon minced fresh ginger |
| 1/2 | teaspoon salt |
| | Dash white pepper |
| 1-1/2 | tablespoons cornstarch |
| 2 | tablespoons water |
| 1 | tablespoon vegetable oil |
| 1 | teaspoon minced fresh ginger |
| 6 | ounces fresh crabmeat, flaked |
| 2 | green onions with tops, thinly sliced |
| 1 | tablespoon dry sherry |
| 1-1/4 | cups chicken broth |
| 1/4 | cup milk |
| | Scored cucumber slices,* lemon wedges and fresh tarragon leaves for garnish |
*To score cucumber, run tines of fork lengthwise down all sides of cucumber before slicing.
Preparation
If fillets are large, cut in half crosswise (each piece should be 5 to 6 inches long). Combine sherry, sesame oil, chopped green onion, 1 teaspoon ginger, salt and white pepper in small bowl. Brush each piece of fish with sherry mixture; let stand 30 minutes.
Fold fillets into thirds; place on rimmed heat-proof dish that will fit inside a steamer. Place dish on rack in steamer. Cover and steam 8 to 10 minutes over boiling water until fish turns opaque and flakes easily with fork.
Meanwhile, prepare Crab Sauce. Blend cornstarch and water in small cup. Heat vegetable oil in medium saucepan over medium heat. Add 1 teaspoon ginger; cook and stir 10 seconds. Add crabmeat, green onions and sherry; stir-fry 1 minute. Add chicken broth and milk; bring to a boil. Stir cornstarch mixture; add to saucepan. Cook, stirring constantly, until sauce boils and thickens slightly.
Transfer fish to serving platter, using slotted spoon; top with Crab Sauce. Garnish, if desired.
Check out more recipes for Chinese