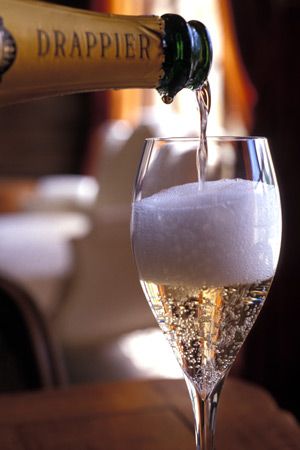 Cesar Lucas Abreu/Getty Images
Whether it's for a wedding toast or a championship win, champagne is the perfect choice for festive occasions. Known for its sparkling bubbles, champagne's notable fizz can take years to achieve.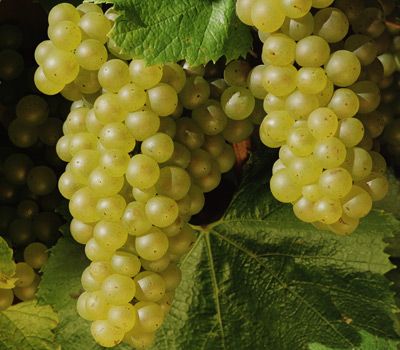 It all begins with the grape, the most important part of wine- or champagne-making. Chardonnay white grapes are used in most champagnes.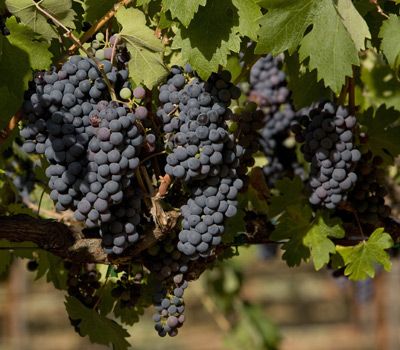 Pinot Noir and Pinot Meunier, black grapes, are usually combined with the Chardonnays during the methode champenoise -- the traditional French method for making champagne.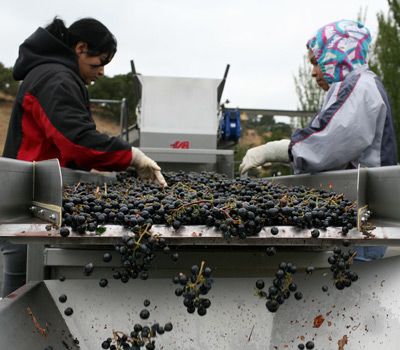 Justin Sullivan/Getty Images
Grapes for wine production aren't harvested until late September or early October, the ideal time for desired sugar and acid levels. Here, two women are sorting harvested grapes for pressing.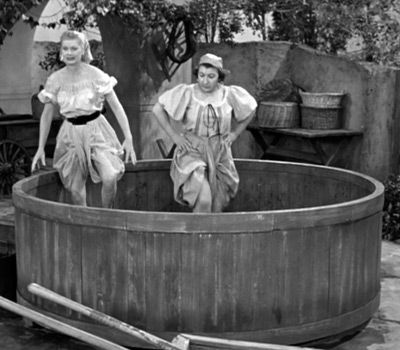 CBS Photo Archive/Getty Images
Though modern winemaking follows the traditional method, there have been a few upgrades. For one thing, machines, not feet, take the lead on pressing the grapes.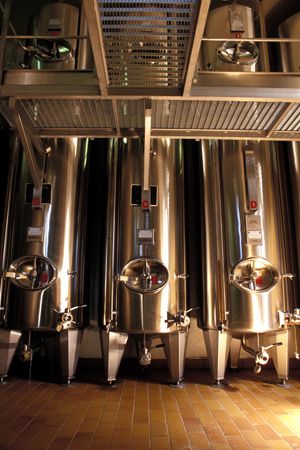 Cesar Lucas Abreu/Getty Images
After a gentle press to extract all the juice and pulp, the cuvee -- base wine -- is filtered into large, stainless-steel tanks for its first fermenting. Then, liqueur de triage -- a yeast and sugar mixture -- is added to the blend.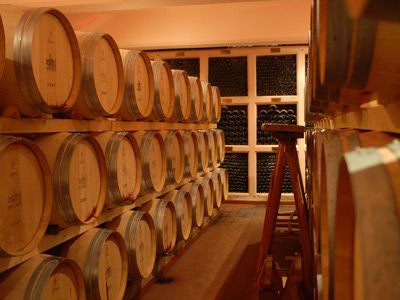 Kaveh Kazemi/Getty Images
Some winemakers prefer to ferment their wine in traditional wooden barrels in a cellar. With either option, it takes about two to three weeks for the cuvee and liqueur de triage mixture to ferment, or turn into alcohol.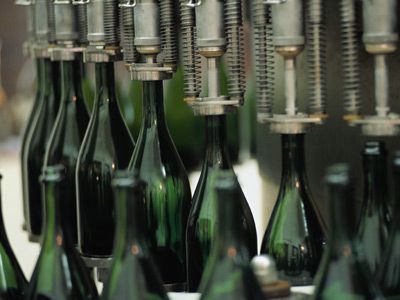 John A. Rizzo/Getty Images
At this stage, the wine and champagne processes begin to differ. For champagne, the fermented wine is added to individual bottles, injected with more liqueur de triage, and sealed with a crown cap. The yeast will create carbon dioxide, which makes those famous bubbles.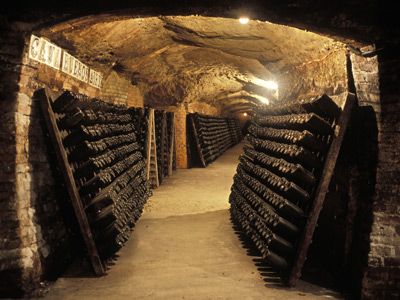 Then, the capped bottles are placed in riddling racks for aging. These special racks hold each bottle at a 45-degree angle. On average, aging can last for one to three years, but winemakers usually recommend longer for the best bottles.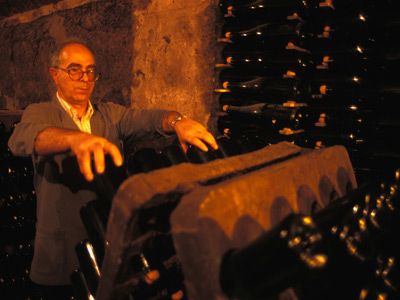 Cesar Lucas Abreu/Getty Images
In a very important process called riddling, yeast sediments gradually settle to the neck of the bottle. Traditionally, a remueur, or riddler, rotates each bottle in the rack every day to tap the sediments down.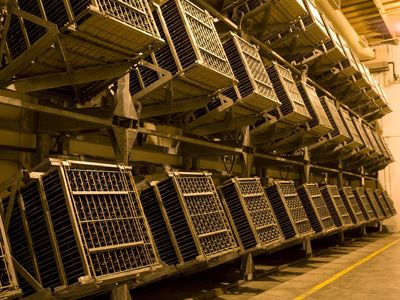 Today, riddling is performed by giant machines that systematically rotate hundreds of bottles to a vertical position at once.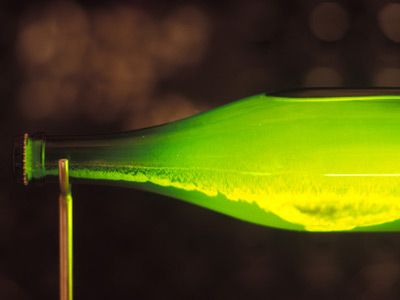 Cesar Lucas Abreu/Getty Images
The yeast has completed its work, so it must be removed from the champagne. The neck of each bottle is frozen and the crown cap is taken off. The pressure in the bottle causes the frozen yeast to pop right out -- this is referred to as degorgement.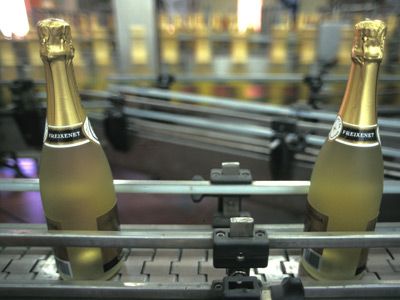 Cesar Lucas Abreu/Getty Images
Small amounts of champagne are lost during degorgement, so dosage, a special mixture of sugar and aged wine, is used to fill the bottle back up. The champagne is finally ready to be corked and sealed.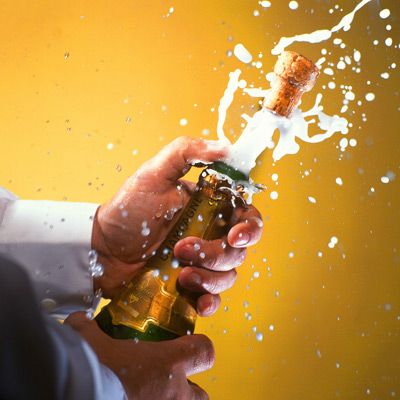 When that bottle with the gold seal reaches your table, it's ready to be popped open. Remember to point it away from yourself and others when opening -- all that bottled pressure can send the cork flying.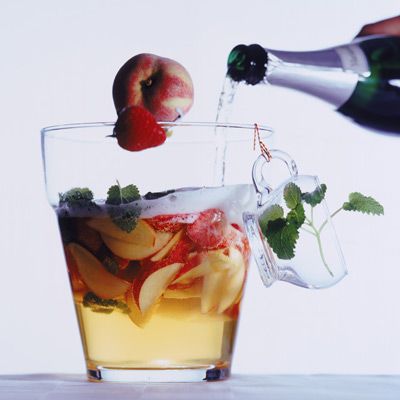 A chilled glass of champagne is always nice, but you can also try pouring that bubbly over fresh fruit for a flavorful punch. To learn more about champagne check out this article on the Champagne wine region.