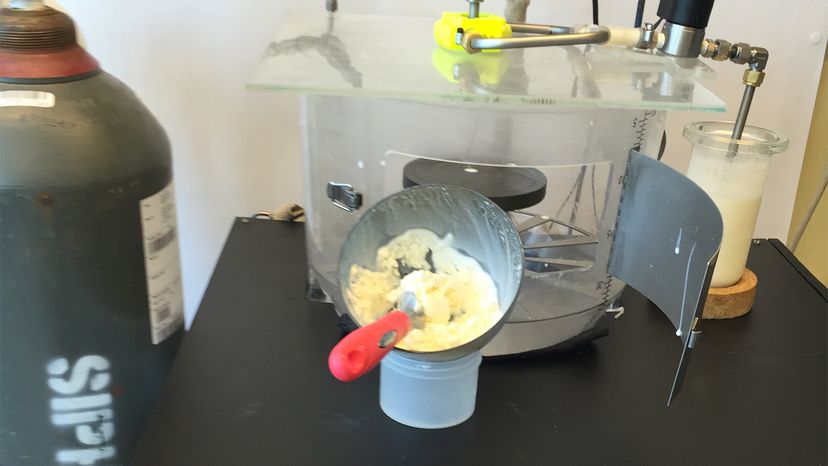 As the last days of spring give way to the summer months each year, we can all indulge in the warm-weather luxuries that only grow more appealing with anticipation. Iced coffee, frosé and — of course — ice cream. We'll be the first to admit how we assumed ice cream was a finished product. You've got custard, gelato, frozen yogurt, the DQ Blizzard (even though it's not technically ice cream) and even color-changing ice cream that somehow doesn't turn your insides blue. How wrong we were.
Two researchers at Cornell University filed a patent in 2015 for an apparatus that flash-freezes the delicious dairy concoction, essentially giving us carbonated instant ice cream. On April 21, 2020, after a five-year application process, the U.S. Patent and Trademark Office awarded Patent No. 10,624,363 B to Cornell's Syed Rizvi, professor of food science engineering, and Michael E. Wagner, Ph.D.
So, what makes this remarkable invention necessary? What a lot of people don't realize is the toll shipping ice cream takes on the environment. The average American eats almost 22 pints (10.4 liters) of ice cream each year, reports the World Wildlife Fund, with about 10 percent of all milk (that's 23 million gallons [87 million liters]) produced by U.S. dairy farmers going to 872 million gallons (3,300 million liters) of ice cream. When it comes to shipping that all ice cream, the main environmental impact comes from ensuring the final product won't melt upon delivery to the grocery stores. That puts a huge strain on companies — especially the drivers of refrigerated trucks — to deliver quickly and efficiently. Unfortunately, more refrigerated trucks means more greenhouse gas emissions.
Rizvi's "instant" ice cream solves that problem through a system that uses pressurized carbon dioxide that cools the cream to around -94 degrees F (-70 degrees C). That means ice cream parlors could keep "shelf-stable mixtures on hand and make them on an as-needed basis" as opposed to shipping the frozen stuff in diesel-chugging trucks.
"The crystal size determines the quality of the ice cream, and it's a function of the rate of freezing," Rizvi said in an interview with Popular Mechanics. "The faster that you freeze it, the smoother the texture."
And how does it taste? "It's like a tingling in your mouth ... you know, the feeling of carbon dioxide in the mix," Rizvi said.
And, just to make it even more interesting and useful, this flash-freezing process can be applied to more than ice cream.
"You can make a slushy out of soft drinks," said Rizvi in an interview with the Cornell Chronicle. "You can convert water into carbonated ice instantly, too. Any liquid drink that can be partially frozen can be used."
Sounds like summer just got a little sweeter.