Q. What spices can I use to make pumpkin pie spice?
A. Pumpkin pie spice is a combination of "warm" spices, generally including cinnamon, nutmeg, ginger, and allspice, and sometimes cloves and mace. While there is no "standard" pumpkin pie spice blend on the market -- each version varies depending on the producer -- it is easy to create your own blend using spices you probably already have at home.
To make your own basic pumpkin pie spice, use 4 parts cinnamon to 2 parts ginger, 1 part allspice, and 1 part nutmeg, adding in some cloves and mace, if desired. Or, adjust the ratios slightly to suit your personal taste, keeping cinnamon as the main spice component.
In addition to pumpkin pies, the blend also works well in sweet potato and squash recipes, coffee cakes, spiced cookies, and mulled ciders.
Q. Can ground ginger and cinnamon help lower blood sugar levels?
A. Recently there have been some studies that looked at ginger and cinnamon in relation to blood sugar levels. Nutritional consultant Betsy Hornick, M.S., R.D., reviewed two of these studies. Both studies were preliminary and did not suggest that people with diabetes would benefit from eating more ginger or cinnamon.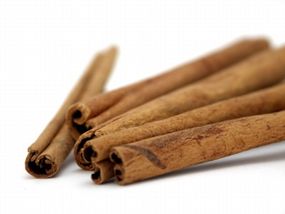 The best way to control blood sugar levels continues to be through diet, medication, and physical activity. Look to your doctor, registered dietitian or certified diabetes educator for advice when you hear about research findings related to nutrition and health in the news.