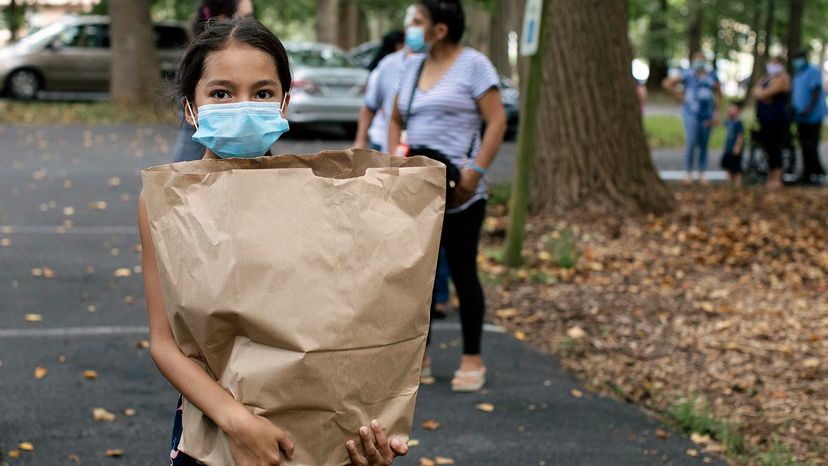 Seidy Meza visits a food pantry in Maryland with her mother during the COVID-19 pandemic. Families like hers are experiencing food insecurity across the United States.
Alyssa Schukar for Feeding America
It's been nine months since the COVID-19 pandemic first swept the United States. Lockdowns, jobs lost, virtual school and overfilled hospitals are just some of the many agonizing repercussions we've faced, and continue to face as we enter 2021. As the economy crumbles and people lose jobs, food banks — which have already seen unprecedented volume in the early days of the pandemic — are now more important than ever. They've also never been stretched this thin.
Take the Atlanta Community Food Bank (ACFB), one of the 10 largest food banks in the world. The ACFB distributes more than 60 million meals to more than 755,000 people across metro Atlanta and north Georgia. When we talked with Kyle Waide, president and CEO of ACFB, in March, he was hopeful the food bank's teams, volunteers and donors could band together to safely meet the needs of all clients. How are they doing eight months later? We caught up with Waide again to find out.
How Food Banks Are Holding Up
Not surprisingly, the ACFB has served an unprecedented number of meals in 2020, and they don't anticipate the need slowing down soon.
"Demand for food assistance continues to be significantly higher than before the pandemic," Waide says. "We continue to distribute more food than ever. We've had the largest two months ever in October and November, and anticipate we will continue to distribute record levels of food for many months to come. Thankfully, we have been supported very generously so far by the community, so we can respond aggressively to the crisis. But we need to continue with this support to sustain our response."
The ACFB shared figures to help us put this massive need in perspective: One in eight people (13 percent) were food insecure in Georgia before the pandemic. Now, the 2020 projected impact estimates that number is one in seven (16 percent). The ACFB also reports it's distributing between 40 to 50 percent more food per week than this time one year ago. And in June alone, the ACFB saw a 70 percent increase in food distributed versus June 2019. This October, the ACFB distributed a record-breaking 12 million pounds of food; that's roughly 10 million meals over the course of one month.
While these figures are a snapshot into the ACFB's specific situation, Waide says they're largely representative of how other cities are faring. "Our experience resembles the broader Feeding America network in terms of volume of demand," he says.
Feeding America, a nationwide network of more than 200 food banks, including the ACFB, says local food banks across the country have distributed an estimated 4.2 billion meals to U.S. residents. Roughly 40 percent of patrons were first-time food bank visitors between March and June — and this number could rise once all is said and done, as Feeding America estimates one in six Americans may face hunger due to the pandemic's economic ramifications. That's one reason food banks like the ACFB are relying on their communities more than ever.
"We are spending 50 percent more on our operations right now than prior to the pandemic. Our expenses are up 50 percent, and that's even down a bit since the beginning of the pandemic, but it's trending back up," Waide says. "In the spring, we expect to have to buy a lot more food, and we'll need financial support given that increased level of spending."
Donations, which are key to helping the ACFB feed its growing number of patrons, can be made online at acfb.org.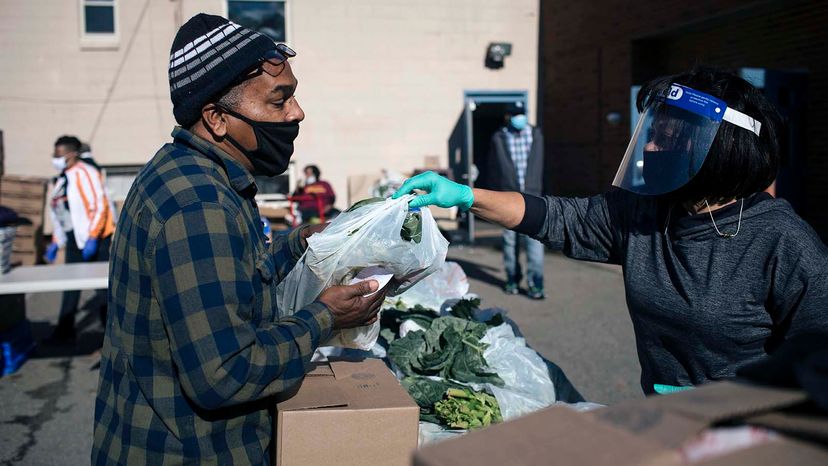 The Atlanta Community Food Bank relies on volunteers, but out of an abundance of caution only limited opportunities are available during COVID.
Alyssa Schukar for Feeding America
How Food Banks Will Keep Feeding Millions
Since the beginning of the pandemic, the ACFB has been leaning heavily on partner farmers to secure the sheer quantity of food needed. "Farms have excess produce, and that's a big part of our supply chain right now, so we'll rely on that even more," he explains.
Because of pre-existing grocery store partnerships, food banks like ACFB can also source bulk products quickly — and with better margins than consumers. That's why the ACFB and food banks around the country are asking community members to donate funds instead of food.
"You can give me a can of food that costs you a dollar, or you can give me a dollar and I can get nine cans of food," Waide says. "This is the same even outside disaster times."
School closures across the country have left many more children hungry, as well. That's because the National School Lunch Program feeds up to 30 million children per day. But the U.S. Department of Agriculture authorized a waiver for all 50 states to allow free meals to be provided through June 30, 2021. Parents and guardians can pick up the meals for their children if they are in school virtually.
Other organizations are doing what they can to help, as well. Celebrity chef José Andrés' World Central Kitchen responds to food emergencies across the globe. But in World Central Kitchen launched its Restaurants for the People program in the spring, which pays local restaurants to prepare fresh food. So far it's been a success, partnering with more than 2,000 restaurants across the U.S. and delivering more than 12 million meals to those in need.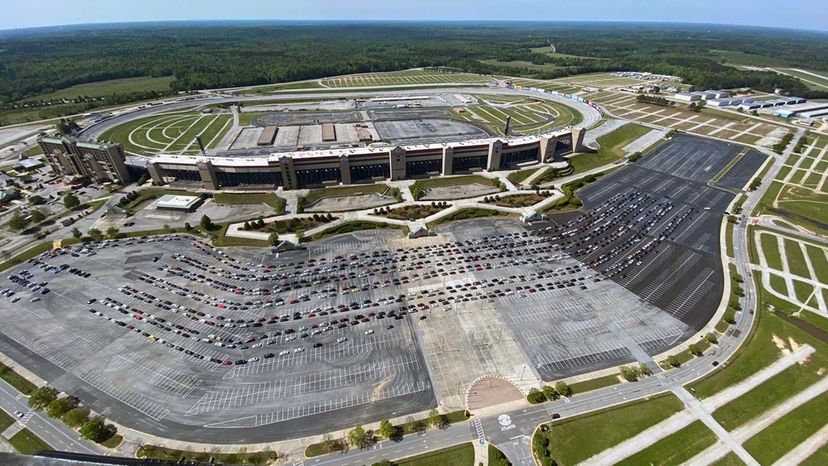 Lines of cars stretch for miles waiting to receive food at an event from the Atlanta Community Food Bank at the Atlanta Motor Speedway. Scenes like this are commonplace across the U.S.
Atlanta Community Food Bank
In spring 2020, Feeding America took unprecedented steps early in the pandemic to ensure its members are able to feed people in their local neighborhoods:
Launched a COVID-19 Response Fund, a national food- and fundraising effort to support people facing hunger

Working with government leaders to ensure its response includes support and flexibility for federal nutrition programs

Ensuring the 22 million children who rely on school meals have access to food outside of the classroom

Building an inventory of emergency food boxes to distribute to food banks as need increases

Providing emergency grants to food banks
How Can You Help Your Local Food Bank Survive into 2021?
When we spoke with Waide in March, he predicted the COVID-19 pandemic would be the worst crisis the ACFB has ever faced — and the organization survived the Sept. 11 terrorist attacks, the Great Recession, government shutdowns, and the Hurricane Katrina aftermath, when many evacuees migrated from New Orleans to the Atlanta area.
"The economic ramifications are hard to wrap my head around," he said in March. "I hope I'm wrong, but we're preparing for a massive increase in need and a super challenging environment."
Sadly, he wasn't wrong. Waide anticipates the ACFB will need to continue operating at this level well into 2021, if not beyond. His team is asking those who can donate to do so, and those who are willing to volunteer in the community to sign up at www.acfb.org/volunteer/. But, as he said in March, simply spreading the word and raising awareness is an essential and valuable way to give back.
"Even if you can't donate , you can spread the word so people know about the food bank," he says. Raising awareness for its text-for-food service, which launched in spring 2020, is particularly important. By texting "FINDFOOD" or "COMIDA" to 888-976-2232, clients can find the closest food distribution site to keep themselves and their families fed. "The need is tremendous, everyone wants to help, and even letting your network know about the food bank's services can make a difference."
Originally Published: Mar 23, 2020