Fragrant Autumn Vegetable Soup
Hunt's ®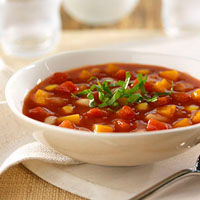 Fragrant Autumn Vegetable Soup
A hearty, colorful vegetable soup made with butternut squash, tomatoes, cannellini beans and corn with a delectable flavor and fragrance coming from a dash of cinnamon. Recipe concept developed by The Culinary Institute of America
PREP TIME 55 minutes
COOK TIME 55 minutes
Yield
7 servings (about 1-1/2 cups each)
Ingredients
| | |
| --- | --- |
| 1 | can (19 oz each) cannellini beans, drained, rinsed |
| 1 | Quart vegetable broth |
| 1 | pkg (10 oz each) frozen whole kernel corn, slightly thawed |
| 1 | Tablespoon minced garlic |
| 2 | Tablespoon thinly sliced fresh basil |
| 1 | can (14.5 oz each) Hunt's® Petite Diced Tomatoes, undrained |
| 1 | can (6 oz each) Hunt's® Tomato Paste |
| 2 | Tablespoon extra virgin olive oil |
| 2 | Cup chopped yellow onion |
| 2 | bay leaves |
| 1/8 | Teaspoon ground cinnamon |
| 2 | Teaspoon paprika |
| 1 | Teaspoon ground black pepper |
| 1 | Quart peeled, seeded and chopped butternut squash |
Preparation
Heat oil in large saucepan over medium-high heat until hot. Add onions and garlic; cook and stir 3 to 4 minutes or until onions are tender. Stir in bay leaves, paprika, pepper and cinnamon.
Mix in squash undrained tomatoes, tomato paste and broth; bring to a boil. Reduce heat to medium-low; simmer 15 to 20 minutes or until squash is tender, stirring occasionally.
Stir in corn and beans; increase heat to medium and simmer 3 minutes. Sprinkle with basil before serving.
Nutritional Information
| | |
| --- | --- |
| Serving Size: | about 1-1/2 cups |
| Calories | 194 |
| Total Fat | 4.6 g |
| Saturated Fat | .6 g |
| Cholesterol | 0 mg |
| Sodium | 892.6 mg |
| Carbohydrate | 36 g |
| Dietary Fiber | 5.8 g |
| Protein | 5.6 g |
| Sugars | 10 g |
| Calcium | 79.9 mg |
| Iron | 2.3 mg |
| Vitamin A | 8688 iu |
| Vitamin C | 27.8 mg |
Advertisement
Check out more recipes for Soups
Advertisement