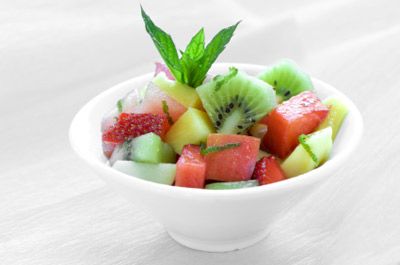 ©iStockphoto.com/positief
A medley of kiwi, pineapple, strawberries and melon is accented with a crisp mint leaf. Sweet and fleshy, fruit is nature's dessert cart. From breakfast fruits to more exotic offerings, this gallery is a mouthwatering display of ripe, juicy fruits.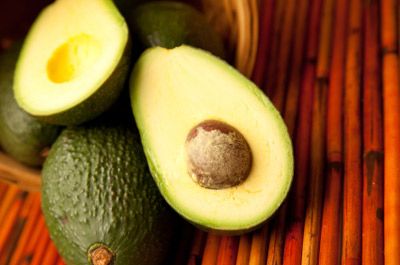 ©iStockphoto.com/DanielBendjy
You may be more accustomed to seeing avocados on tacos than on fruit platters, but this giant-seeded, bumpy-skinned oddity is a fruit. Also called an alligator pear, the avocado is about 30 percent healthy, oily fat, so enjoy this fruit in moderation.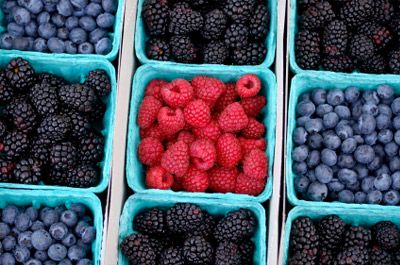 ©iStockphoto.com/amandagrand
Think of berries as the exhibitionist fruit: They wear their seeds on the outside for all to see. These fresh blueberries, blackberries and raspberries are ripe for the choosing at a farmer's market.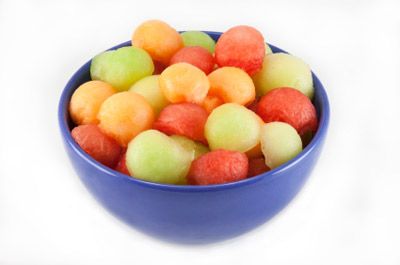 One way to handle a large, unwieldy melon is by splitting it in half and using a melon baller to scoop out bite-sized pieces of fruit. This bowl of balled cantaloupe, honeydew melon and watermelon is ideal for breakfast or dessert.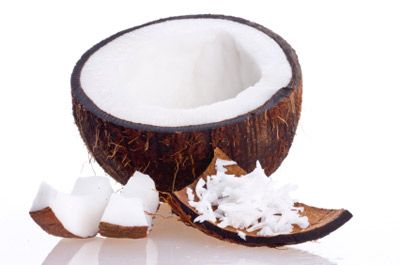 A coconut is one big, hard seed. The sweet white flesh can be eaten in chunks or shredded as a garnish for granola, yogurt or fruit salad. Dried coconut lends a distinctive flavor to baked goods; try folding it into oatmeal cookie dough.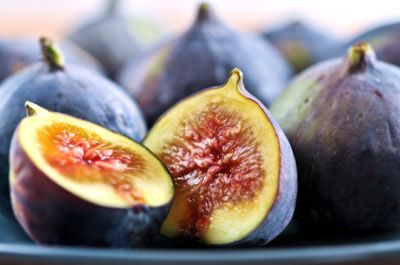 ©iStockphoto.com/Elenathewise
Because figs are highly perishable, they're frequently sold in dried form. But if you buy them ripe and ready to eat at a farmer's market, you may enjoy them with blue cheese and a robust, full-bodied wine.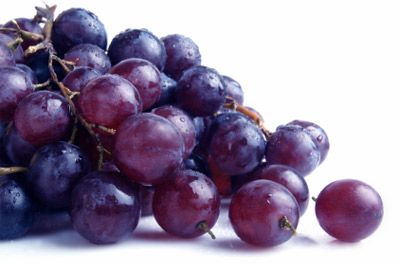 The mighty grape has been processed into jellies, juices and wines. You can buy grapes by the bunch in white, green, red, purple and black. More choices? They also come seeded or seedless and in dried form as raisins.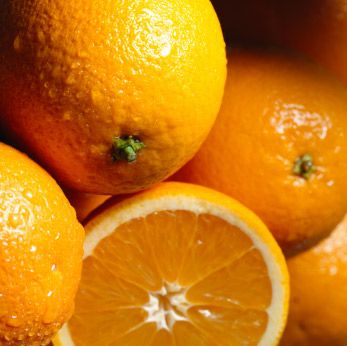 ©iStockphoto.com/RedHelga
This pulpy citrus fruit is renowned for its juice. Once considered a delicacy in the United States, oranges are now grown in the temperate climates of Florida and California. Packed with vitamin C and fiber, oranges are a healthy choice.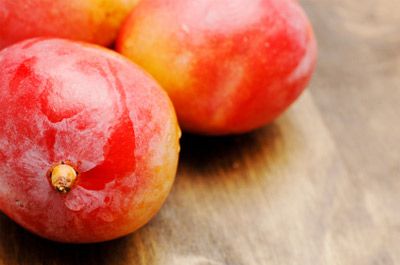 ©iStockphoto.com/creacart
The mighty mango is native to India, but it's also grown in Florida and Hawaii. Mangoes are enjoyed fresh, but their firm flesh also tastes great in chutneys, jellies and other sauces. In the summertime, mango sorbet is a refreshing treat.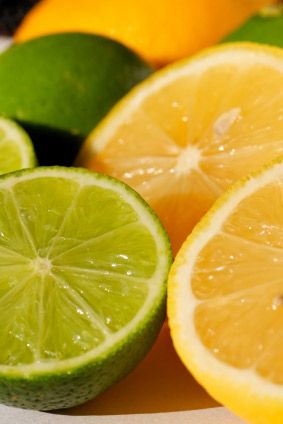 Aromatic lemons and limes are full of vitamin C, but these tart little citrus fruits aren't for the faint of heart. They're commonly juiced for marinades, syrups and baking essences. A slice of lemon or lime also makes a nice garnish for a glass of water.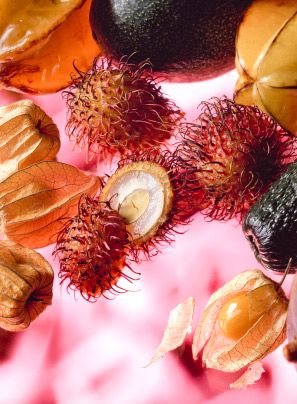 ©iStockphoto.com/imagetwo
With so many varieties of fruit available, why stick to apples and bananas? Send your taste buds on an exotic flight of fancy with kumquats or passion fruit, pictured here with avocados and star anise.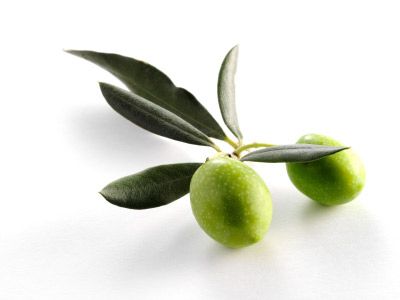 ©iStockphoto.com/illuworld
The olive branch has long symbolized peace and good will, and the olive itself represents a tasty treat for a sophisticated palate. This fruit is typically used in savory appetizers and main dishes, and its oil is a common cooking implement.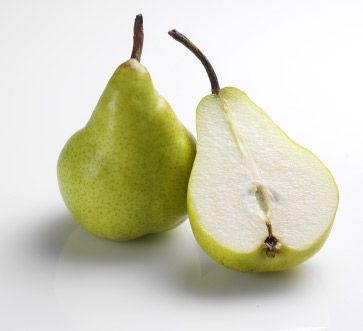 ©iStockphoto.com/mikehillpies
The best-tasting pears are picked while they're still green and are allowed to ripen in storage. Pears that linger too long on the tree will assume a gritty texture. This apple-like fruit makes a show-stopping dessert when it's poached in wine.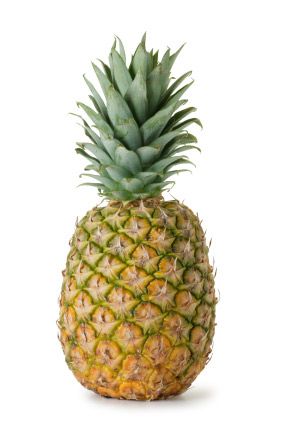 This regal fruit seems to wear a suit of armor, but beneath the sharp spines is a juicy, sunny treat. Pineapples are cultivated as ornamental plants in some locales, but this tropical fruit is also eaten fresh or used as a garnish for meats and pastries.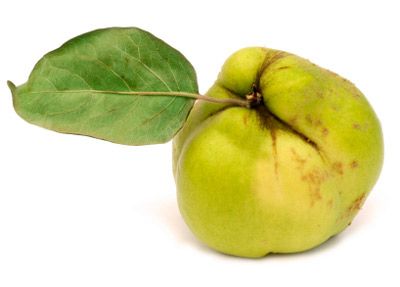 This isn't a malformed pear: It's the highly fragrant quince. Indigenous to Japan and China, the quince is far too acidic to eat fresh. Instead, quince is ideal for jellies and preserves.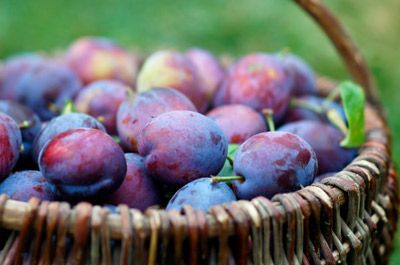 ©iStockphoto.com/Alkimson
These delicately skinned fruits are plums, and their fragile casings belie flavorful flesh. Plums can be found in purple, yellow and red varieties. They're frequently used in tarts, and in dried form, plums are a popular digestive called prunes.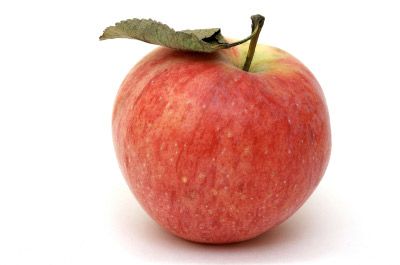 ©iStockphoto.com/Viktor_Kitaykin
To quote the adage, an apple a day keeps the doctor away. There are enough varieties of the modest apple to keep from getting bored with a daily dose. Whether you prefer apples fresh, baked or in sauce form, this fruit is in affordable, abundant supply.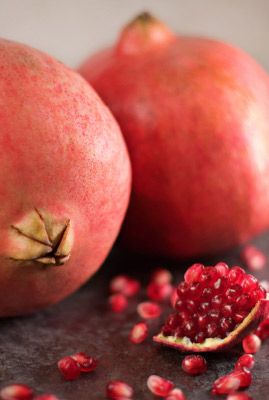 This Mediterranean fruit has been cultivated since antiquity, but we've seen a recent surge in the pomegranate's popularity as its health benefits are touted. Slicing open the bulblike fruit reveals a thick white membrane and the edible red seeds.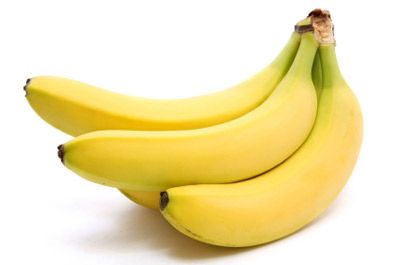 ©iStockphoto.com/luxcreative
Most fruit-lovers are bananas for bananas! This sweet, soft tropical fruit is a portable snack -- it's enclosed within its own durable travel case. Bananas, which are high in potassium, are a favorite snack of athletes.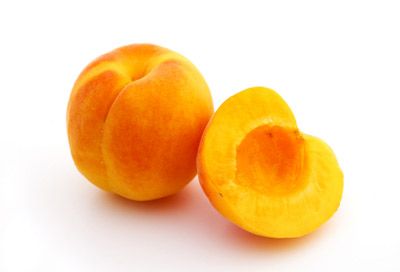 ©iStockphoto.com/MistikaS
You might confuse an apricot with a peach or plum, but another of this fruit's relatives is the rose. Apricots are frequently consumed fresh, but some crops are distilled into the ever-popular apricot liqueur. To learn more about fruit check out the Fruits & Vegetables Channel.