Funny Face Pizzas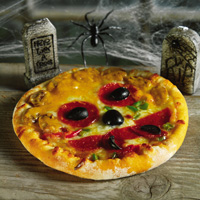 Funny Face Pizza
Yield
Makes 4 servings
Ingredients
| | |
| --- | --- |
| 1 | package (10 ounces) refrigerated pizza dough |
| 1 | cup pizza sauce |
| 1 | cup (4 ounces) shredded mozzarella cheese |
| | Assorted toppings: pepperoni, black olive slices, green or red bell pepper slices and/or mushroom slices |
| 1/3 | cup shredded Cheddar cheese |
Preparation
Preheat oven to 425°F. Spray baking sheet with nonstick cooking spray; set aside.
Remove dough from package. Do not unroll dough. Slice dough into 4 equal pieces. Knead each piece of dough until ball forms. Pat or roll each ball into 4-inch disk. Place disks on prepared baking sheet.
Spread 1/4 cup sauce on each disk. Sprinkle with mozzarella cheese. Decorate with toppings as desired to create faces. Sprinkle with Cheddar cheese to resemble hair.
Bake 10 minutes or until cheese is just melted and bottoms of pizzas are light brown.
Check out more recipes for Pizza