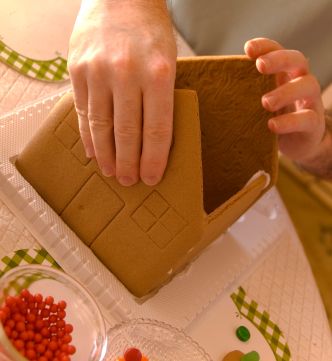 ©iStockphoto.com/Funwithfood
It's amazing what gingerbread architects can make with just cake and frosting. Add creativity and some of your favorite candy to the construction recipe and the possibilities are endless!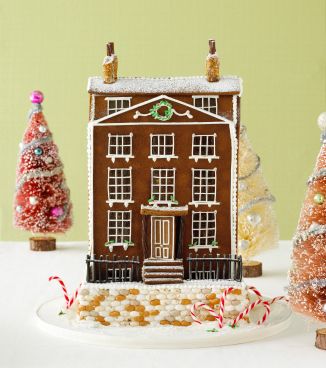 ©iStockphoto/Luis Albuquerque
Chocolate and gingerbread are the perfect color for matching the look of a New York brownstone. Though a more traditional gingerbread house, this edible creation still has details like a swinging door, front steps and even a snow-covered roof.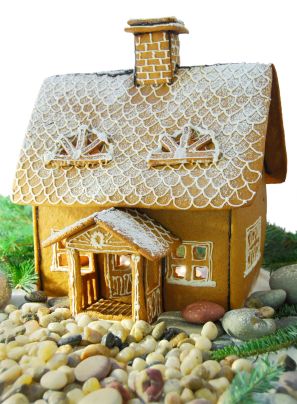 A pebble walkway leads to the open door of this Nordic style house. Its gingerbread walls and roof are held together with sticky icing, and powdered sugar leaves a snowlike dust on the roof.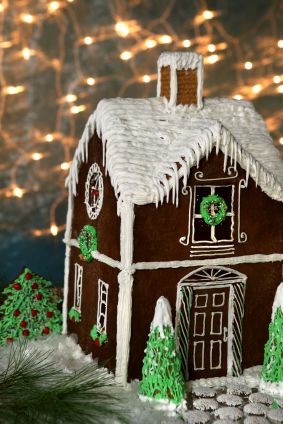 Holiday lights twinkle in the background of this two-story gingerbread house adorned with wreaths. A thick layer of frosting adds the look of a snow-covered roof and dripping icicles.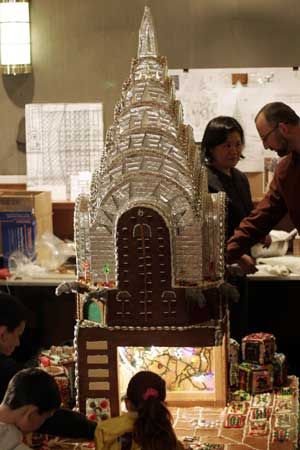 Sandy Huffaker/Getty Images
Gingerbread building competitions kick the creativity up a notch. Here, children stare at a completely edible likeness of the Chrysler Building covered in bite-size candy and sweet icing. This gingerbread structure was part of a competition at Seattle's Sheraton Hotel, which provided all the supplies for the event's competitors, on Nov. 20, 2004.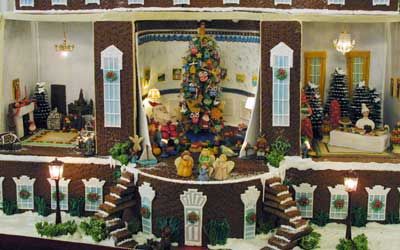 What does it take to construct a massive gingerbread replica of the White House living room? Try 150 pounds (68 kilograms) of gingerbread, more than 25 pounds (11 kilograms) of marzipan, more than 60 pounds (27 kilograms) of chocolate and 15 pounds (7 kilograms) of sugar.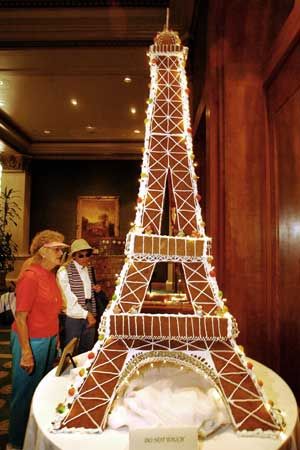 Standing at a staggering 7 feet (2.1 meters) high, this gingerbread model of the Eiffel Tower astonishes spectators at the 2002 Gingerbread City contest. The contest was hosted at the Grant Hotel in San Diego, Calif.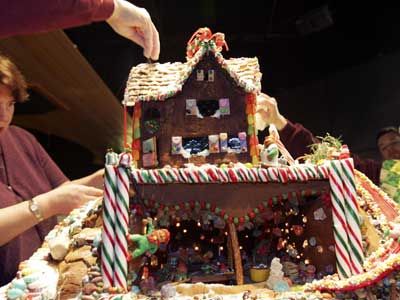 Builders put the finishing touches on a gingerbread house that was part of a 2004 contest in Seattle, Wash. The contest's theme was "Miracle on 34th Street," and this creation, called "Susan's Dream House," includes peppermint sticks, rock candy, marshmallows and other treats.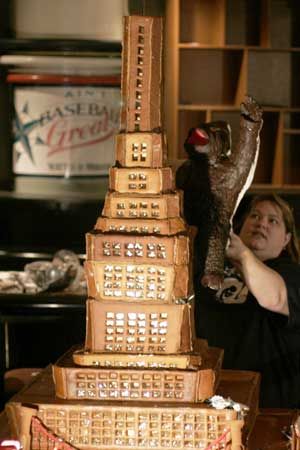 In another New York scene, Julie Stalzer gets ready to add a chocolate-covered King Kong to a gingerbread and candy reproduction of the Empire State Building.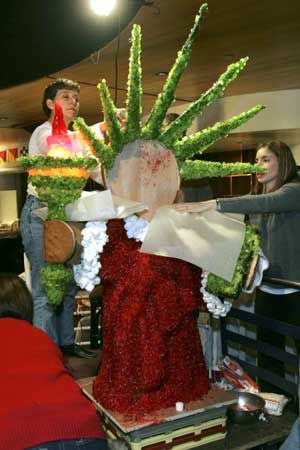 Competitors from Callison Architecture of Seattle work on a gingerbread and candy reproduction of the Statue of Liberty. About 5,000 wild cherry Life Savers and 2,000 green apple Jolly Rancher candies were used to create the dress and crown of this massive treat.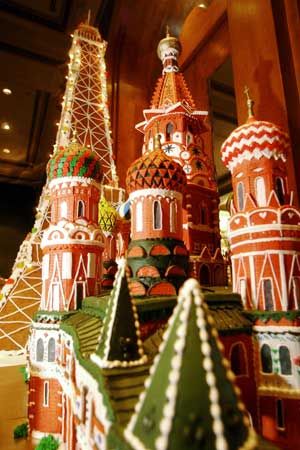 Sandy Huffaker/Getty Images
A close-up view shows the detail on a gingerbread recreation of Russia's famous St. Basil's Cathedral. This structure was a part of an "Architecture Through the Ages" contest to benefit the Epilepsy Foundation of San Diego County, held in 2002.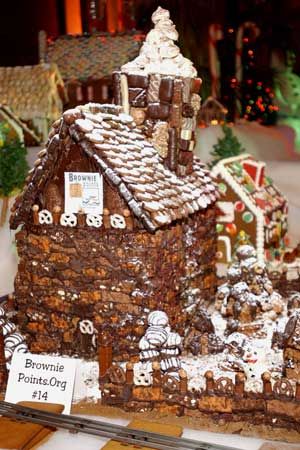 Sebastian Artz/Getty Images
This rustic cabin, built from chocolate and gingerbread, was a donation from a Los Angeles restaurant. It was built to benefit the Anne and Kirk Douglas Playground Foundation at an annual gingerbread auction in Los Angeles on Dec. 21, 2001.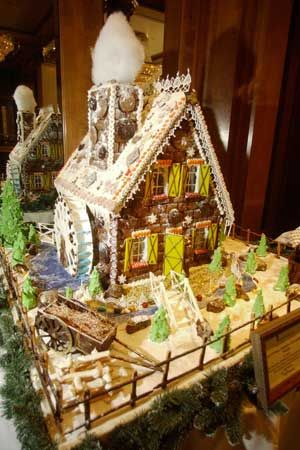 Sandy Huffaker/Getty Images
Designed by San Diego chefs, designers and artists, this traditional German gingerbread house includes a scene complete with a wagon, water wheel, stone walkway and even shrubbery. It was also created for a charitable cause.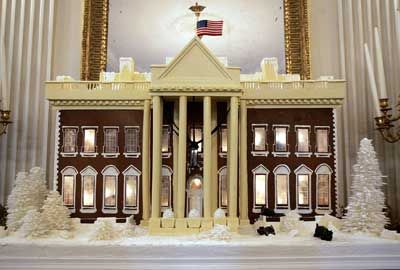 Chip Somodevilla/Getty Images
White House Executive Pastry Chef Thaddeus DuBois displays his expertise by constructing a gingerbread version of his workplace, complete with illuminating lights shining through its windows. His creation was for a White House tasting event and the unveiling of the 2005 holiday theme, "All Things Bright and Beautiful."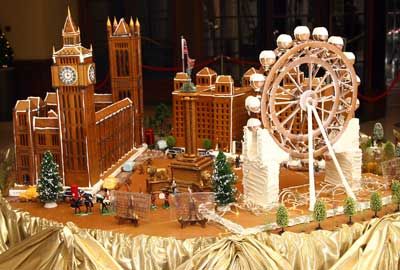 Gareth Cattermole/Getty Images
Chef Beate Woellstein recreates the bustling streets of London, with Parliament and the famous London Ferris wheel towering over a scene filled with passing taxis and people walking. Her 98-inch (2.5-meter) diameter gingerbread creation was constructed at Grosvenor House Hotel on Dec. 4, 2007, in London, England.