Hearty Chili Macaroni
Hunt's ®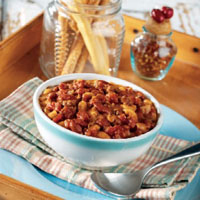 Hearty Chili Macaroni
Zesty beef chili with beans mixed with elbow macaroni
PREP TIME 20 minutes
COOK TIME 20 minutes
Yield
6 servings (1-1/2 cups each)
Ingredients
| | |
| --- | --- |
| 1 | can (15 oz each) red kidney beans, drained, rinsed |
| 1 | Pound ground sirloin beef |
| 1 | can (14.5 oz ea) Hunt's® Petite Diced Tomatoes with Mild Green Chilies, undrained |
| 1 | medium onion, chopped (1 med = about 1/2 cup) |
| 8 | Ounce dry small elbow macaroni, uncooked (8 oz = 2 cups) |
| 1 | pkg (1.25 oz each) chili seasoning mix |
| 1 1/2 | Teaspoon granulated sugar |
Preparation
Cook macaroni according to package directions.
Brown meat with onions in large skillet over medium-high heat while cooking macaroni; drain. Add beans, tomatoes with their liquid, the chili seasoning and sugar; stir until well blended. Bring to a boil; cover. Reduce heat to low; simmer 10 minutes, stirring occasionally.
Drain macaroni; stir into meat mixture.
Nutritional Information
| | |
| --- | --- |
| Serving Size: | 1-1/2 cups |
| Calories | 368 |
| Total Fat | 7.9 g |
| Saturated Fat | 2.7 g |
| Cholesterol | 47.1 mg |
| Sodium | 692.7 mg |
| Carbohydrate | 47.5 g |
| Dietary Fiber | 6.9 g |
| Protein | 25.4 g |
| Sugars | 5.8 g |
| Calcium | 50.3 mg |
| Iron | 3.8 mg |
| Vitamin A | 204 iu |
| Vitamin C | 5.6 mg |
Advertisement
Check out more recipes for Chilis
Advertisement