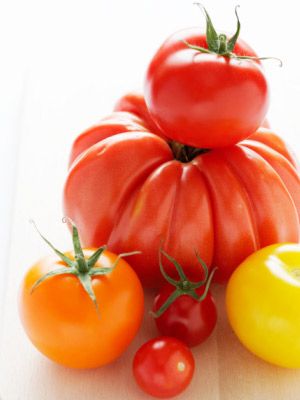 Martin Poole/Getty Images
There are countless varieties of heirloom tomatoes -- and this is just a small sampling of some red, orange and yellow ones. The large red one is a Brandywine, and the small red one is the familiar cherry tomato. The beautiful yellow tomato is called a Livingston's Gold Ball, and the orange one is a Burbank.
Anthony Masterson/Getty Images
Try serving sliced heirloom tomatoes with a little basil and olive oil. An assortment of Ceylon (red), Green Grape (green) and Garden Peach (yellow) tomatoes add color and interest to a simple salad.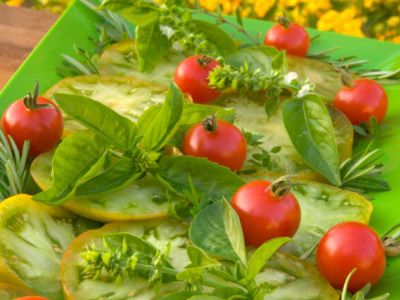 Liza McCorkle/Getty Images
The contrast between German Green tomatoes and Besser Cherry red ones is a lively treat for the eyes and taste buds.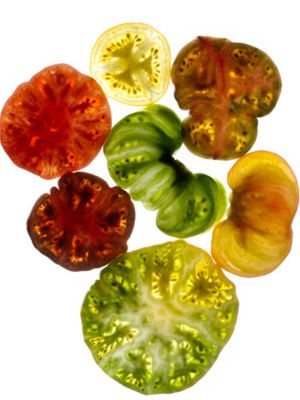 Jonathan Kantor/Getty Images
A cross-section of purple-black, red, yellow and green heirloom tomatoes shows just how lovely these hardy fruits are. From this angle, it's easy to see which ones have thick meat and which are more tender.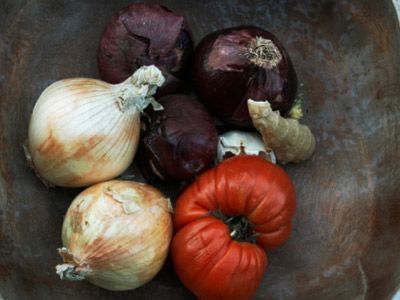 A Zapotec pleated tomato rests in a galvanized bucket with yellow onions and ginger.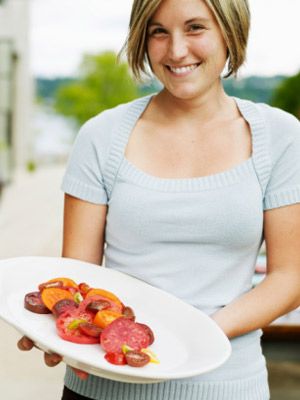 Thomas Barwick/Getty Images
An assortment of heirloom tomatoes is one of the easiest appetizers you'll ever serve. Here, a woman offers her guests Black Cherry, Red Beefsteak and Burbank tomatoes.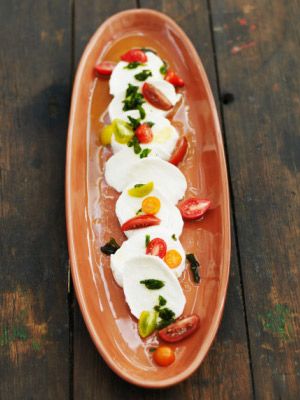 Thomas Barwick/Getty Images
A delicious complement to heirloom tomatoes is fresh buffalo mozzarella. This platter of cheese is served with Blondkopchen (small yellow tomatoes), cherry tomatoes and Ceylon tomatoes.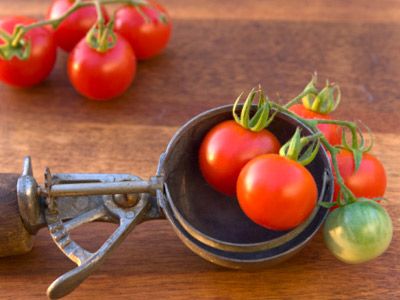 Liza McCorkle/Getty Images
Isis Candy cherry tomatoes are so sweet that you can pop them in your mouth -- just like a piece of candy.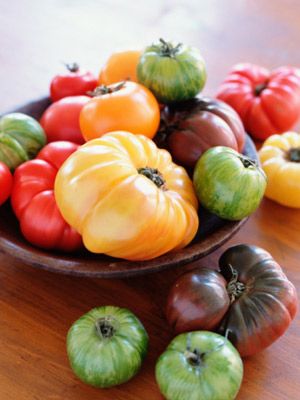 James Baigrie/Getty Images
A bowl of colorful heirloom tomatoes makes an interesting centerpiece, and they'll ripen on the counter as you display them. These juicy varieties include the Delicious Beefsteak, Green Zebra, Livingston's Golden Queen and Black Krim.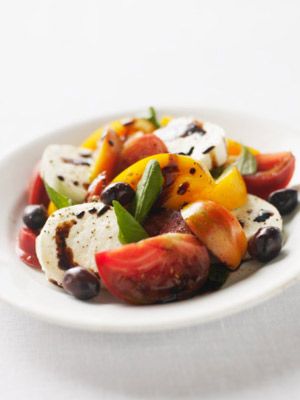 Thomas Barwick/Getty Images
Bring out the diverse textures and flavors of heirloom tomatoes by including them in a Caprese salad. This medley of tomatoes is tossed with kalamata olives.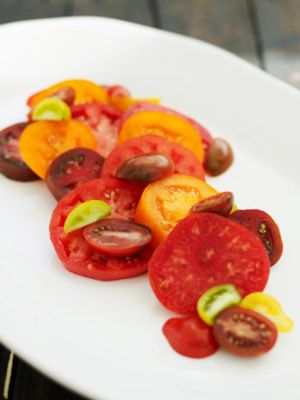 Thomas Barwick/Getty Images
Smooth, red Abraham Lincoln heirloom tomatoes are accented with smaller slices of Amana Orange and Green Grape tomatoes. These are served with a generous sprinkle of maldon salt.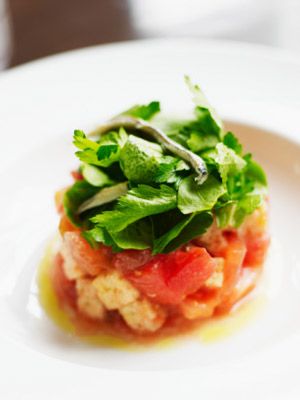 Thomas Barwick/Getty Images
This unusual salad is a culinary delight composed of Red Beefsteak tomatoes, red onion, garlic croutons, parsley and anchovy slices. The salad is dressed with extra-virgin olive oil.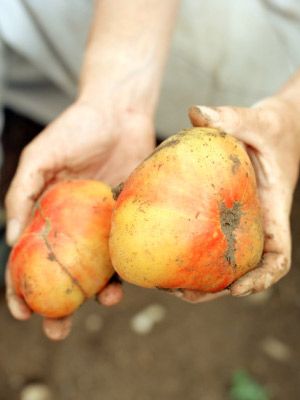 Heirloom tomatoes don't get any fresher than this! These garden-fresh Dixie Golden Giants just need to be washed and sliced -- then, they'll be ready to savor.
Vincenzo Lombardo/Getty Images
The sharp pleats and spectrum of colors on these German Green heirloom tomatoes elevate them above boring supermarket-variety tomatoes. These will jazz up a salad or look lovely sliced and served as an appetizer.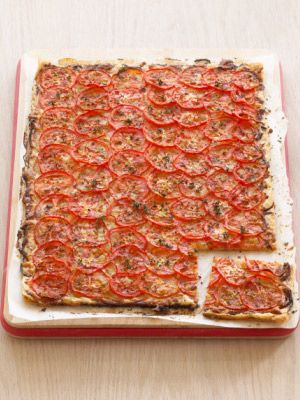 Annabelle Breakey/Getty Images
A tomato tart serves double-duty as an appetizer or entrée. Here, sliced red heirloom tomatoes are arranged in tidy rows on phyllo pastry. Sprinkled with sea salt and olive oil, this is bound to be a winning dish.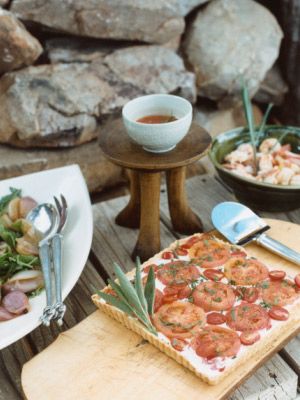 Julien Capmeil/Getty Images
This rustic pizza features hardy slices of heirloom tomatoes and basil. Served with salad, it's an authentic Italian feast. One heirloom variety that's great for red sauces in pizzas and pastas is Mama Rosa's.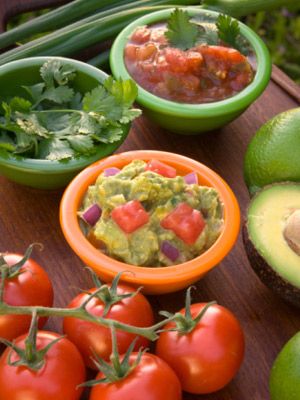 Liza McCorkle/Getty Images
Pico de gallo made with salsa-ready heirloom tomatoes, such as Market Miracle or Akers West Virginia, makes a wonderful complement to taco night.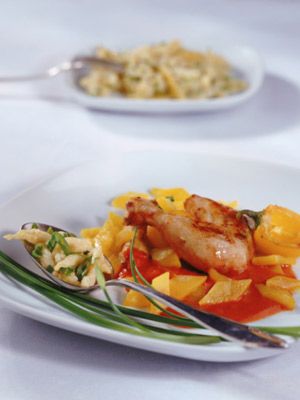 For a French twist at dinnertime, try using an assortment of red and yellow heirloom tomatoes in ratatouille. This classic comfort dish is sure to please.