Holiday Shrimp Mold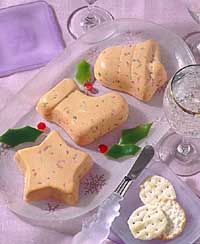 Holiday Shrimp Mold
Yield
Makes 12 servings
Ingredients
| | |
| --- | --- |
| 4-1/2 | teaspoons unflavored gelatin |
| 1/4 | cup cold water |
| 1 | can (10-3/4 ounces) condensed tomato soup, undiluted |
| 1 | (3-ounce) package cream cheese |
| 1 | cup mayonnaise |
| 1 | (6-ounce) bag frozen small shrimp, thawed |
| 3/4 | cup finely chopped celery |
| 2 | tablespoons grated onion |
| 1/4 | teaspoon salt |
| | White pepper to taste |
Preparation
Dissolve gelatin in cold water in small bowl; set aside. Grease four 1-cup holiday mold pans or one 5-1/2-cup holiday mold pan; set aside.
Heat soup in medium saucepan over medium heat until hot. Add cream cheese; blend well. Add gelatin mixture, mayonnaise, shrimp, celery, onion, salt and pepper. Pour into prepared molds; refrigerate 30 minutes. Cover with foil and refrigerate overnight.
Unmold and serve with assorted crackers.
Check out more recipes for Seafood