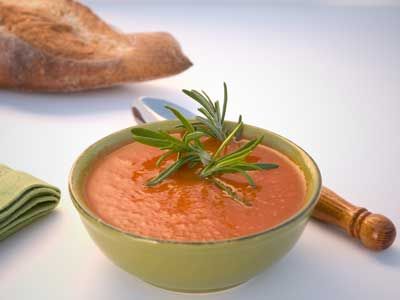 Liza McCorkle/Getty Images
An American classic, creamy homemade tomato soup garnished with fresh rosemary and served with fresh bread will surely fill you up.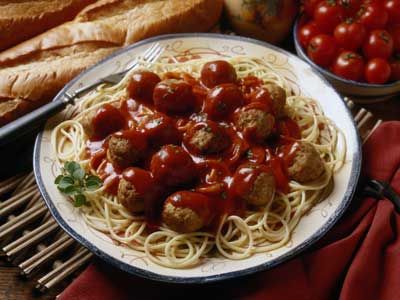 Mitch Hrdlicka/Getty Images
Made with a slow-cooked tomato sauce infused with savory spices and herbs, spaghetti with meatballs is a traditional Italian favorite!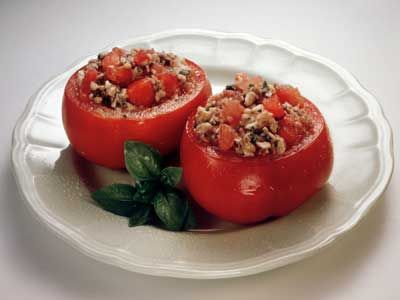 Baked tomato? Ripe, sweet tomatoes are stuffed with seasoned long grain rice and baked to perfection. In pomodori ripieni, the oven's heat brings out the tomato's natural moisture, causing the rice to cook until light and fluffy.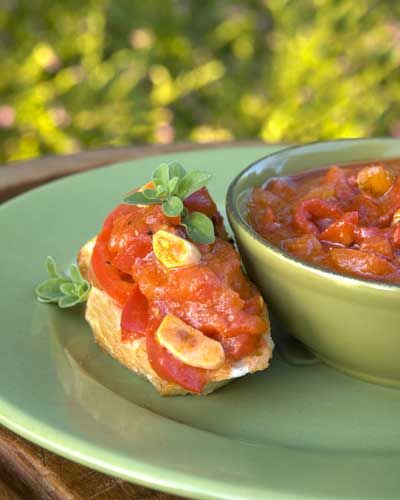 Liza McCorkle/Getty Images
Sweet roasted tomatoes and peppers combined with the pungent flavor of garlic make for a flavorful topping. It is usually paired with a rustic white bread, broiled in the oven, drizzled with olive oil and topped with fresh basil, creating tasty bruschetta.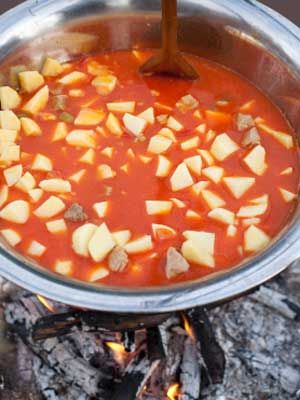 ©iStockphoto/Dirk Baltrusch
Traditionally made over an open fire in a cast iron kettle, goulash is a Hungarian staple. Lying somewhere between a soup and a stew, this hearty mix of beef, tomatoes and other vegetables is accented with the notable Hungarian spice, paprika.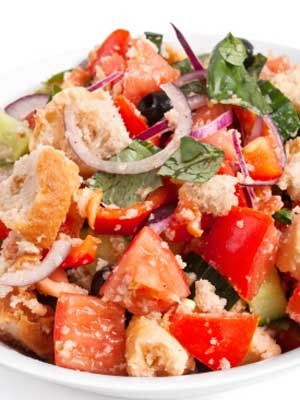 ©iStockphoto/Olgna Nayashkova
A Tuscan summer would be incomplete without panzanella, a popular seasonal favorite. Lightly toasted cubes of bread, tomatoes, cucumbers, fresh basil and black olives are all tossed with olive oil and red wine vinegar.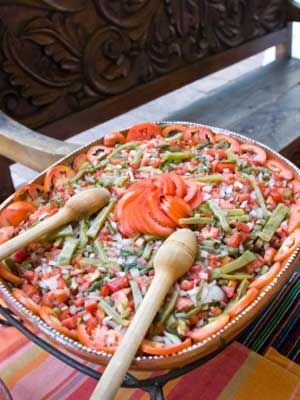 ©iStockphoto.com/Cristian Lazzari
A Mexican spin on your standard lettuce salad, this flavorful combination of fresh tomatoes, green chilies, bell peppers and onions tossed in a tangy vinegar, lemon juice, and oregano dressing creates a great complement for any main dish.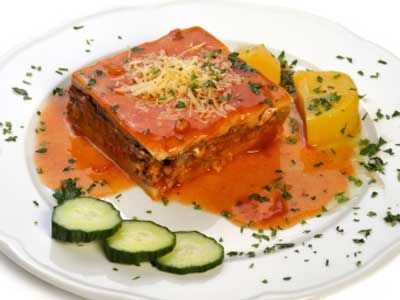 ©iStockphoto/Emmanouil Filippou
Lasagna the Greek way! Layers and layers of minced meat, eggplant, potatoes and tomato sauce combine to create mousaka, a Mediterranean classic, especially when accompanied by the traditional bechamel sauce.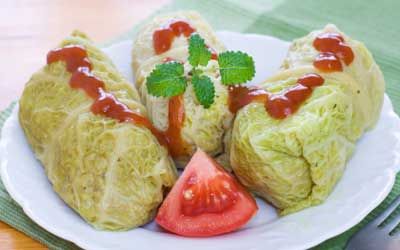 iStockphoto/Wojtek Kryczka
Cabbage leaves stuffed with a delicious meat filling, rolled tightly and then simmered in a broth of diced tomatoes and tomato paste, are a popular Polish dish. In Poland, they're known as goloubki, which comes from the word pigeon.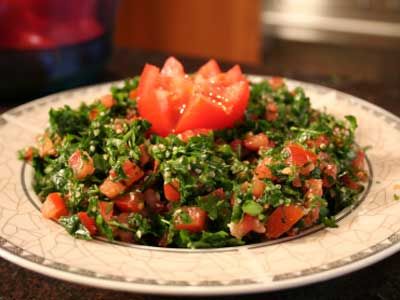 This authentic Lebanese salad known as tabouli originated in the mountains of the Eastern Mediterranean. A blend of bulgur, parsley, mint, tomato, spring onion and herbs tossed with lemon juice and olive oil is a vegan's dream and a refreshing meal to combat the hot Mediterranean sun.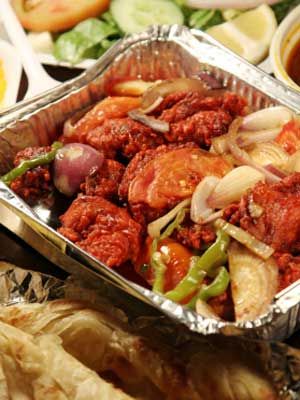 Sometimes referred to as chicken tikka masala, this classic Indian dish is a curry lover's paradise. Savory spices and a tomato-based sauce cover the chunks of chicken that are commonly served over a bed of rice.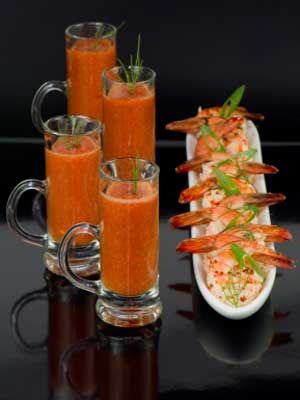 ©iStockphoto/Inna Looukianova
When the ancient Romans went to Spain to build roads and aqueducts, they were exhausted by the heat and threw together some stale bread, garlic, olive oil, salt and vinegar to replenish the nutrients they lost from working. After Spanish explorers traveled to the New World, tomatoes were added to the mix, resulting in the true thirst-quenching concoction known as gazpacho.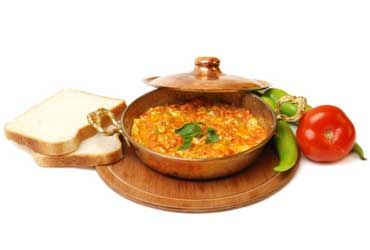 ©iStockphoto/Selin Ogeturk
Menemen: Served for breakfast or dinner, the Turkish couldn't care less! Eggs, tomatoes, bell peppers, onions and olives scrambled in a butter-coated skillet prove to be a hearty meal at any time of day.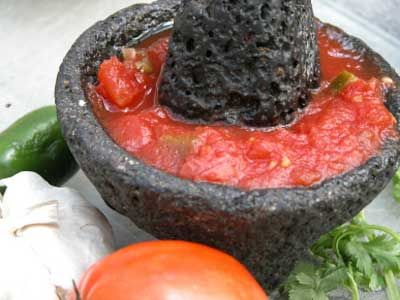 ©iStockphoto/Ricardo Garza
Fresh tomatoes, onions, jalapenos, cilantro and lime juice are enhanced by the flavor of smoky chilies to create salsa, a traditional favorite that can accompany any Mexican dish.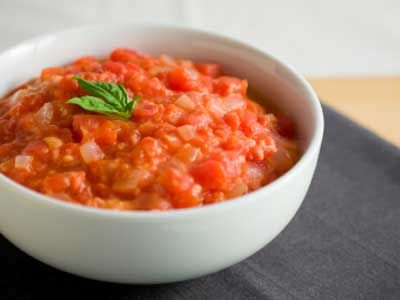 Chocolate, vanilla or tomato? Made with tomatoes, onions, butter, brown sugar and breadcrumbs, this combination definitely puts a twist on your standard pudding flavor options.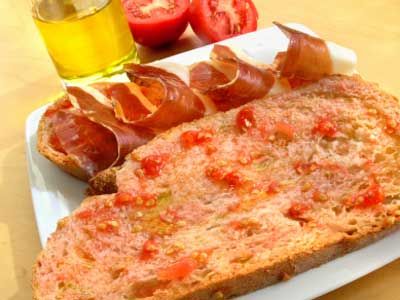 ©iStockphoto/Eva Serrabassa
Pa amb tomaquet, which translates as "bread with tomato," is a famous Catalan hors d'oeuvre that consists of toasted bread smeared with a tomato, garlic and olive oil paste.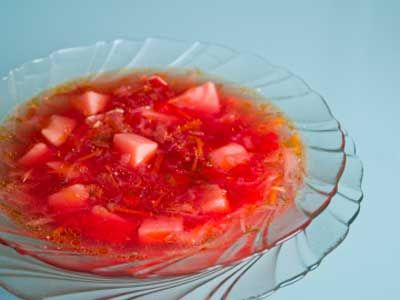 ©iStockphoto/Roman Ponomarets
Bitter beet roots and sweet tomatoes are the base for borscht, a dynamic puree of flavors. Popular in Russia and the Ukraine, this soup can be enjoyed either hot or cold.