Eating at home is one of the most effective ways to cut costs from your monthly bills. You can prepare meals in your house for a fraction of the cost of eating out, plus there's no waiter to tip, no wine corkage fee and no valet parking to pay for. Once you've made the move to home cooking, you can save even more by becoming a smart grocery shopper. Here are 10 tips that will help you lower your grocery bill, maybe by as much as 50 percent.
Just like Santa, you should always make a list and check it twice. Going into a grocery store without a plan is a good way to ensure that you'll forget crucial ingredients and buy things you don't need, which costs you money on the back end. And always check your fridge and pantry before you make your list so you don't double up on anything you already have. It's helpful to plan a menu for the week before starting your list. That way you can use the same ingredients in multiple dishes, which will save you the cost of having to throwaway unused perishables, such as meat and vegetables.
Coupons may seem like yesterday's news, but they're a no-brainer when it comes to saving money on your grocery bill. So pick up a Sunday paper, grab some scissors and get to work. Many stores offer double coupons on certain days, so try to plan your shopping day around this. If you forget to clip coupons, pick up a store flyer on your way in to see what's on special that day. Most grocery stores have additional items on special that are clearly marked throughout the store. And be on the lookout for "buy one, get one free" coupons for the ultimate savings.
Did you know? If you find coupons for items that you frequently use, you can buy more papers and clip additional coupons for maximum savings. Most coupons will state if there's a limit.
One of the great things about cooking at home is the leftovers, and it's a sure bet for saving money. Let's say the ingredients of your home-cooked dinner costs $20. If you're able to eat your leftovers for lunch for a couple days after, go ahead and divide that cost by three and you'll have an idea of just how much money you can save. Plus, when the ingredients hang out together in the fridge, it only enhances the flavors. Casseroles and crock pot meals are great because they can feed your family for more than one night. Lasagna is another great meal for delicious leftovers.
Before you even go to the store, check out your pantry. Chances are you can find enough of the staples to make a few meals if you buy some protein and veggies to go with it. See how much of those dry pantry goods you can use in meals each week. Each item that you already have is something you won't have to buy. The same goes for the fridge and freezer. You'll want to use up frozen goods before they become freezer burned. So don't forget about that package of chicken breasts you froze when it was on sale at the grocery store. And if you can keep your fridge and pantry organized and well-edited, you'll have a better chance of using up what you have.
There's no cheaper way to eat than to grow your own food. Growing vegetables and herbs is fun, rewarding and provides fresh and nutritious food for you and your family. If you don't have an area to garden, you can grow many herbs and even some vegetables, like tomatoes, right in your kitchen if there's a sunny spot. Or invest in a few containers for your porch. You can either start your garden from seed or pay a little extra for small, established plants. This is also a great way for your family to spend time together and a good opportunity to teach your children about nutrition. Keep the garden small and manageable and you can count on your kids giving you some help.
Everybody who has ever been shopping while hungry knows it's a good way to fill your cart in a hurry with a bunch of stuff you don't need. You can solve this by eating before you go shopping. You'll also be more likely to avoid picking up junk food and go for lighter fare. So, you'll not only be saving some money, but you may drop a few pounds while you're at it. If you don't have time to eat a meal before you shop, try to at least put something in your stomach to avoid the hunger pang purchases. It's handy to keep a granola bar in your glove compartment or purse for this reason.
Most savvy shoppers are members of bulk value shopping clubs. If you aren't, then join one soon to start saving money, because buying in bulk is almost always the cheapest way to go. The trick to bulk purchasing is sticking to items you know you use a lot. Otherwise, you may end up with an overflowing pantry and a five gallon can of ravioli staring you in the face. Another tip is to stick with non-perishable items for bulk purchases. For parties and cookouts, look for cuts of meat in bulk to save money. Joining a shopping club usually costs a low yearly membership fee, but the savings you'll accrue surpasses this cost quickly.
Store brand goods are a great way to trim money from your grocery bill. And here's a little secret -- the quality and nutritional content is usually the same as the more expensive brand name. So why are they cheaper? Ask yourself this -- when was the last time you saw a TV commercial for a generic brand peanut butter? When you buy brand name goods, you're actually helping to pay the company's marketing costs. In fact, some food items come off the factory line exactly the same and are simply packaged into different containers, one generic and one name brand. This is called private labeling and can save you a ton of money.
One good way to save money is by trimming the meat from your grocery list. Vegetables are a lot cheaper than meats and are full of vitamins, minerals and antioxidants. You don't need to become a vegetarian, but cutting meat from your diet just one day a week can save you around $200 per year for a four person family [source: shiftyourhabit.com]. Try substituting the less-expensive tofu instead of chicken breast in your next stir-fry -- it's delicious and nutritious. Or just browse the Internet for some yummy vegetarian recipes. Your body and your palate may enjoy a different kind of protein for a change.
Just like any area of finance, the key to saving is to set a budget and stick to it. If you have no boundaries in place you'll likely overspend and buy things you may want but don't need. Separate your food wants from your needs when setting your budget. You'll likely find that you stick to the items that get you the most bang for your food dollar -- a sure way to save. Don't forget to include things like spices, beverages and paper goods in your budget. These items can put you over the top if you weren't counting them in your figures.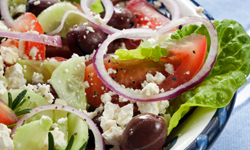 Up Next
Are you looking for some salad recipes that save you money? Check out this article and get 5 salad recipes that save you money.
---
Related HowStuffWorks Articles
Sources
Broyles, Addie. "Save money, environment by eating less meat." Austin360.com, May 6, 2009.http://www.austin360.com/food_drink/content/food_drink/stories/2009/05/0506meatless.html

Goff, Lisa. "Cut Your Grocery Bill in Half!" Good Housekeeping, January, 2005.http://www.goodhousekeeping.com/money/budget/cut-grocery-bill-jan05

Grant, Kelli B. "8 Ways to Cut Your Grocery Bill. " Smart Money, October 3, 2008.http://www.smartmoney.com/spending/deals/8-ways-to-cut-your-grocery-bill-22641/

"Lower your grocery bill without clipping coupons." Moneysavingmom.com, July 28, 2008.http://www.moneysavingmom.com/money_saving_mom/2008/07/lower-your-groc.html

"Meat Less." Shiftyourhabit.com, 2009. http://shiftyourhabit.com/daily-shifts/meat-less/

Newby, Melissa. "How to save 50% on your grocery bill with TheGroceryGame.com." Examiner.com, May 4, 2009.

Wagaman, Jennifer. "How to Save Money on Your Grocery Bill - Tips on Cutting Your Food Budget in Half." Suite101.com, December 5, 2008.http://personalbudgeting.suite101.com/article.cfm/how_to_save_money_on_your_grocery_bill