Just like any area of finance, the key to saving is to set a budget and stick to it. If you have no boundaries in place you'll likely overspend and buy things you may want but don't need. Separate your food wants from your needs when setting your budget. You'll likely find that you stick to the items that get you the most bang for your food dollar -- a sure way to save. Don't forget to include things like spices, beverages and paper goods in your budget. These items can put you over the top if you weren't counting them in your figures.
Related HowStuffWorks Articles
Sources
Broyles, Addie. "Save money, environment by eating less meat." Austin360.com, May 6, 2009.http://www.austin360.com/food_drink/content/food_drink/stories/2009/05/0506meatless.html

Goff, Lisa. "Cut Your Grocery Bill in Half!" Good Housekeeping, January, 2005.http://www.goodhousekeeping.com/money/budget/cut-grocery-bill-jan05

Grant, Kelli B. "8 Ways to Cut Your Grocery Bill. " Smart Money, October 3, 2008.http://www.smartmoney.com/spending/deals/8-ways-to-cut-your-grocery-bill-22641/

"Lower your grocery bill without clipping coupons." Moneysavingmom.com, July 28, 2008.http://www.moneysavingmom.com/money_saving_mom/2008/07/lower-your-groc.html

"Meat Less." Shiftyourhabit.com, 2009. http://shiftyourhabit.com/daily-shifts/meat-less/

Newby, Melissa. "How to save 50% on your grocery bill with TheGroceryGame.com." Examiner.com, May 4, 2009.

Wagaman, Jennifer. "How to Save Money on Your Grocery Bill - Tips on Cutting Your Food Budget in Half." Suite101.com, December 5, 2008.http://personalbudgeting.suite101.com/article.cfm/how_to_save_money_on_your_grocery_bill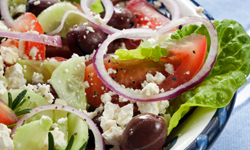 Up Next
Are you looking for some salad recipes that save you money? Check out this article and get 5 salad recipes that save you money.
---