Fresh corn on the cob is sweet, savory and has a signature, juicy crunch. It's so delicious, in fact, it'd be a crime to throw any leftovers away. So, the next time you find yourself with extra corn on the cob, don't toss it out or pitch it in your compost pile. Instead, save it, and add it into a new recipe.
Whether your leftover ears of corn are cooked or uncooked, the kernels can be cut off the cob and used in recipes that call for frozen or canned corn, and the fresh corn will give the dishes a much fresher taste. You can also freeze your leftover kernels after you cut them off the cob to use later.
Before you begin, cut the ears in half to create a flat surface to stand them up. This will help them from slipping out of your hands and prevent possible injury. Many cooks use a chef's knife to cut the kernels off the cob, but a small paring knife will work just fine as long as it's sharp. Remove the kernels without cutting too close to the cob. And when you're using fresh corn in place of frozen or canned, just keep in mind a medium ear of corn usually yields about a 1/2 cup of kernels.
Once you've properly prepped your leftovers, it's time to experiment with a new recipe. Read on to see five recommendations.
Corn muffins are the perfect complement to a plethora of dishes -- barbecue ribs, chili and marinated chicken. They're even delicious crumbled up over a salad in place of croutons. And what makes these mini corn muffins delicious is they use whole corn kernels in addition to cornmeal -- and they're simple to make. The recipe starts with a corn muffin mix, but is doctored up for a moister, fresher side item. If you don't have a mini muffin pan, you can always make these in a standard muffin pan. You'll just need to keep an eye on them, as they'll need to bake a bit longer.
Cook Time 15 minutes
Prep Time 12 minutes
Yield 24 to 28 mini muffins
Ingredients
8 1/2 oz package of corn muffin mix

1/3 cup milk

1 egg, beaten

3/4 cup finely shredded cheddar cheese, divided

1 large ear of corn, kernels cut from cob
Preparation:
Preheat oven to 375 degrees Fahrenheit. Spray mini muffin tin with nonstick cooking spray.

Combine corn muffin mix, milk and egg in medium bowl until blended. Stir in corn and 1/2 cup cheese.

Spoon 1 tablespoon batter into each muffin cup. Top with 1/2 teaspoon remaining cheese. Bake 12 to 15 minutes or until lightly browned. Serve warm.
4
Corn and Tomatillo Salsa
Whether it's game day or Cinco de Mayo, you can't go wrong with this corn and tomatillo salsa. The corn has a sweet crunch, while the tomatillo and lime juice blend for the perfect tang. Finally, the jalapeño and cilantro balance each other out for a delicious combination of fresh and spicy. It's an explosion of flavors and colors. It will look as festive on the table as it tastes in your mouth.
Cook Time 10 minutes
Prep Time 20 minutes
Yield 3 cups
Ingredients
4 medium ears of corn, kernels cut from cobs

2 jalapeño peppers, seeded and chopped*

1/2 pound tomatillos, chopped

1/2 red bell pepper, chopped

2 green onions, thinly sliced

2 tbs. lime juice

2 tbs. water

1/2 tsp. ground coriander

2 tbs. fresh cilantro, chopped

Tortilla chips
*Jalapeño peppers can sting and irritate the skin, so wear rubber gloves when handling peppers and do not touch your eyes.
Preparation
Combine corn and jalapeños in large skillet.

Add tomatillos, bell peppers, onions, lime juice, water and coriander to corn mixture; cover.

Bring to a boil over high heat; reduce to medium-low. Simmer 5 minutes, stirring halfway through cooking.

Allow to cool and stir in cilantro. Refrigerate in separate bowl and garnish with additional cilantro and lime slices.

Serve with tortilla chips.
While we love the idea of more complex dishes like risotto and savory soufflés, sometimes you just have to be able to throw some ingredients together in a casserole dish, toss it in the oven, and viola! -- you've got a delicious homemade dinner. Well, this is that dish. It's similar to a quiche in that it uses egg as its binder, but its main ingredients are fresh veggies, so it's exploding with fresh flavor. This particular recipe doesn't call for cheese, but you can certainly change things up a bit by adding in some Swiss or cheddar. You can also even make this dish a complete meal by including a protein like cooked chicken or turkey.
Cook Time 45 to 55 minutes
Prep Time 15 minutes
Yield 10 servings
Ingredients
2 cups grated zucchini

2 medium ears of corn, kernels cut from cobs

1 cup diced red bell pepper

2 cups cholesterol-free egg substitute

1/2 cup low-fat evaporated milk

2 tsp. sugar

1/4 tsp. celery seed

1/8 tsp. salt

1/8 tsp. red pepper flakes (optional)
Preparation
Preheat oven to 350 degrees Fahrenheit. Coat 11 x 7-inch baking dish with nonstick cooking spray.

Mix zucchini, corn and bell pepper in baking dish.

Whisk egg substitute, evaporated milk, sugar, celery seed, salt and red pepper flakes in large bowl; pour over vegetables in baking dish.

Bake 45 to 55 minutes or until golden.
2
Southwestern Stuffed Peppers
Are you looking for something fresh and intriguing for your next dinner party? If so, give this stuffed pepper recipe a whirl. It calls for a slow cooker, so it's relatively simple. Just mix the ingredients together and let the slow cooker do the work while you get your house ready for your guests. The peppers serve as an organic and fun serving vessel for a zesty meal. You could even pair with some grilled chicken skewers if you want a little more substance. Either way, this unique dish is sure to impress your friends.
Cook Time 4 to 6 hours
Prep Time 15 minutes
Yield 4 servings
Ingredients
4 green bell peppers

1 can (15 oz.) black beans, rinsed and drained

1 cup shredded pepper-jack cheese

3/4 cup medium salsa

1 medium ear of corn, kernels cut from cob

1/2 cup chopped green onions

1/3 cup uncooked long-grain converted white rice

1 tsp. chili powder

1/2 tsp. ground cumin

Sour cream

Slow cooker
Preparation
Cut thin top off each bell pepper. Carefully remove seeds, leaving pepper whole.

Combine beans, cheese, salsa, corn, onions, rice, chili powder and cumin in medium bowl.

Spoon filling evenly into each pepper and place them in slow cooker.

Cook on low for 4 to 6 hours.

Serve garnished with sour cream.
Who doesn't like a hearty hot chowder on a cold winter day? Well if you freeze your leftover, uncooked ears of corn whole, you can pull them out and test this tomato and corn soup to warm yourself up on a particularly chilly or snowy day. The key is to be sure to let your corn defrost completely because the juice in the corn is what holds the magic to this recipe.
Cook Time 40 minutes
Prep Time 1 hour
Yield 6 small servings
Ingredients
1-1/2 cups peeled and diced plum tomatoes

2 medium ears of corn, husks removed

1 tbs. butter

1/2 cup finely chopped shallots

1 clove garlic, minced

1 can (12 oz.) evaporated skim milk

1 cup chicken broth

1 tbs. finely chopped fresh sage or 1 tsp. rubbed sage

1/4 tsp. black pepper

1 tbs. cornstarch

2 tbs. cold water

Salt to taste
Preparation
Place tomatoes in nonmetal colander over bowl. Sprinkle with 1/2 teaspoon salt; toss to mix well. Allow tomatoes to drain at least 1 hour.

Meanwhile, cut corn kernels off cobs into small bowl. Scrape cobs with dull side of knife to extract liquid from cobs into same bowl; set aside. Discard 1 cob; break remaining cob in half.

Heat butter in heavy medium saucepan over medium-high heat until melted and bubbly. Add shallots and garlic; reduce heat to low.

Cover and cook about 5 minutes or until shallots are soft and translucent.

Add milk, broth, sage, pepper and reserved corn cob halves. Bring to a boil over high heat; reduce heat to low and simmer, uncovered, for 10 minutes.

Remove and discard corn cob halves.

Add corn with liquid; return to a boil over medium-high heat. Reduce heat to low and simmer, uncovered, 15 more minutes.

Dissolve cornstarch in water and add to chowder. Stir until thickened. Remove from heat; stir in drained tomatoes and season to taste with salt.

Spoon into bowls. Garnish with additional fresh sage if desired.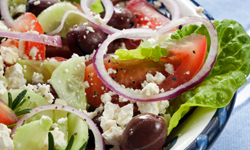 Up Next
Are you looking for some salad recipes that save you money? Check out this article and get 5 salad recipes that save you money.
---
Related Articles
Sources
Armentrout, Jennifer. "Cutting Fresh Corn Off the Cob." FineCooking.com. Aug. 1, 2004. (Oct. 30, 2011) http://www.finecooking.com/articles/how-to/cutting-corn-off-cob.aspx

Bhide, Monica. "Corn, East Indian Style." NPR. Aug. 9, 2011. (Oct. 30, 2011) http://www.npr.org/2011/08/09/139334228/corn-east-indian-style

"Botanists Establish Origin of Corn." The Harvard Crimson. March 1, 1954. (Oct. 30, 2011) http://www.thecrimson.com/article/1954/3/1/botanists-establish-origin-of-corn-pdiscovery/

Brown, Adele. "How to Choose, Dekernel, and Freeze Corn." Real Simple. (Oct. 30, 2011) http://www.realsimple.com/food-recipes/shopping-storing/food/how-to-choose-dekernel-freeze-corn-10000000691034/index.html

Hilaire, Larry. "Corn: An American Native." U.S. Dept. of the Interior National Park Services. Spring 2000. (Oct. 30, 2011) http://www.thecrimson.com/article/1954/3/1/botanists-establish-origin-of-corn-pdiscovery/