The easiest way to save fresh herbs is to keep a plant full of them at your fingertips year-round. Oregano, rosemary and thyme are easy to grow but require a lot of light, so be sure you have sunny window available in the winter. Basil and cilantro can be tricky to grow as indoor herbs, but mint, chives and lemongrass are super easy and abundant enough to get you through the cold weather months. Look for varieties of all of these herbs that were specifically bred for indoor growth.
Related Articles
Sources
"End of Summer Tips for Storing Fresh Herbs." Thegreensamaritan.com. September 13, 2010. http://thegreensamaritan.com/2010/09/end-of-summer-tips-for-storing-fresh-herbs/

"Frequently Asked Questions." Versatilevinegar.org. October 21, 2011. http://www.versatilevinegar.org/faqs.html

"How to Store Parsley, Cilantro and Other Fresh Herbs." Simplyrecipes.com, April 14, 2008. http://simplyrecipes.com/recipes/how_to_store_parsley_cilantro_and_other_fresh_herbs/

"Saving the Flavor of Fresh Herbs." Smithsonianmag.com. August 5, 2011. http://blogs.smithsonianmag.com/food/2011/08/saving-the-flavor-of-fresh-herbs/

Webber, Roxanne. "How to Grow Herbs Indoors." Chow.com. March 16, 2009. http://www.chow.com/food-news/54973/how-to-grow-herbs-indoors/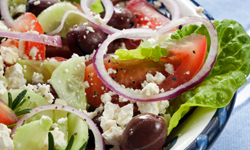 Up Next
Are you looking for some salad recipes that save you money? Check out this article and get 5 salad recipes that save you money.
---