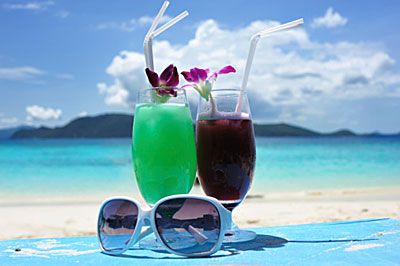 When the mercury rises, you need help keeping cool. These bites and beverages will refresh you whether you're at the beach, a backyard barbecue or just driving around town in the blistering heat.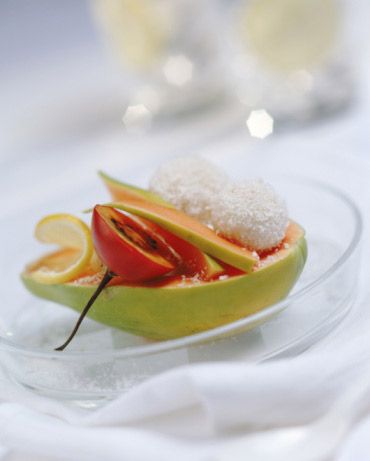 Whether it's breakfast, dessert or a mid-afternoon snack, a chilled fruit salad is a fresh, delicious choice. To replicate our recipe, halve a melon and fill it with sliced nectarines and shaved coconut.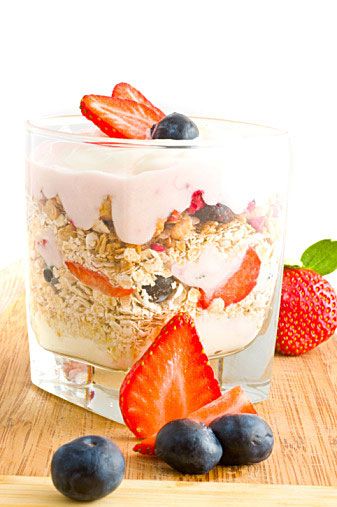 Yogurt is a creamy treat that won't derail your diet. For a sophisticated take on this bite, try layering yogurt with granola and berries for a summery parfait.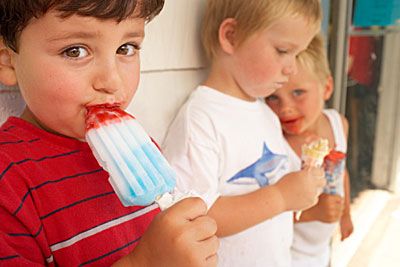 Christopher Robbins/Digital Vision/Thinkstock
What kid can resist a popsicle on a hot summer day? Stock up at the grocery store, or make a homemade version with natural fruit juice.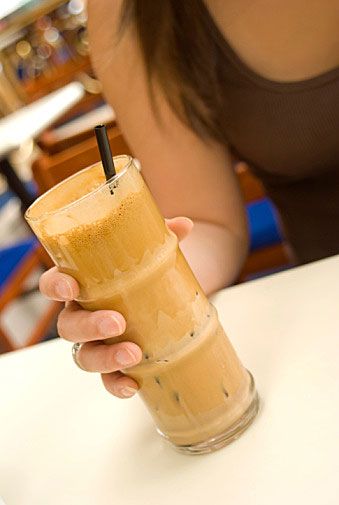 For a cool pick-me-up, choose iced coffee over hot java. Add a splash of ice-cold milk and garnish with whipped cream for an even chillier sip.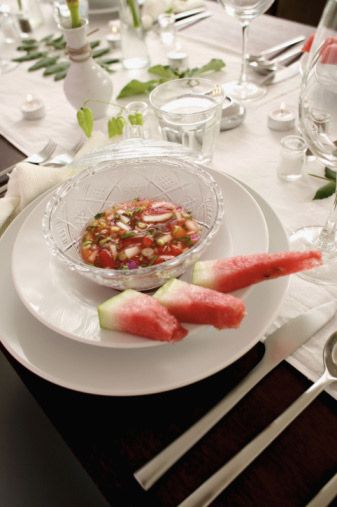 Brand X Pictures/Thinkstock
If it's too hot to seriously think about eating dinner, serve gazpacho, a chilled tomato soup.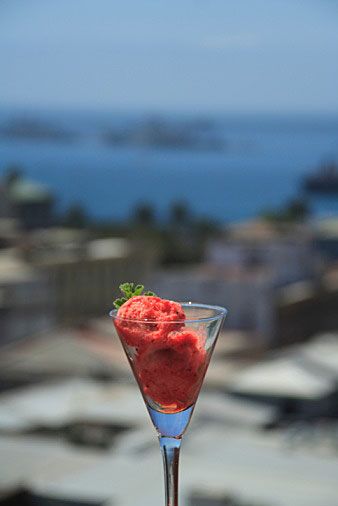 Think of sorbet as sinless ice cream: It's got the cool texture you crave but with far fewer calories. Strawberry sorbet served in a long-stemmed champagne glass will have you feeling glamorous.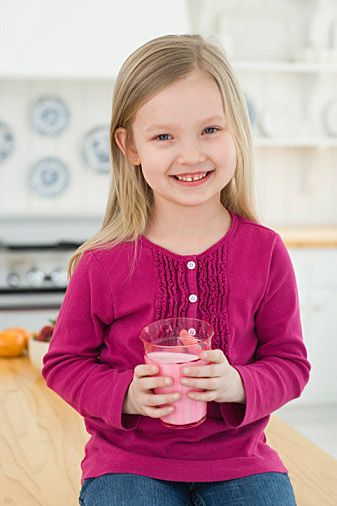 A smoothie is a kid- and mother-approved healthy milkshake. Blended fruit and crushed ice form the cold, sweet drink you've been craving.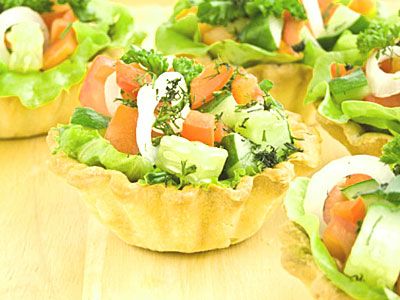 File this one under poolside spa lunch. A chopped salad made with crisp greens and diced tomatoes and cucumbers will fill you up -- not out. Served in dainty, buttery tartlets, this salad packs fiber and a certain wow factor.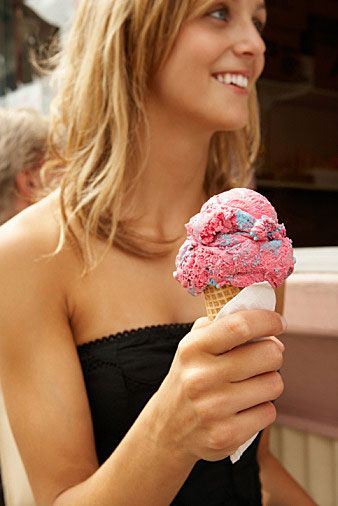 You've probably been wondering when we'd get to that classic summertime favorite: ice cream! You scream, I scream -- you know the rest. A rich, tongue-numbing treat, ice cream cones are for kids of all ages.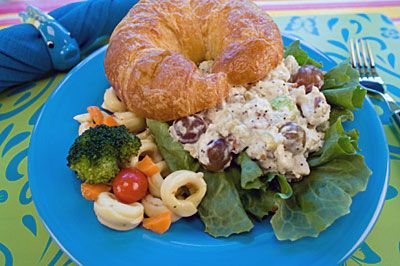 For a cool lunch al fresco, order chicken salad. Piled high on a soft croissant, the creamy mixture of shredded chicken, celery and mayo makes a perfect lunch when you can't stomach anything too hot or heavy.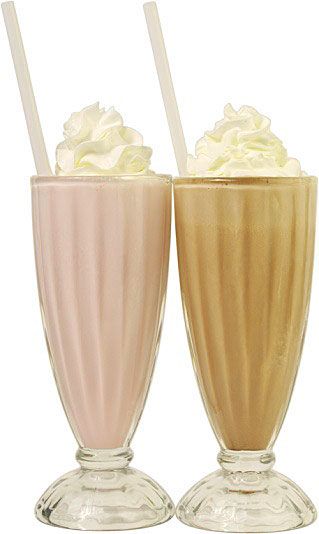 Hemera Technology/Thinkstock
Milkshakes are sweet sips for a sweltering day. An ice-cold blend of ice cream and milk, milkshakes taste even better topped off with whipped cream and a cherry.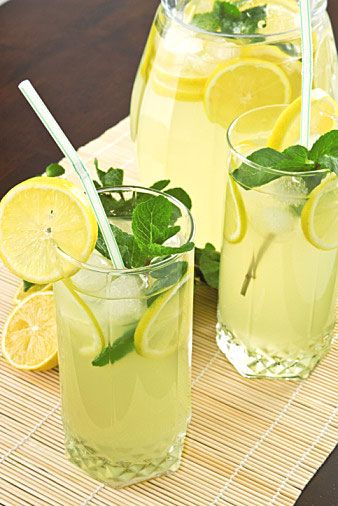 When life gives you lemons, juice 'em and combine them with water, sugar and mint for a classic summer beverage. Whether you make your lemonade from scratch or from a powdered mix, this tart drink will soothe parched throats.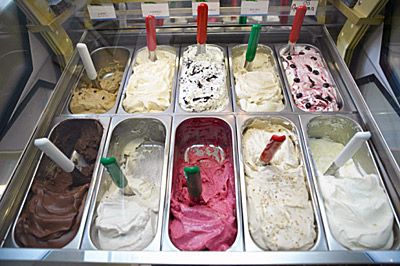 Hemera Technolgoies/Able Stock.com/Thinkstock
Pop into your local gelateria for an international take on ice cream that's far more sophisticated than a drippy cone. Italian gelato comes in a variety of fruit and sinfully sweet flavors.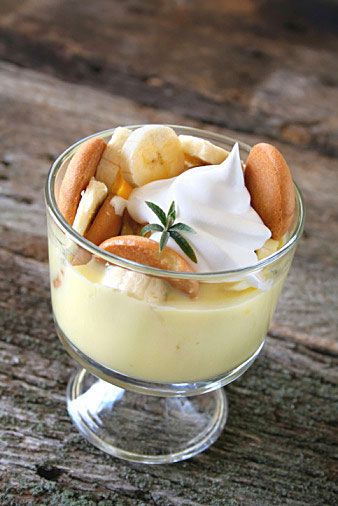 In the American South, banana pudding reigns supreme as a cool summertime dessert. Rich, creamy pudding mixed with velvety banana slices and crispy wafer cookies will have you coming back for seconds. To get some more cool summer food ideas, check out 10 Coolest Summer Foods.