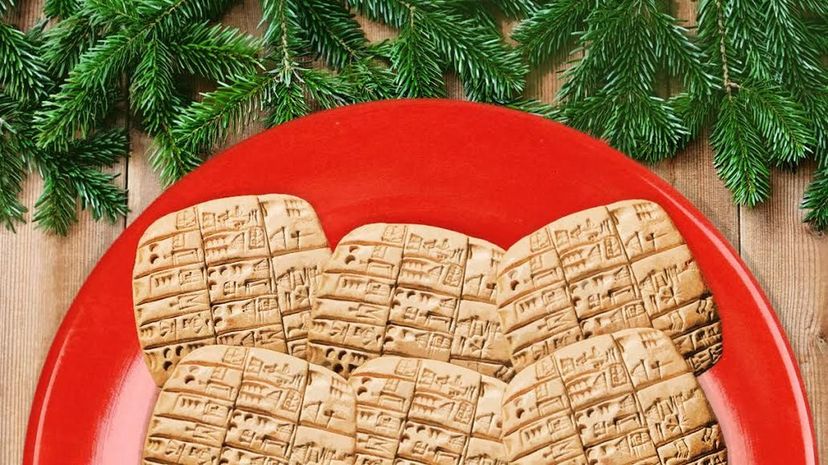 The holiday season is upon us, which means we have about a month to stuff our faces with all the seasonal fare we can bring ourselves to buy — or make. For a lot of us, that means cookies. Sugar cookies in the shape of Christmas trees. The old family recipe for special Russian tea cakes. Cookies that take advantage of that leftover Hanukkah gelt. Betty Crocker would be happy to send you cookie recipes for every day of the season.
But when making gingerbread cookies this year, let's go beyond great-grandma's recipe. Like, 5,000 years beyond, to the ancient Sumerian cuneiform script. Cuneiform was the world's first written language, and it was first written on clay tablets that then were fired in a kiln to harden. So, we're not stealing a recipe from the Sumerians so much as we're creating a cookie that they could understand.
Here's how Katy Blanchard, keeper of collections in the Penn Museum's Near East Section, deliciously honored the ancient culture. Blanchard tweaked a pretty standard gingerbread cookie recipe by cutting her dough into "tablets" and writing cuneiform script onto the cookies with a cheese knife. Out from the oven came some brittle gingerbread cuneiform tablets, not unlike the dusty tablets you might find in a museum.
Not fluent in the language of ancient Babylonia? No problem. The Penn Museum has a cool interactive tool that shows you what your monogram would look like in cuneiform, a fun place to start when brainstorming cookie designs.