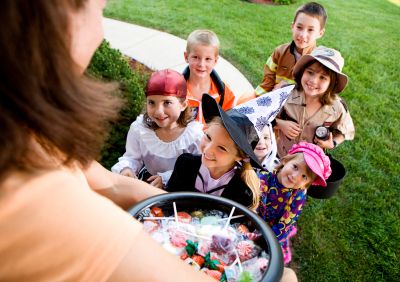 ©iStockphoto.com/Sean Locke
For many kids, Halloween is the most fun night of the year. While they look forward to dressing up and eating fistfuls of candy, candy manufacturers might be having an even better night. After all, one quarter of annual candy sales are attributed to Halloween. Easter, Christmas and Valentine's Day follow in terms of candy coinage.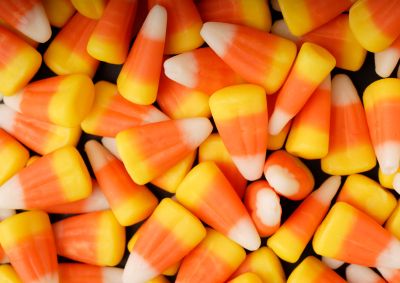 ©iStockphoto.com/Mark Stahl
When it comes to Halloween candy, candy corn is the perennial favorite. Candy corn's popularity has endured for more than a century. George Renninger created the treat in the 1880s for Wunderlee Candy, and it's distributed today by Jelly Belly Candy Company. If you're handing out this seasonal confection on Halloween night, be sure to buy it prepackaged.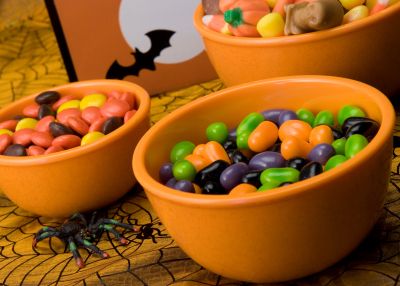 ©iStockphoto.com/Leo Kowal
Reese's Pieces make great Halloween treats because they come in autumnal shades of yellow, orange and dark brown. And while jelly beans used to be the No. 1 pick for Easter, manufacturers are trying to get a piece of the Halloween revenue pie by offering them in holiday-appropriate colors, such as green, orange, black and purple.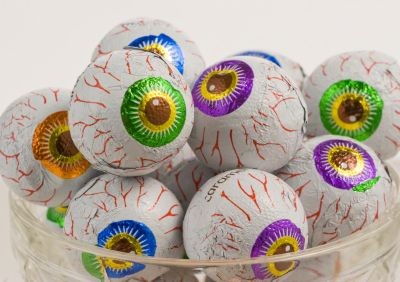 ©iStockphoto.com/Amy Stebbins
Who doesn't love the gross-out factor of eating chocolate eyeballs? These ocular treats might earn you a reputation as the neighborhood's resident mad scientist, but they're awfully fun.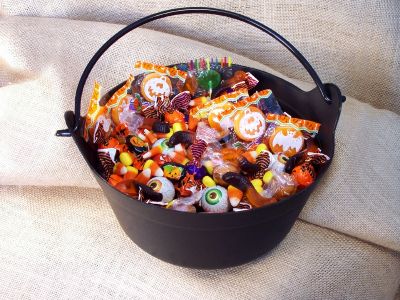 ©iStockphoto.com/Samantha Grandy
A huge haul of assorted candy is the hallmark of a fun and happy Halloween. Despite the changing times, candy remains comfortingly familiar. After all, nearly 65 percent of U.S. candy brands have been in business for half a century.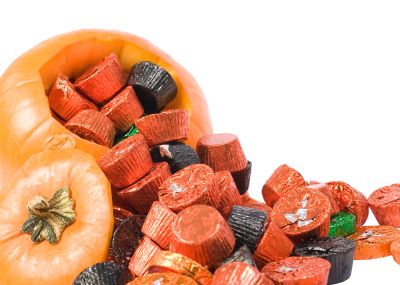 ©iStockphoto.com/Jack Kunnen
Candy is a treat for the eyes as well as the taste buds. You can make festive d�cor with artfully arranged piles of sweets. Try arranging peanut butter cups inside a hollowed-out pumpkin. This arrangement will set the spooky mood in your home -- if you can resist eating all the candy before Halloween rolls around. Today, candy manufacturers infuse chocolate bars with peanut butter, raspberry and caramel fillings, but the first milk chocolate bar was made in Switzerland in 1876.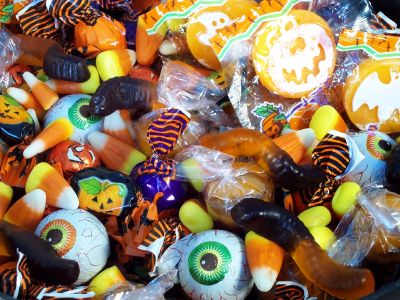 ©iStockphoto.com/Samantha Grandy
What's the best thing about trick-or-treating? Getting a monstrous variety of candy! Your kids are usually restricted to one choice when you give them permission to pick out a candy bar, so small servings of different types of sweet treats might temp them to overdo it. Set limits on how many pieces they can eat at a time.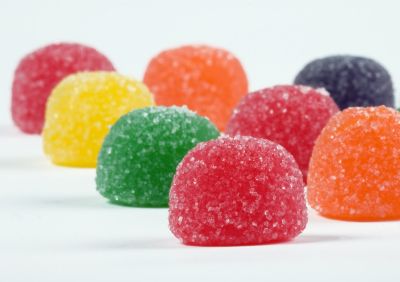 ©iStockphoto.com/Jerome Skiba
Goody gumdrops! This chewy candy is made from corn syrup and gelatin and is kissed with a generous sprinkle of granulated sugar. Bite-sized candies like gumdrops are easy to over-indulge in, and perhaps that's why the average American ate 26 pounds of candy back in 2005.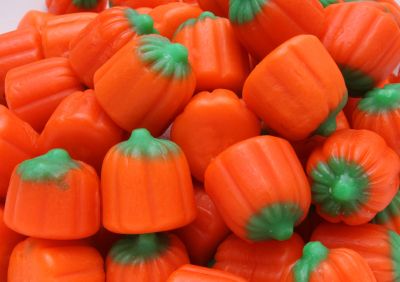 ©iStockphoto.com/Robert Kelsey
Don't be fooled. These aren't miniature pumpkins -- they're marshmallows! Try tossing some bite-sized marshmallow pumpkins with whole-grain cereal, peanuts and raisins to create a wholesome trail mix with a little Halloween flair.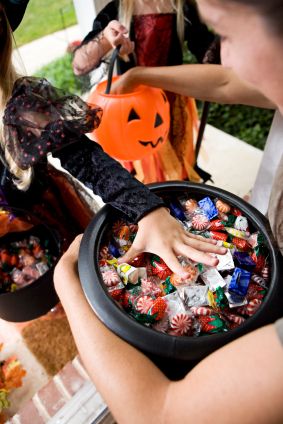 ©iStockphoto.com/Sean Locke
Unless you ask trick-or-treaters to just take one or two pieces of candy, they'll grab as much as they can. It's really a question of quantity versus quality. If you want to get more bang for your buck, fill up your candy dish with hard candy and lollipops. If you can limit the kids to one candy bar apiece, spring for chocolate! A good bet is Snickers bars, which lead the pack as the best-selling candy bar.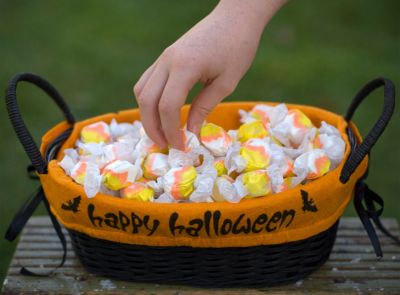 ©iStockphoto.com/Liza McCorkle
Saltwater taffy may remind you of your last seaside vacation, but when it's dyed hues of orange and yellow, it's a decidedly spooky confection.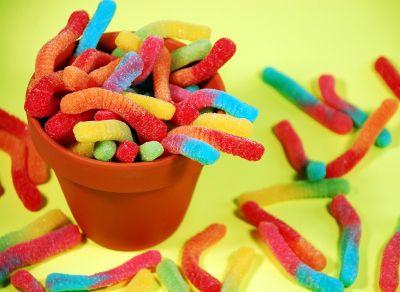 ©iStockphoto.com/Eric R. Perlstrom
Most kids love gummy worms and relish pretending that they're eating grub. Be prepared for shrieks when older siblings tease their younger brothers and sisters with these faux worms.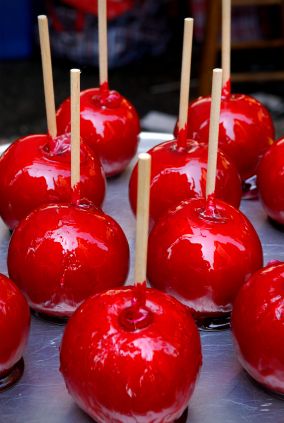 Candy apples are a timeless Halloween treat. If you worry about your child eating too many sweets on Halloween night, you may want to have candy apples on hand. Underneath that chewy, sugary shell, there's a nutritious apple.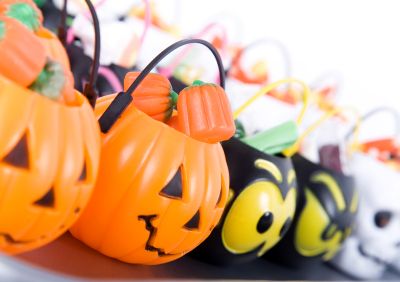 ©iStockphoto.com/Stephanie Horrocks
In addition to choosing the perfect costume for your children, you'll want to select a container for them to use when they go trick-or-treating. Some kids who plan on bringing home a large haul take pillowcases; however, if you choose a festive pail for your child, it'll look great in photographs and will hold a decidedly smaller amount of treats.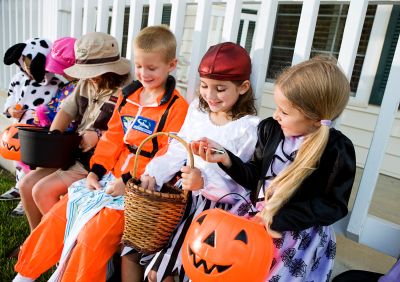 ©iStockphoto.com/Sean Locke
Perhaps the best part of trick-or-treating is when your child compares his or her stash with friends. Consider inviting neighbors over for a mug of cider and letting kids swap candy in the warmth and safety of your home. Maybe you can even swipe one or two of your favorite confections -- if your child is willing to share!