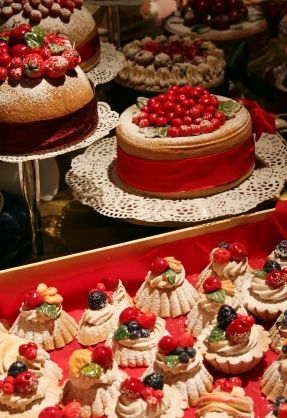 ©iStockphoto.com/Ariadna de Raadt
Bakers really get to display their baking muscle during the holiday season. Holiday baking is about more than the right recipe -- it's about the presentation. Here are some simple, elegant presentation tips for your favorite holiday classics.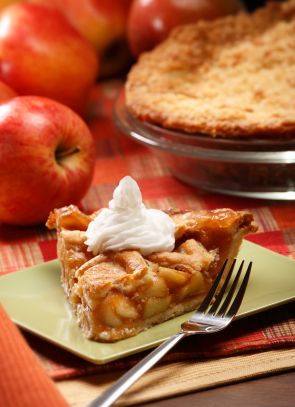 ©iStockphoto.com/Skip ODonnell
Apple pie is best when it's warm. Be sure to serve hot-from-the oven pie with a dollop of whipped cream or ice cream on top of each slice.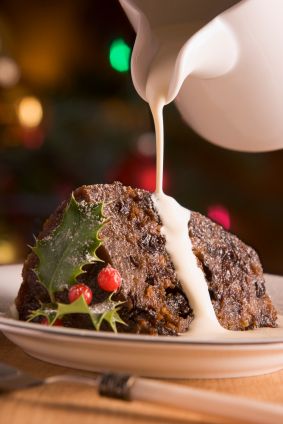 ©iStockphoto.com/Catherine Yeulet
Sweet dried fruits, the earthy flavors of nutmeg and cinnamon, and a hint of brandy are baked to perfection in this holiday dish. When serving Christmas pudding, drizzle it with a warm vanilla cream sauce as a finishing touch.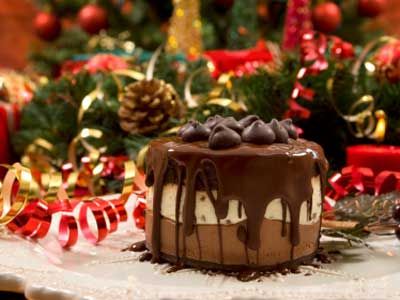 ©iStockphoto.com/Brian Chase
This gourmet dessert of rich, creamy layers of chocolate is topped with an overflow of melted milk chocolate and chocolate chips. Definitely a chocolate lover's dream!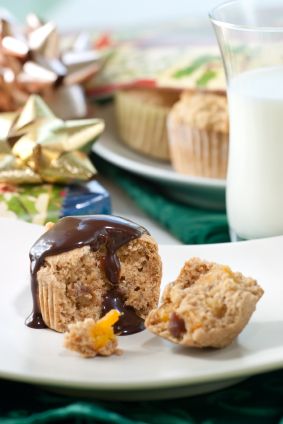 ©iStockphoto.com/Eugene Bochkarev
When the holidays come around, there's no reason to throw out sensible, healthy eating. Continue making healthy choices by indulging in a fresh whole-grain muffin, and satisfy your sweet tooth by topping it with a little chocolate sauce.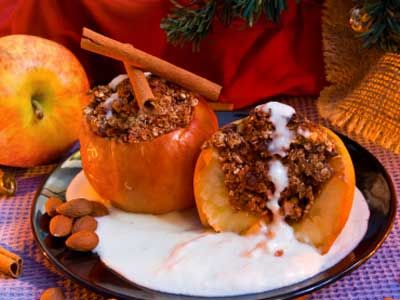 ©iStockphoto.com/Inga Nielsen
Ripe, crisp apples make a perfect dessert when stuffed with a seasoned oat and nut mixture, baked to a golden brown, and drowned in a sweet vanilla cream sauce. Adding this selection to your fall holiday menu would be a great idea -- after all, this time of year is apple season.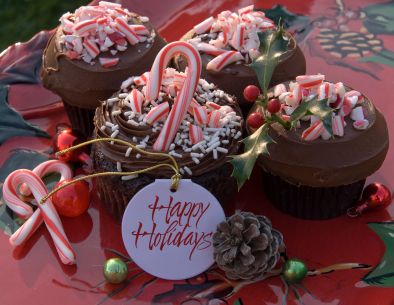 ©iStockphoto.com/Liza McCorkle
Try sprucing up your traditional chocolate cupcake with some crushed peppermints during the holidays. This garnish makes for an exciting, seasonal alternative to sprinkles.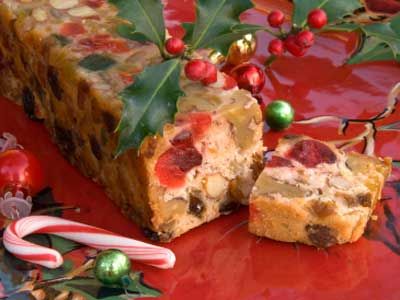 ©iStockphoto.com/Liza McCorkle
This loaf of candied fruit, nuts and spices has become a Christmas dinner table staple. To mimic the traditional process of making fruit cake, soak the loaf in whiskey or brandy after baking, and let it sit for at least two days before serving.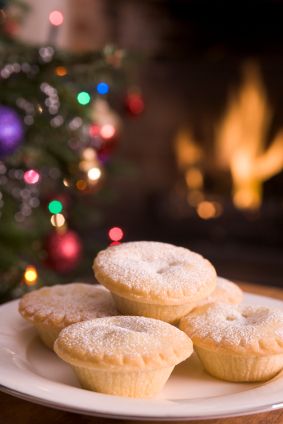 ©iStockphoto.com/Catherine Yeulet
Mince pies are another classic holiday dessert. These individually sized pies are filled with fruit and sprinkled with sugar. Sometimes, they're decorated with fresh fruit.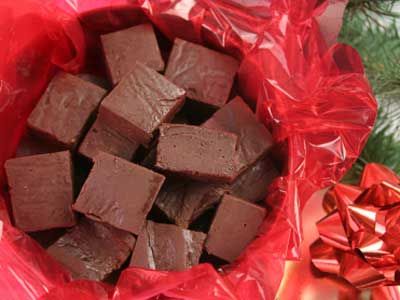 ©iStockphoto.com/Lisa F. Young
Making your own fudge can be a great holiday activity, and the end result makes a perfect gift for friends and neighbors. Stuff an aluminum tin with colorful plastic wrap before filling it with fudge to add extra flair to this yummy gift.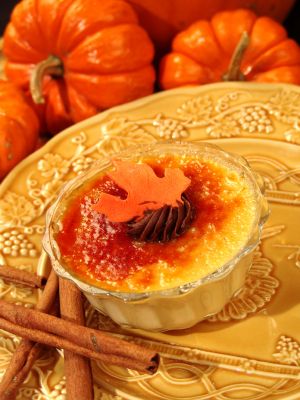 ©iStockphoto.com/akaplummer
Custard seems like a lot of work, but there's no need to bring out the pastry torch to get a perfect caramelized crust. Turn the oven on broil, and place your custard on the rack closest to the coils until it turns brown.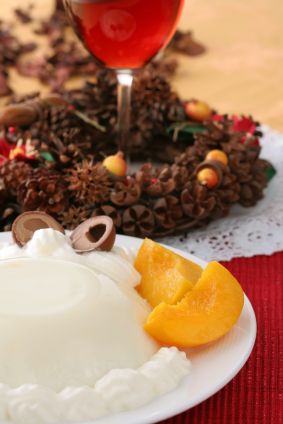 ©iStockphoto.com/Ziga Lisjak
Pudding is a simple, yet filling dessert. To dress it up for the holidays, add some fresh fruit and pieces of chocolate for a little change.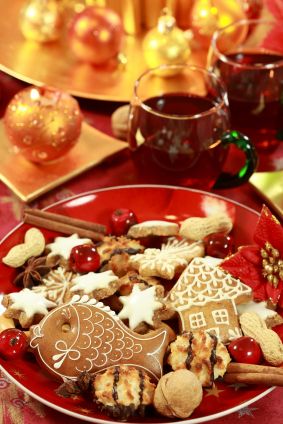 Everyone has a favorite kind of Christmas cookie. Whether it's sugar, gingerbread or gingersnap, Christmas cookies always find their way to the table during this time of year. Show your holiday spirit by adding designs to your cookies with piped icing or sugar sprinkles.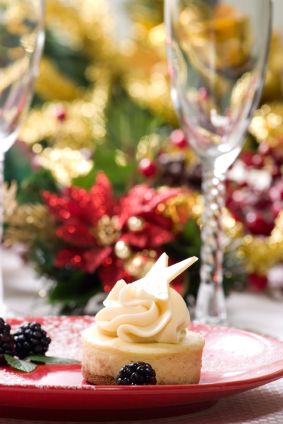 ©iStockphoto.com/Eugene Bochkarev
Miniature vanilla bean cheesecakes will definitely please your guests after a delicious, savory meal. These cakes are just the right size and have the perfect amount of sweetness. Before serving, garnish the cheesecakes with fresh blackberries and mint.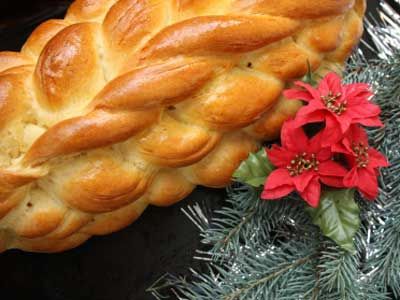 ©iStockphoto.com/Lucie Ríhová
Christmas bread is known for its semisweet filling, braided pattern and golden crust. It can be served for breakfast, dessert or even afternoon tea. To achieve that highly desired brown crust, brush the loaf with a beaten egg prior to baking.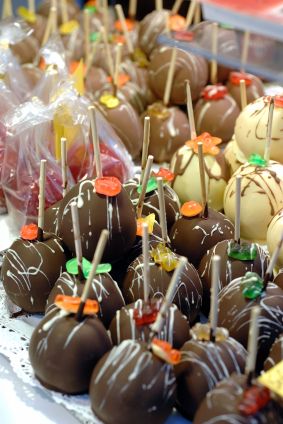 ©iStockphoto.com/Uwe Bumann
Homemade candy can be a special holiday treat to share with friends and family. Dip miniature pretzels, peanut butter balls or your guests' favorite fruits in rich German chocolate to make a personalized treat.