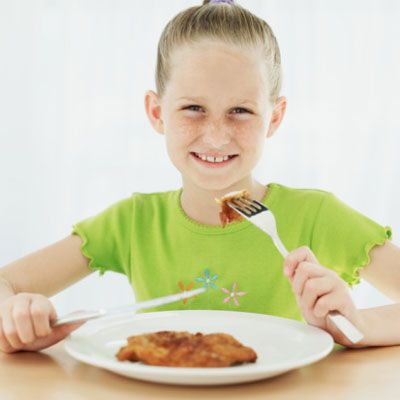 George Doyle/Getty Images
Kids can't refuse chicken fingers. Try coating chicken pieces with whole-wheat breadcrumbs and baking them for a healthy variation on the classic.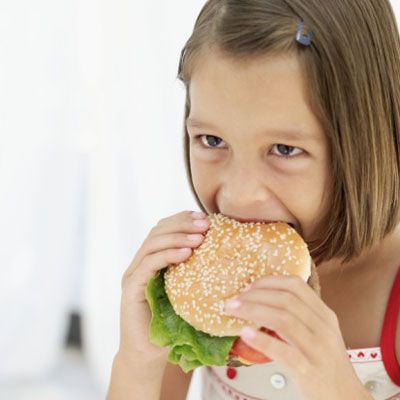 Hamburgers are always kid-approved, whether they're grilled or sizzled to perfection on the stove. Add some lettuce and tomatoes to squeeze in a serving of vegetables.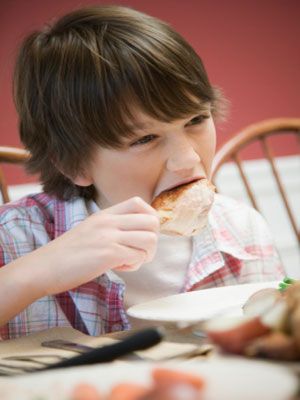 Andersen Ross/Getty Images
The drumstick might just be your child's favorite part of the chicken: It's got a built-in handle! Serve baked drumsticks with barbecue sauce for a little extra flavor.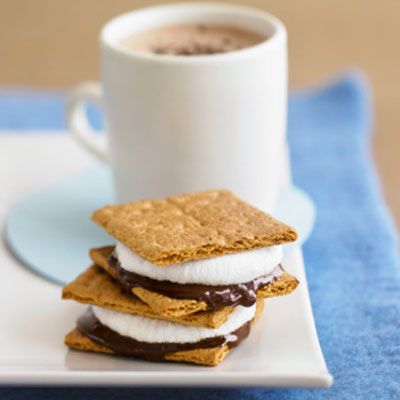 Maren Caruso/Getty Images
For dessert, try making microwave s'mores. Layer graham crackers with a piece of chocolate and a marshmallow, then zap for 30 seconds. You've got gooey goodness that's perfect with a cup of hot chocolate.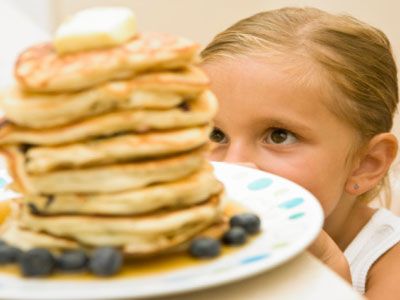 Michele Westmorland/Getty Images
Breakfast for dinner is a special treat, and pancakes are a real crowd-pleaser. Top whole-grain flapjacks with sliced bananas, blueberries or sliced pineapple for a sweet, substantive kick.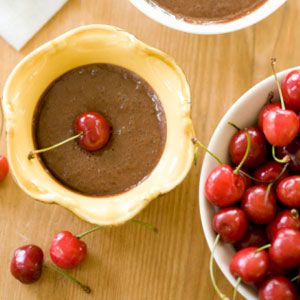 Chocolate pudding, topped with fresh fruit or crumbled cookies and sour candy worms, is a simple dessert. With less fat and calories than ice cream, you'll feel good about serving your child a (moderately sized) bowl of pudding.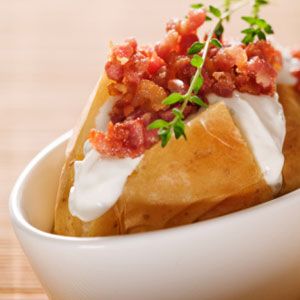 Martin Harvey/Getty Images
Set up a baked potato bar for dinner with all the fixings: shredded cheese, broccoli florets, sour cream, crumbled bacon and diced green onions. Your kids will have a blast customizing their spuds.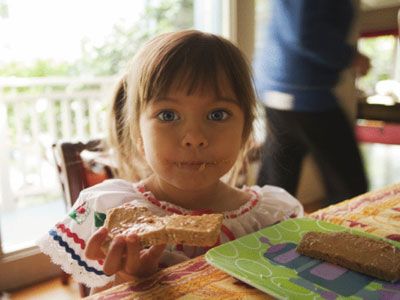 Rennie Solis/Getty Images
Instead of a regular PBJ, try a peanut-butter-and-apple (PBA) sandwich. Thinly slice red or green apples, sprinkle lightly with cinnamon, and arrange on top of whole-grain bread spread with peanut butter.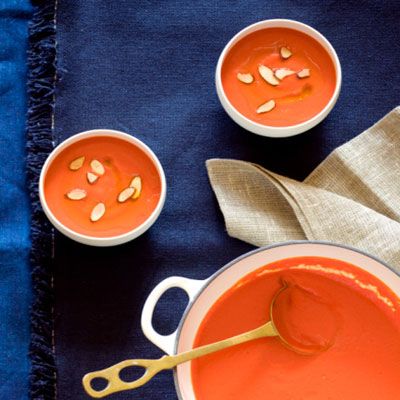 Annabelle Breakey/Getty Images
Nothing beats a bowl of creamy tomato soup on a chilly day. Your kids can garnish their own bowls with sour cream, chives and cheese. Serve the soup with crackers or whole-grain toast points.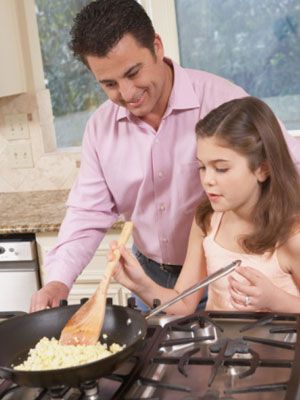 Jack Hollingsworth/Getty Images
Scrambled eggs are even tastier (and more whimsical) if you add a few drops of green food coloring and serve them with ham. For even more breakfast merriment, wear a tall, striped hat when you serve up those green eggs and ham!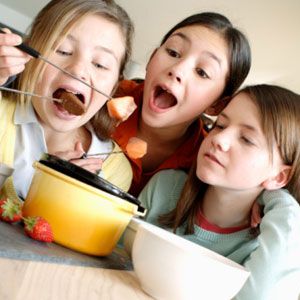 James Darell/Getty Images
Fondue is kid-approved if you tone down the sophistication. Serve a dessert fondue of melted chocolate with marshmallows, graham crackers and fresh fruit. For a main course, melt a mild cheddar cheese and offer pieces of bread, chunks of grilled chicken and an assortment of veggies.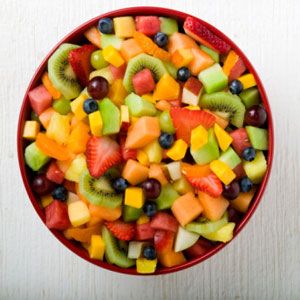 C Squared Studios/Getty Images
A rainbow-hued fruit salad will entice your children to eat up. Or, allow them to slide pieces of their favorite fruit onto wooden skewers for a portable snack.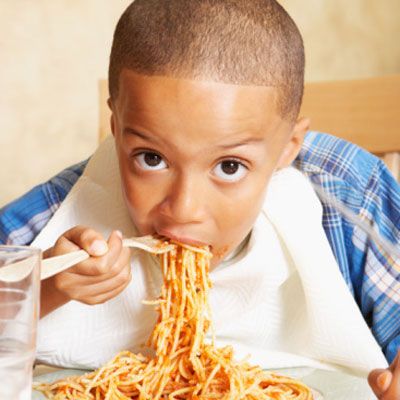 Tanya Constantine/Getty Images
It's messy, saucy, slurpy fun -- who doesn't love spaghetti? Try adding pureed spinach to your marinara to pack a nutritious punch on your child's plate.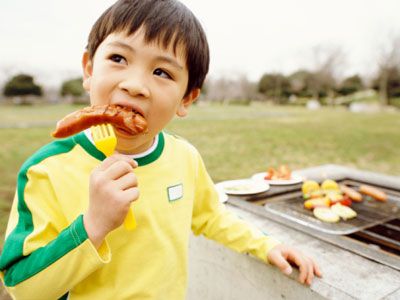 Digital Vision/Getty Images
Hot dogs are a snap to prepare on the grill or in the microwave. Your child might like them plain or with all the yummy fixings: ketchup, mustard, chili and onions.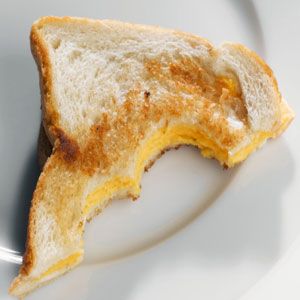 Sabine Scheckel/Getty Images
Grilled cheese is a classic kid-friendly meal. What's not to love? It's delicious and nutritious if you prepare it with minimal butter, whole-grain bread and reduced-fat, calcium-enriched cheese.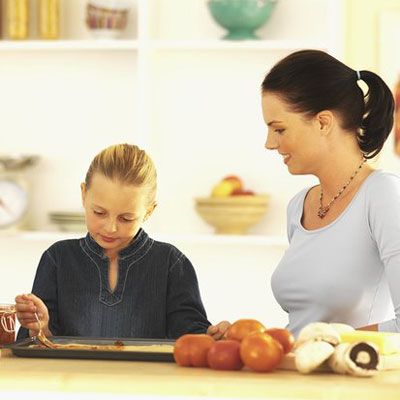 Instead of calling the local pizza parlor, try making mini pizzas at home. Spread tomato sauce on halved English muffins, then add fresh veggies and shredded cheese. Little personalized pizzas will win big smiles from your kids.
Macaroni and cheese is a kid-friendly recipe that's really stood the test of time. For a twist, deviate from elbow-shaped noodles and try whole-wheat pasta. You can add more protein to the meal by mixing in sliced pepperoni, hot dog or baked chicken.