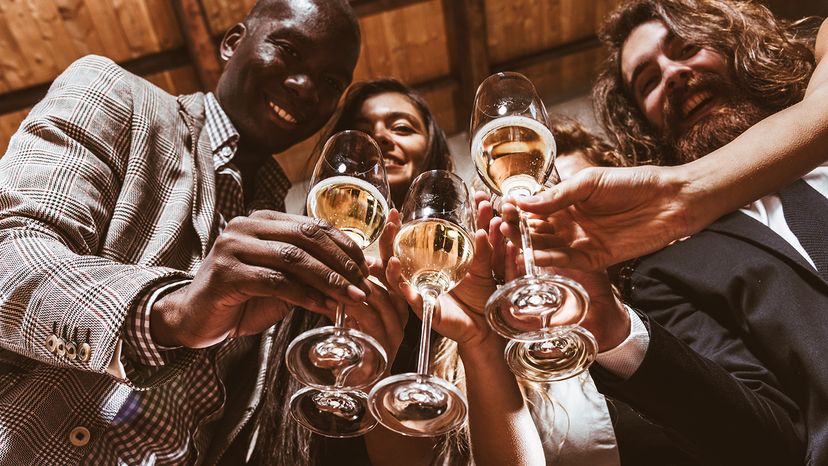 New Year's Eve is one of the biggest social nights of the year. All over the world each Dec. 31, friends and family get together in homes, pubs and clubs for some revelry. Partygoers pack the streets of some of the world's biggest cities to ring in the coming year with complete strangers. New Year's Eve is a holiday rich with traditions, from the singing of "Auld Lang Syne" to the ubiquitous champagne toast. Here are a few tips for giving a great toast when the New Year's spotlight is on you.
Reflect and Look Forward
The two most important components of a New Year's Eve toast are looking back and looking forward. The end of one year and the beginning of the next marks the perfect opportunity to reflect on the past year's highs and lows. It's also a great chance to look ahead to the coming year and ponder what could be in store. To avoid being a downer, it's best to keep the topics on the light side. Try to keep it brief and finish up on a high note with some words of inspiration for the coming year.
Inject Humor
Humor is a big part of many kinds of public speaking. From public presentations to pulpit messages to presidential addresses, injecting a few laughs into a speech can be a helpful way to draw people in and engage them. This is why opening with something humorous is a good move. Try to relate the humor to the people in the room, but remember that this is a toast, not a roast. Some good-natured ribbing is usually passable, but you don't want to hurt anyone's feelings or get too personal. Keep in mind when preparing your material that this is an evening of celebration, so be careful to avoid taking it too far and offending someone with a joke that's inappropriate or profane. This brings us to the next piece of advice.
Know Your Audience
This is true any time you're speaking in front of people. You must know who is out there listening, and not just so that you can tailor your jokes or jabs. As you reflect, be mindful of what has happened over the past year to the people you're with. If you know someone fell on hard times, try to keep the toast positive without gloating about your good fortune that year. The point is to make everyone there feel good. This can be tough when, for example, you're touting your recent promotion in front of a relative who lost her job. Also, be mindful of the age of your audience. If there are a lot of children and older folks, it might be best to keep everything PG- or G-rated.