Mexican Roll-Ups
the Editors of Publications International, Ltd.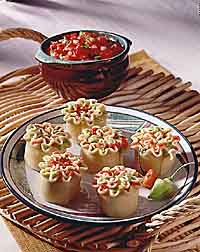 Mexican Roll-Ups
Enjoy guacamole the low fat way–rolled up with chunky salsa and nonfat cheese in tasty lasagna noodles. Substituting lasagna noodles for tortilla chips eliminates more than 30% of calories from fat.
Yield
Makes 12 appetizers
Ingredients
| | |
| --- | --- |
| 6 | uncooked lasagna noodles |
| 3/4 | cup prepared guacamole |
| 3/4 | cup chunky salsa |
| 3/4 | cup (3 ounces) shredded fat-free Cheddar cheese |
| | Additional salsa (optional) |
Preparation
Cook lasagna noodles according to package directions, omitting salt. Rinse with cool water; drain. Cool.
Spread 2 tablespoons guacamole onto each noodle; top each with 2 tablespoons salsa and 2 tablespoons cheese.
Roll up noodles jelly-roll fashion. Cut each roll-up in half to form two equal-size roll-ups. Serve immediately with additional salsa, if desired, or cover with plastic wrap and refrigerate up to 3 hours.
Health Note
Ten percent of the sodium in American diets comes from natural foods, 75 percent comes from processed and canned goods, and the remaining 15 percent is added during cooking or at the table.
Nutritional Information
| | |
| --- | --- |
| Serving Size: | 1 Roll-Up |
| Calories | 77 |
| Calories from Fat | 28 % |
| Total Fat | 1 g |
| Cholesterol | 2 mg |
| Carbohydrate | 11 g |
| Fiber | 1 g |
| Protein | 3 g |
| Sodium | 218 mg |
Advertisement
Check out more recipes for Mexican
Advertisement