No-Bake Coconut Cream Pie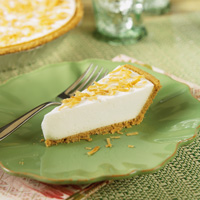 No-Bake Coconut Cream Pie
Yield
Makes 12 servings
Ingredients
| | |
| --- | --- |
| 2 | tablespoons water |
| 1 | envelope plain gelatin |
| 1 | can (14-1/2 ounces) light coconut milk |
| 1 | package (8 ounces) fat-free cream cheese |
| 9 | packets sugar substitute, divided |
| 2 | teaspoons vanilla |
| 1 | teaspoon coconut extract |
| 1 | low-fat graham cracker pie crust |
| 1/4 | cup unsweetened grated coconut |
Preparation
Place water in small microwave-safe bowl. Sprinkle gelatin over water and let stand 1 minute. Heat bowl in microwave on HIGH 20 seconds or until gelatin is completely dissolved.
In blender, combine coconut milk, cream cheese, 8 packets sugar substitute, vanilla, coconut extract and gelatin mixture. Cover tightly and blend until smooth. Pour mixture into prepared crust; cover and chill until firm, about 4 hours.
Before serving, toast coconut in nonstick skillet over low heat until golden. When cool, toss with remaining sugar substitute and sprinkle over pie. Cut into 12 slices to serve.
Nutritional Information
| | |
| --- | --- |
| Serving Size: | 1 pie slice |
| Calories | 118 |
| Calories from Fat | 41 % |
| Total Fat | 5 g |
| Saturated Fat | 3 g |
| Cholesterol | 2 mg |
| Carbohydrate | 13 g |
| Fiber | <1 g |
| Protein | 4 g |
| Sodium | 175 mg |
Check out more recipes for Pies & Tarts