Pappardelle with Portobello Bolognese Sauce
Hunt's ®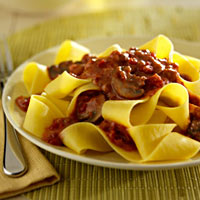 Pappardelle with Portobello Bolognese Sauce
A rich, comforting dish made with ribbon-like pappardelle pasta in a creamy tomato sauce chock full of beef, pork and meaty portobello mushrooms Recipe concept developed by The Culinary Institute of America
PREP TIME 1 hour 15 minutes
COOK TIME 1 hour 15 minutes
Yield
8
Ingredients
| | |
| --- | --- |
| 1 | Cup dry red wine (such as Pinot Noir or Cabernet Sauvignon) |
| 8 | Ounce ground sirloin beef |
| 1 | can (14 oz each) lower sodium beef broth |
| 3/4 | Cup heavy cream |
| 1 | can (28 oz each) Hunt's® Crushed Tomatoes |
| 1/4 | Cup Hunt's® Tomato Paste |
| 2 | Cup sliced baby portobello mushrooms (2 cups = about 5 oz) |
| 1 | Tablespoon olive oil |
| 1 | Cup finely chopped yellow onion |
| 1 | *serving Chopped flat leaf parsley, optional |
| 1 | Pound dry pappardelle or fettucine pasta, uncooked |
| 8 | Ounce lean ground pork |
| 1 1/4 | Teaspoon kosher salt |
| 1/2 | Teaspoon ground black pepper |
Preparation
Heat oil in 10-inch skillet over medium-high heat until hot. Add onions; cook 3 to 4 minutes or until onions are tender, stirring occasionally.
Add beef, pork, salt and pepper. Cook and stir 4 to 5 minutes or until meat is browned and crumbled. Blend in tomato paste; cook 2 to 3 minutes or until lightly caramelized.
Add wine; simmer 8 to 10 minutes or until wine is nearly evaporated. Add tomatoes, mushrooms and broth. Bring to a boil. Reduce heat to medium; simmer uncovered 30 to 35 minutes or until sauce has reduced by about one-third. Stir in cream and heat until hot.
Meanwhile, cook pasta according to package directions. Drain and return to cooking pan.
Add meat sauce to pasta; stir until pasta is coated with sauce. Serve immediately and sprinkle with parsley, if desired.
Nutritional Information
| | |
| --- | --- |
| Serving Size: | 1-1/2 cups each |
| Calories | 509 |
| Total Fat | 17 g |
| Saturated Fat | 9 g |
| Cholesterol | 72 mg |
| Sodium | 835 mg |
| Carbohydrate | 57 g |
| Dietary Fiber | 6 g |
| Protein | 25 g |
| Sugars | 8 g |
| Calcium | 42 mg |
| Iron | 5 mg |
| Vitamin A | 651 iu |
| Vitamin C | 11 mg |
Advertisement
Check out more recipes for Pasta
Advertisement