Pasta Pizza Bake
Hunt's ®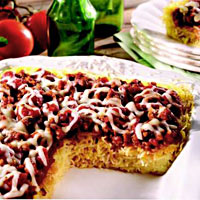 Pasta Pizza Bake
All the flavors of Italian sausage pizza cooked inside a pasta crust
Prep Time 15 minutes
Cook Time 40 minutes
Yield
8 servings (1 square each)
Ingredients
| | |
| --- | --- |
| 2 | Cup shredded part-skim mozzarella cheese (2 cups = 8 oz) |
| 2 | eggs |
| 1 | can (14.5 oz ea) Hunt's® Diced Tomatoes with Basil, Garlic & Oregano, drained |
| 1 | can (6 oz ea) Hunt's® Tomato Paste |
| 2 | Tablespoon grated Parmesan cheese, optional |
| 3 | *serving PAM® Original No-Stick Cooking Spray |
| 1 | pkg (8 oz each) dry angel hair pasta, uncooked |
| 1 | Pound Italian pork sausage links, casings removed |
Preparation
Preheat oven to 350°F. Spray 13x9-inch baking dish with cooking spray; set aside. Cook pasta according to package directions. Meanwhile, brown sausage in large nonstick skillet over medium-high heat, stirring occasionally to crumble the sausage; drain. Stir in diced tomatoes and the tomato paste; cook until heated through, stirring occasionally. Remove from heat. Stir in 1 cup of the mozzarella cheese.
Drain pasta; rinse under cold water. Set aside. Beat eggs lightly in large bowl. Stir in Parmesan cheese, if desired. Add pasta; toss to coat. Press firmly onto bottom of prepared dish. Top with the sausage mixture; sprinkle with the remaining 1 cup mozzarella cheese.
Bake 32 to 35 minutes, or until sausage mixture is heated through and cheese is melted. Let stand 5 minutes before cutting into 8 squares to serve.
Nutritional Information
| | |
| --- | --- |
| Serving Size: | 1 square |
| Calories | 386 |
| Total Fat | 18.2 g |
| Saturated Fat | 8.2 g |
| Cholesterol | 98.7 mg |
| Sodium | 791.7 mg |
| Carbohydrate | 32.5 mg |
| Dietary Fiber | 3.3 g |
| Protein | 22.5 g |
| Sugars | 5.6 g |
| Calcium | 224.6 mg |
| Iron | 2.4 mg |
| Vitamin A | 472.2 iu |
| Vitamin C | 7.2 mg |
Advertisement
Check out more recipes for Pasta
Advertisement