Pepper Cheese Cocktail Puffs
the Editors of Publications International, Ltd.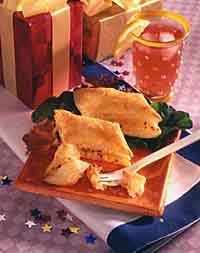 Pepper Cheese Cocktail Puffs
Prep and Bake Time 30 minutes
Yield
Makes about 20 appetizers
Ingredients
| | |
| --- | --- |
| 1/2 | package (17-1/4 ounces) frozen puff pastry dough, thawed |
| 1 | tablespoon Dijon mustard |
| 1/2 | cup (2 ounces) finely shredded Cheddar cheese |
| 1 | teaspoon cracked black pepper |
| 1 | egg |
| 1 | tablespoon water |
Preparation
Preheat oven to 400°F. Grease baking sheets.
Roll out 1 sheet puff pastry dough on well floured surface to 14x10-inch rectangle. Spread half of dough (from 10-inch side) with mustard. Sprinkle with cheese and pepper. Fold dough over filling; roll gently to seal edges.
Cut lengthwise into 3 strips; cut each strip diagonally into 1-1/2-inch pieces. Place on prepared baking sheets. Beat egg and water in small bowl; brush onto appetizers.
Bake appetizers 12 to 15 minutes or until puffed and deep golden brown. Remove from baking sheets to wire rack; cool.
Tip
Work quickly and efficiently when using puff pastry. The colder puff pastry is, the better it will puff in the hot oven. This recipe can be easily doubled.
Nutritional Information
| | |
| --- | --- |
| Serving Size: | 3 puffs |
| Calories | 283 |
| Total Fat | 19 g |
| Cholesterol | 34 mg |
| Carbohydrate | 21 g |
| Protein | 6 g |
| Sodium | 390 mg |
Advertisement
Check out more recipes for Cheese Appetizers
Advertisement