Pork Roast with Dried Cranberries and Apricots
the Editors of Publications International, Ltd.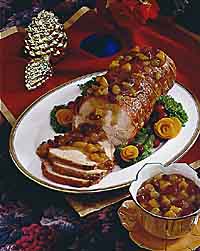 Pork Roast with Dried Cranberries and Apricots
Yield
Makes 10 servings
Ingredients
| | |
| --- | --- |
| 1 | center-cut pork loin roast (about 3-1/2 pounds) |
| 1-1/2 | cups cranberry-apple juice, divided |
| 1 | cup chardonnay or other dry white wine |
| 1-1/2 | teaspoons ground ginger |
| 1 | teaspoon ground cardamom |
| 2 | tablespoons apricot preserves |
| 1/4 | cup water |
| 1 | tablespoon plus 1 teaspoon cornstarch |
| 1/2 | cup dried cranberries |
| 1/2 | cup chopped dried apricots |
| 2 | tablespoons golden raisins |
Preparation
Place pork roast in large resealable food storage bag. Combine 1 cup cranberry-apple juice, chardonnay, ginger and cardamom in medium bowl. Pour over roast, turning to coat. Seal bag. Marinate in refrigerator 4 hours or overnight, turning several times.
Preheat oven to 350°F. Remove roast from marinade; reserve marinade. Place roast in roasting pan. Pour marinade over roast. Bake, loosely covered with foil, 1 hour. Remove foil; continue baking 30 minutes or until internal temperature of roast reaches 165°F when tested with meat thermometer inserted into thickest part of roast, not touching bone. Transfer roast to cutting board; cover with foil. (Internal temperature will continue to rise 5°F to 10°F during stand time.)
Measure juices from pan. Add enough remaining cranberry-apple juice to equal 1-1/2 cups. Combine juices and apricot preserves in small saucepan. Stir water into cornstarch in small bowl until smooth; stir into juice mixture. Bring to a boil over medium heat. Cook until thickened, stirring frequently. Add dried cranberries, apricots and raisins; cook 2 minutes. Remove from heat.
Cut roast into thin slices. Drizzle some sauce over roast; serve with remaining sauce. Garnish, if desired.
Nutritional Information
| | |
| --- | --- |
| Serving Size: | 1/10 of total recipe |
| Calories | 284 |
| Calories from Fat | 26 % |
| Total Fat | 8 g |
| Saturated Fat | 3 g |
| Cholesterol | 70 mg |
| Carbohydrate | 18 g |
| Fiber | 1 g |
| Protein | 31 g |
| Sodium | 82 mg |
Advertisement
Check out more recipes for Pork
Advertisement