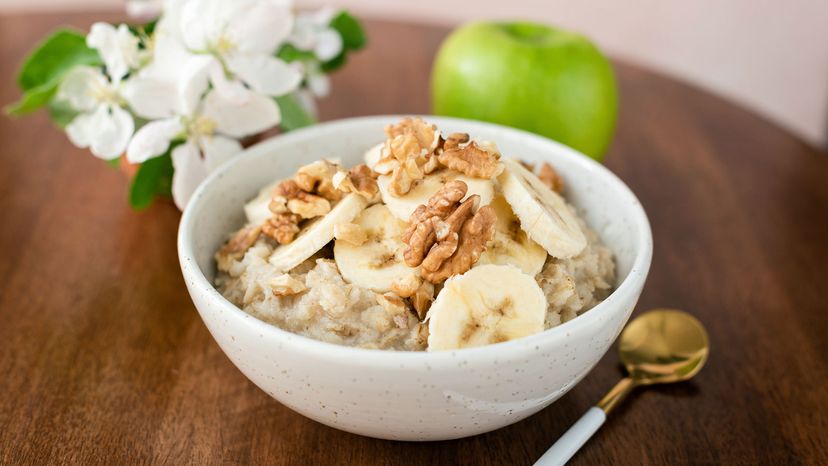 Goldilocks' meal of choice is far more prevalent, not to mention culturally diverse, than most people think. In fact, porridge is an overarching term for a surprisingly wide array of foods. Oatmeal? Yup, that's porridge. Grits? Also porridge. Rice, buckwheat, cracked wheat, barley, cornmeal and even (sometimes) polenta can also fall under the porridge umbrella. This warm cereal-of-sorts is popular around the world for its versatility, nutritional value and general yumminess. There are basically two requirements for something to be called porridge. The first is that it must be made with some type of grain.
"Porridge essentially is any cooked grain where the starchy parts of the grain start to break down and gelatinize the cooking liquid making a thick and creamy dish," explains chef David Kamen, a culinary arts professor at The Culinary Institute of America and assistant director of CIA consulting, in an email.
Many people use the terms oatmeal and porridge interchangeably, but that's not accurate, since porridge can be made using any type of grain as the base. "All oatmeal can be called porridge, but not all porridge is made of oatmeal," emails Palak Patel, chef at the Institute of Culinary Education.
The other required ingredient is liquid, usually water or milk. The ratio of grain to liquid is what makes or breaks the porridge consistency, Kamen says. "Take rice, for instance. If you cook it with smaller amounts of liquid (two parts liquid to one part rice) you get individual fluffy grains of rice like a pilaf. Increase the ratio to four or five parts liquid to one part rice and you have porridge," he explains.
Indeed, the water factor is the most common misstep in porridge-making. "Too much liquid and your porridge will be watery and insipid. Not enough and it will be thick and gooey," Patel says, noting that a good rule of thumb is five parts liquid to one part grain by volume.
Porridge is also a dish best made by patient people. "Porridge is typically simmered for a longer time to allow the starches in the grain to gelatinize with the liquid," says Kamen. "It is cooked like a stew." So, if you're looking to make an authentic porridge dish you need more than just a few minutes to get the job done correctly.
Also, think about the flavor profile. "Toast spices like cinnamon or nutmeg, and use a flavor liquid like milk or stock instead of just water," he advises.
Fortunately, that's where the rules of porridge end and the fun begins, as the dish can be made sweet or savory, depending on your personal tastes. It's also appropriate for any time of day, despite conventional thinking. "The name porridge conveys images of breakfast but if we think of grits, polenta, and even to a degree risotto, then we can see that porridges can be part of any meal or can be a meal unto themselves," Kamen says.