Roast Pork with Tart Cherries
the Editors of Publications International, Ltd.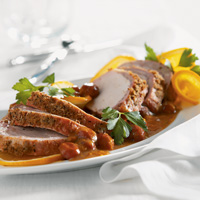 Roast Pork with Tart Cherries
Tart Morello cherries are grown throughout Europe, including Russia. Their sour flavor is especially suited to meat dishes. Tart canned cherries are substituted here.
Yield
Makes 8 servings
Ingredients
| | |
| --- | --- |
| 1 | boneless rolled pork roast (3-1/2 to 4 pounds) |
| 3 | teaspoons bottled grated horseradish, divided |
| 1 | teaspoon ground coriander |
| 1/2 | teaspoon black pepper |
| 1 | can (16 ounces) pitted tart cherries, undrained |
| 1/2 | cup chicken broth |
| 1/3 | cup Madeira wine or dry sherry |
| 1 | tablespoon brown sugar |
| 1 | tablespoon Dijon mustard |
| 1/8 | teaspoon ground cloves |
| 4 | teaspoons grated orange peel |
| | Orange peel twist (optional) |
Preparation
Preheat oven to 400°F. Place pork on meat rack in shallow roasting pan. Insert meat thermometer into thickest part of roast.
Combine 2 teaspoons horseradish, coriander and pepper in small bowl. Rub over pork. Roast pork 10 minutes; remove from oven. Reduce oven temperature to 350°F.
Add cherries with juice and broth to pan. Cover pan loosely with foil. Roast about 1 hour 30 minutes, basting every 20 minutes, or until internal temperature of roast reaches 165°F when tested with meat thermometer inserted into the thickest part of roast. (Cook, uncovered, during last 20 minutes.)
Transfer pork to cutting board; cover with foil. Let stand 10 to15 minutes before carving. Internal temperature will continue to rise 5° to 10°F during stand time.
Meanwhile, remove meat rack from roasting pan. Pour contents of pan through strainer into small saucepan, reserving cherries. Stir wine, sugar, mustard, remaining 1 teaspoon horseradish, cloves and grated orange peel into saucepan. Bring to a boil over medium-high heat. Boil 10 minutes or until sauce is thickened. Stir in reserved cherries.
Carve pork into thin slices; place on serving platter. Pour some cherry sauce around pork. Serve with remaining cherry sauce. Garnish with orange peel twist.
Check out more recipes for Pork
Advertisement