Seoul Rolled Beef with Vegetables
the Editors of Publications International, Ltd.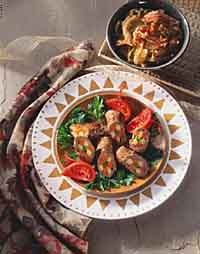 Seoul Rolled Beef with Vegetables
Yield
Makes 4 servings
Ingredients
| | |
| --- | --- |
| 2 | medium carrots, cut into julienne strips |
| 2 | medium parsnips, cut into julienne strips |
| 8 | small green beans, halved lengthwise |
| 4 | thin slices beef top round steak, each cut in half lengthwise |
| 4 | tablespoons vegetable oil, divided |
| 1 | can (about 14 ounces) beef broth, divided |
| 1 | piece fresh ginger (about 1-1/2 inches long), peeled and cut into 6 (1/4-inch-thick) slices |
| 1/4 | teaspoon ground red pepper |
| 1 | tablespoon rice wine or dry sherry |
| 1 | tablespoon soy sauce |
| 1 | teaspoon sugar |
| 1 | teaspoon cornstarch |
| 1 | teaspoon sesame oil |
| 1 | small ripe tomato, cut into wedges |
| | Lettuce leaves, such as Japanese mizuna |
| | Kimchee* (optional) |
*Kimchee is a spicy-hot, pungent condiment made of fermented vegetables (usually cabbage or turnips) served at almost every Korean meal. You can purchase it in Korean markets.
Preparation
Place 1/8 of carrots, 1/8 of parsnips and 2 green bean halves on each piece of beef along one short end. Starting with short end, roll up beef, jelly-roll fashion, to enclose vegetables; secure with short bamboo or metal skewers.
Heat wok over high heat 1 minute or until hot. Drizzle 2 tablespoons vegetable oil into wok.
Add 4 beef rolls. Cook rolls 2-1/2 to 3 minutes or until browned on all sides, turning occasionally. Transfer to bowl; set aside. Reheat wok and repeat with remaining 2 tablespoons vegetable oil and 4 beef rolls.
Return all rolls to wok. Add 1 cup broth, ginger and red pepper. Cover and bring to a boil. Reduce heat to low and simmer rolls 1 hour or until beef is fork-tender, turning rolls to cook evenly. Add more broth if it evaporates. Transfer cooked rolls to cutting board; set aside.
Pour cooking liquid from wok into glass measuring cup. Discard ginger. Add enough broth or water to make 2/3 cup liquid; return to wok and bring to a boil. Meanwhile, combine rice wine, soy sauce, sugar, cornstarch and sesame oil in small bowl; mix well and add to wok. Cook and stir until liquid boils and thickens. Pour sauce into small bowl.
Remove skewers from beef rolls. Cut rolls in half diagonally. Arrange on lettuce-lined platter. Garnish with tomato wedges. Serve with kimchee, if desired.
Advertisement
Check out more recipes for Asian
Advertisement