Shredded Beef Fajitas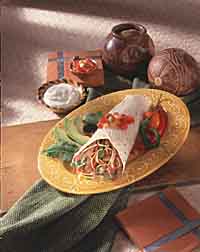 Shredded Beef Fajitas
Yield
Makes 12 servings
Ingredients
| | |
| --- | --- |
| 1 | beef flank steak (about 1-1/2 pounds) |
| 1 | can (14-1/2 ounces) diced tomatoes with jalapeños |
| 1 | cup chopped onion |
| 1 | medium green bell pepper, cut into 1/2-inch pieces |
| 2 | cloves garlic, minced or 1/4 teaspoon garlic powder |
| 1 | package (about 1-1/2 ounces) fajita seasoning mix |
| 12 | (8-inch) flour tortillas |
| | Toppings: reduced-fat sour cream, guacamole, shredded reduced-fat Cheddar cheese, salsa (optional) |
Preparation
Cut flank steak into 6 portions; place in slow cooker. Combine tomatoes with juice, onion, bell pepper, garlic and fajita seasoning mix in medium bowl. Pour over steak. Cover; cook on LOW 8 to 10 hours or on HIGH 4 to 5 hours or until beef is tender.
Remove beef from slow cooker; shred. Return beef to slow cooker and stir.
To serve fajitas, place meat mixture evenly into flour tortillas. Add toppings as desired; roll up tortillas.
Nutritional Information
| | |
| --- | --- |
| Serving Size: | 1 fajita |
| Calories | 229 |
| Total Fat | 9 g |
| Cholesterol | 30 mg |
| Carbohydrate | 22 g |
| Protein | 15 g |
| Sodium | 287 mg |
Dietary Exchange
| | |
| --- | --- |
| Starch | 1 |
| Vegetable | 1 |
| Meat | 2 |
Check out more recipes for Mexican